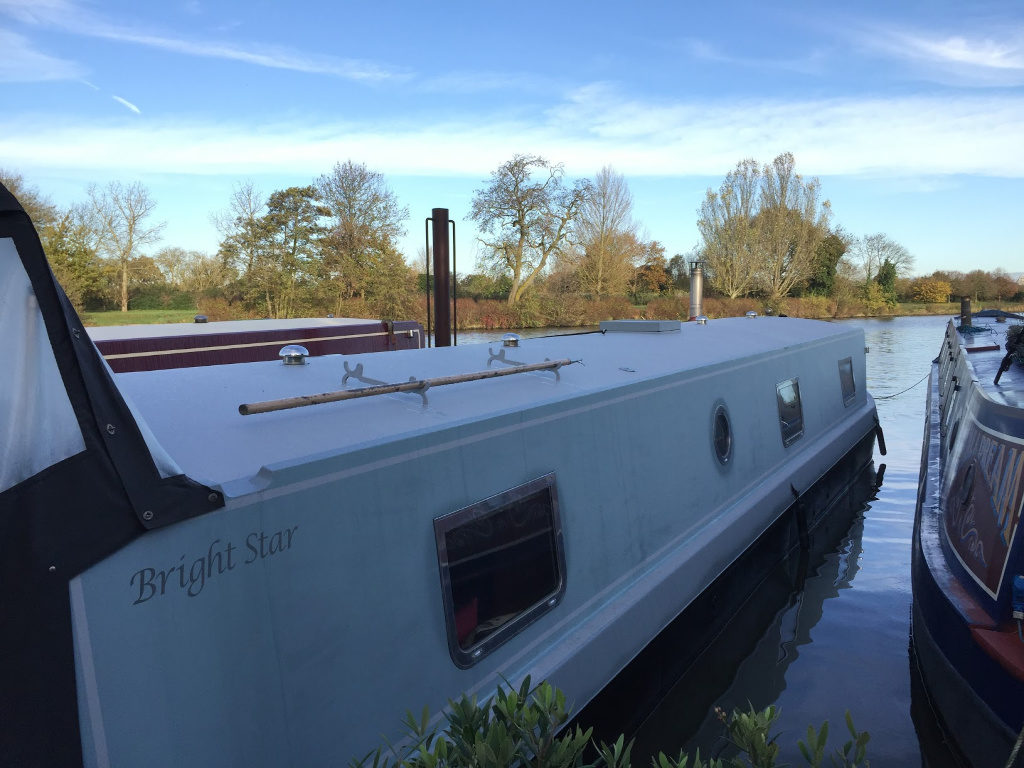 Ann lives on a house-boat in Surbiton, tucked away on The Thames riverbank close to the Portsmouth Road. Dropping down onto the tow path to meet her, the first thing I notice is the calm of the river and it engenders a slight sense of adventure as I search for my destination, Ann's boat. I pick out what I have been looking for, "Bright Star" painted in an elegant script on a pale blue barge, which blends beautifully with the river and the clear sky. I note the clue to the occupation of the person living inside.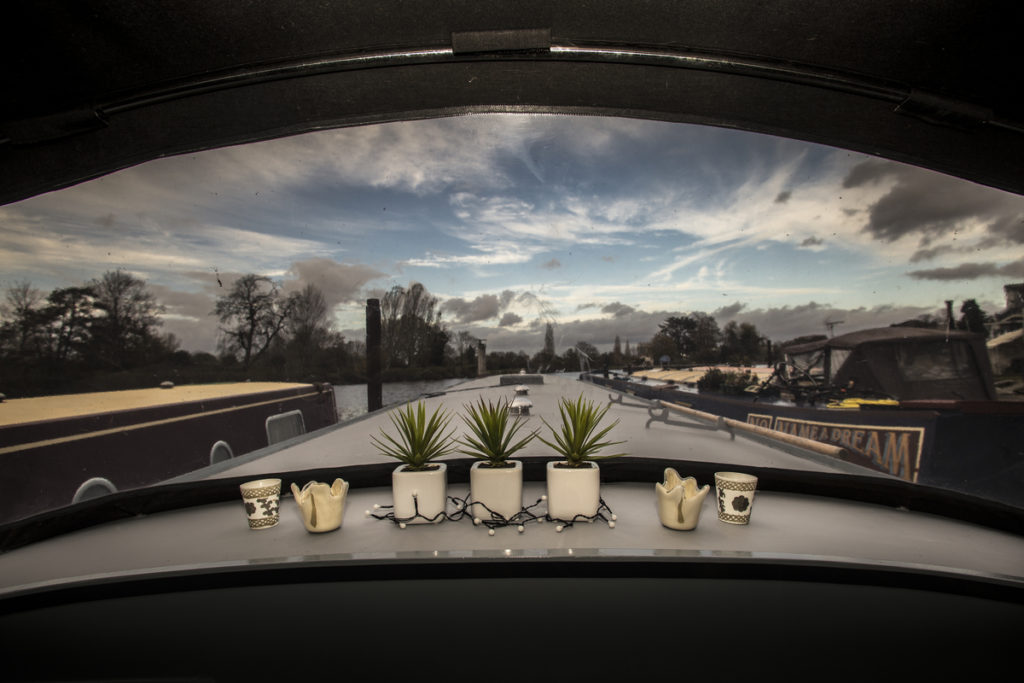 Childhood holidays have prepared me for what to expect as I walk across the tiny gang-plank and ring the traditional bell. Barges have small, dark cabins made of floor to ceiling varnished pine, pots of flowers and gingham cushions. Big mistake. I realise my error as soon as Ann opens the metal door and the luxurious scent of Diptyque candle wafts by. Stepping inside my first impression is more Kit Kemp than Swallows and Amazons; a tiny boutique hotel on the river. A perfect place to escape for a long week-end or, in Ann's case a new way of life.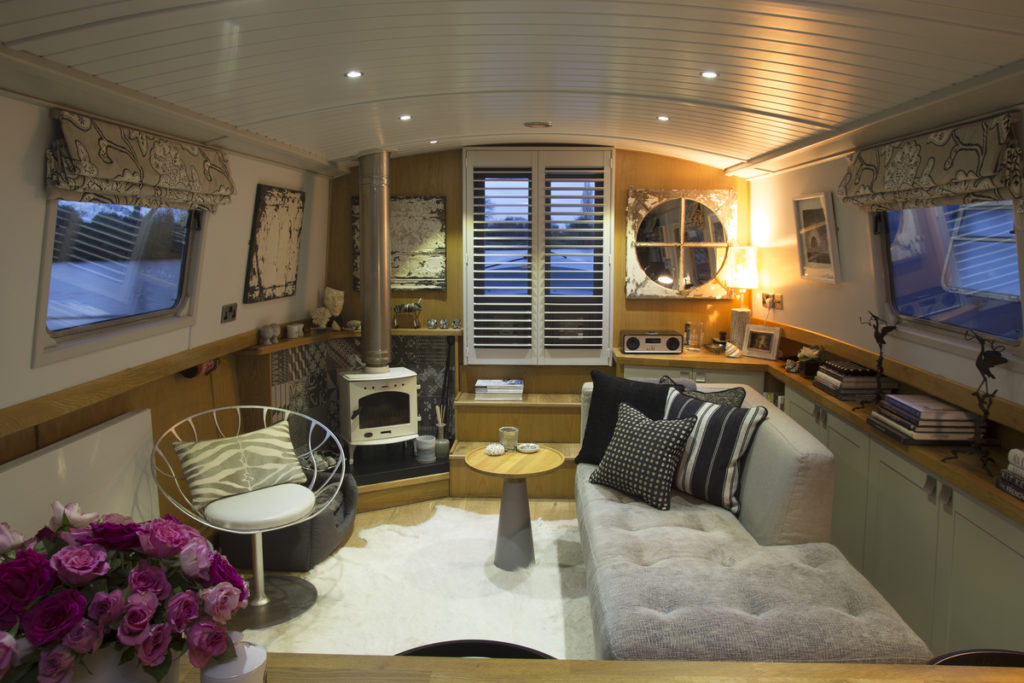 Ann makes Peppermint tea in the perfectly equipped modern kitchen, or galley, and we settle next to the wood burning stove as she starts to explain what drew her to the river. Initially motivated by a desire to untether herself from financial commitments she has fully embraced the sense of freedom that life on the river provides. "It is liberating to look from one end of the boat to the other, knowing that it is all that you have to worry about in the world."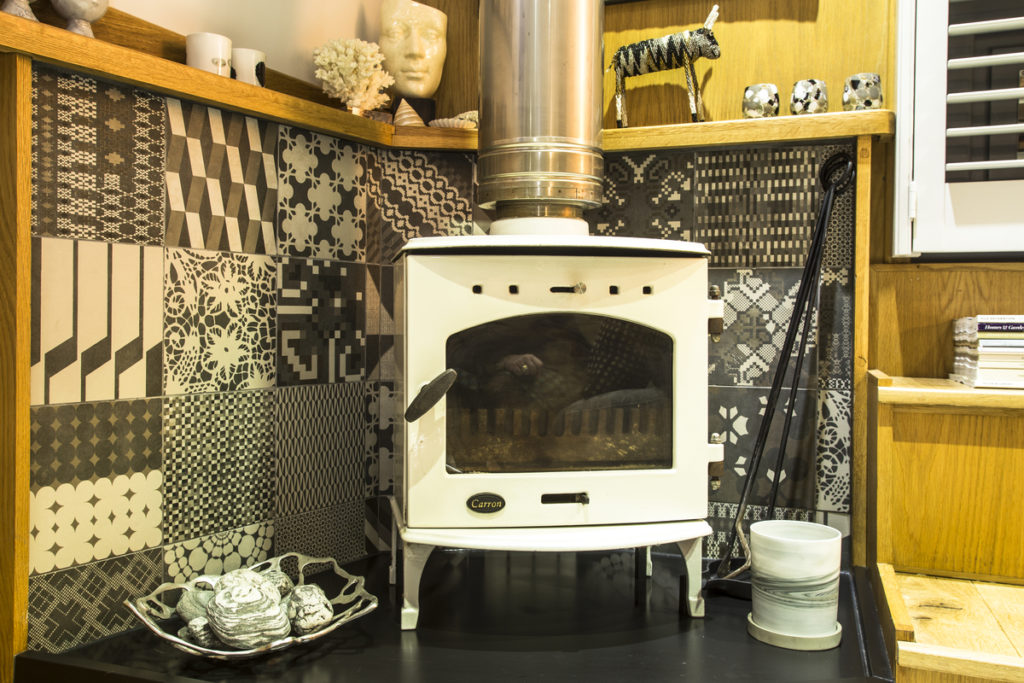 "In 2010 I was living in a beautiful little house in Richmond in the middle of the biggest recession that we can remember. The banks were in freefall and I chose that moment to launch my interior design career! It was a dream that I had had since I was a child, and in every other way the timing was right but, with a mortgage to pay, I had to continue with my existing, executive coaching, business to make ends meet and working two jobs was beginning to take its' toll. I liked the idea of down-sizing to reduce or even pay off my mortgage but wasn't sure where I could move to and still be happy with my space. Having a lovely home, however small, is important for your wellbeing. I literally woke up one morning and thought "I would love to live on the river" and that was it, I haven't looked back."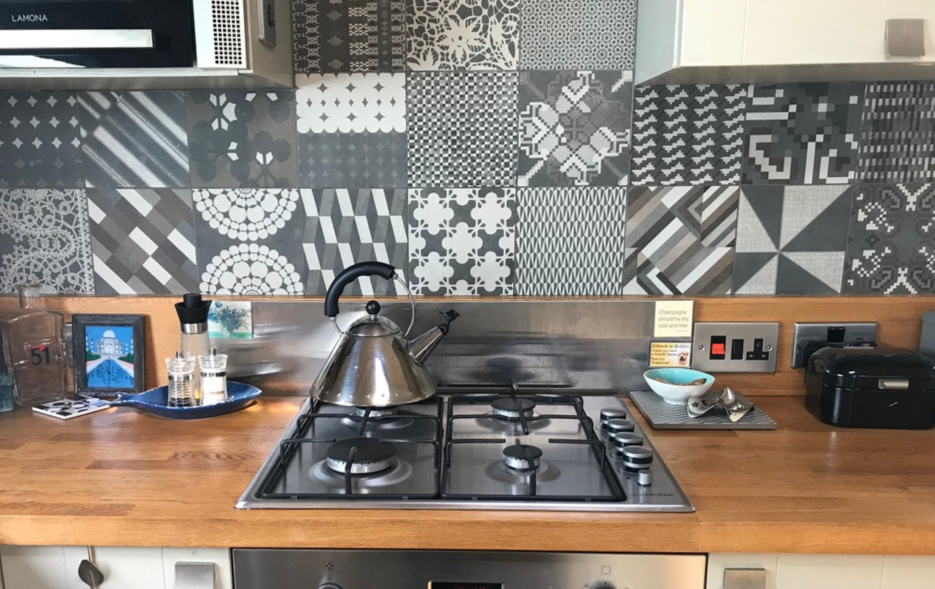 Ann's Richmond house sold, complete with contents, almost immediately, and having looked at several second-hand boats, she decided that it would be great to design one of her own. She commissioned Harts Boat Yard to design and fit a new barge 60 feet (18.28 meters) long and 11 feet (3.35 meters) wide and began the process of defining her specification for the interior.
"It was important to me to configure the boat to maximise the entertaining space. Essentially this meant creating an open living and eating area at the front (bow) of the boat leading out onto the outdoor deck, which seats eight people for drinks. The bedroom was positioned at the back (aft) with room for the shower in-between.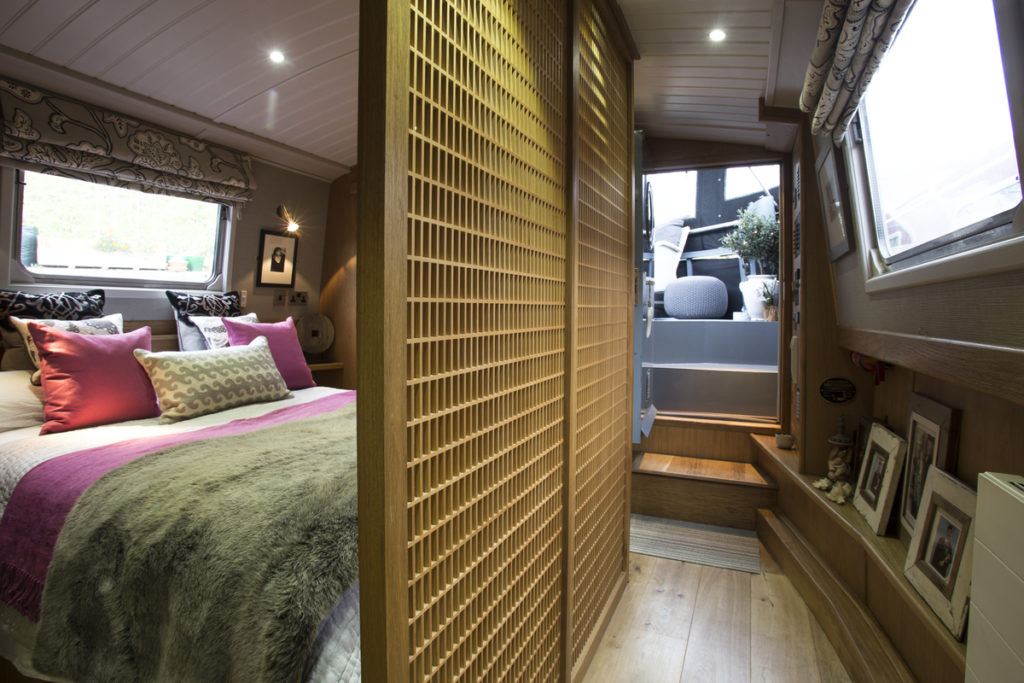 The critical thing was to design-in enough storage. It is clutter that makes a small space seem smaller, whether it is an apartment or a boat. There is storage inside the steps at the aft and bow, floor to ceiling wardrobes across the width of the bedroom, a narrow bookshelf running along the full length of the boat, matching cupboards extending seamlessly from the kitchen into the living area, and hidden storage for all the essentials from cleaning materials and laundry to the wifi and broadband.
I would advise anyone designing a small home to be very specific about their needs and lifestyle to maximise the space and make it work for them in the best way possible. The smallest details are important. For example, I knew that I wanted to leave space in the living room for a dog bed."
Amazingly Ann has not had to compromise on any kitchen equipment she required. She deliberately chose a kitchen that was two meters square so that she could fit in a fridge, cooker, dishwasher, microwave and storage cupboards, and even allowed space for a separate wine fridge. The washer dryer and drying space are in a separate, invisible, airing cupboard.
Aesthetically, Ann chose materials to compliment her surroundings. "One of the best things about living on a boat is the sense of being close to nature. We are moored in a natural environment overlooking fields teaming with wildlife and so I chose to only use natural materials; oak, cottons, linens and cow-skin rugs."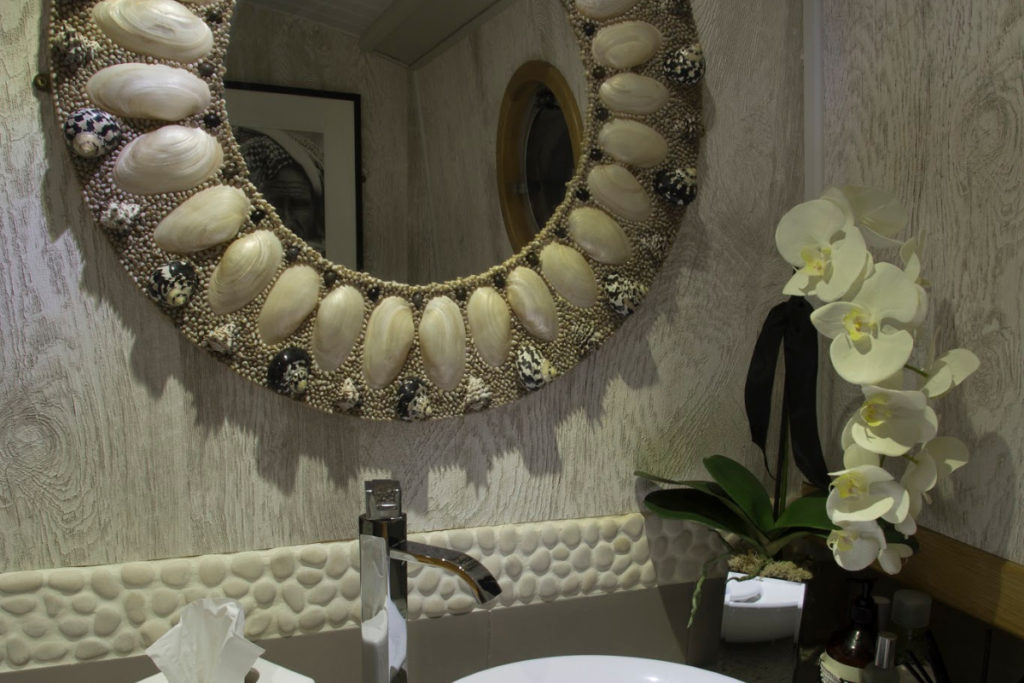 The colour palette is also deliberately neutral. "Small spaces benefit from a simple, neutral palette with pops of colour added. They stop a place feeling bland and carefully positioned can make a space feel much more colourful than it is, giving you the best of both worlds; space and personality. Interest comes from the personal details that inject an element of surprise, such as the American distressed ceiling tiles I use for wall art.
Good design avoids clichés. You won't find any ships anchors, blue stripy fabrics or decorative ships wheels on display. Instead I incorporated several design classics; Hans Wenger Wishbone chairs, Best lights, Dualit and Alessi kitchen appliances."
The biggest element of surprise is that the look and feel of a modern interior is achieved without compromise. All the traditional boat elements, from portals to gunnels, have been incorporated into the design rather than disguised. I leave feeling rather wistful about life on the river. An escape to this boutique design river-retreat is far more appealing than Ratty and Mole ever led me to believe.
This Feature was Originally Written for Time & Leisure Magazine