Budget Flat Renovation for Sale
Budget flat renovation: Not every project is about creating a forever home for our clients. Sometimes the brief has a much more immediate objective. In this case we were asked to completely renovate a flat to get it ready for sale, on a very tight budget.
Our client had made the decision to sell the three-bedroomed, two-floor maisonette flat he had been renting out in Brockley, South East London (SE4) for the last ten years. However, a decade of different tenants had left it looking tired, dirty, outdated and with every room in need of repairs.
The brief was to fully renovate and update the flat so that it would appeal to young professionals…. but on a very tight budget. Whilst he wanted works completed to a good standard, he needed to spend the absolute least amount of money possible, so as to make the most profit at sale.
Our challenge was to help him to install a new kitchen, two new bathrooms, new flooring throughout, redecorate every room, replace much of the lighting, and give the outside areas a facelift, within his budget of £20,000.
After an onsite visit, we came up with a detailed plan of action; plus a shopping list of fixtures and fittings for every room that looked great, but that came with a pocket-friendly price tag. We helped him to source tradespeople, troubleshoot during the works, oversee the completion of the project when he needed to travel abroad, and dress the flat ready for the estate agent's photographs.
The success of the project was reliant on our client being prepared to put his trust in us and take quick decisions. Here is what we did: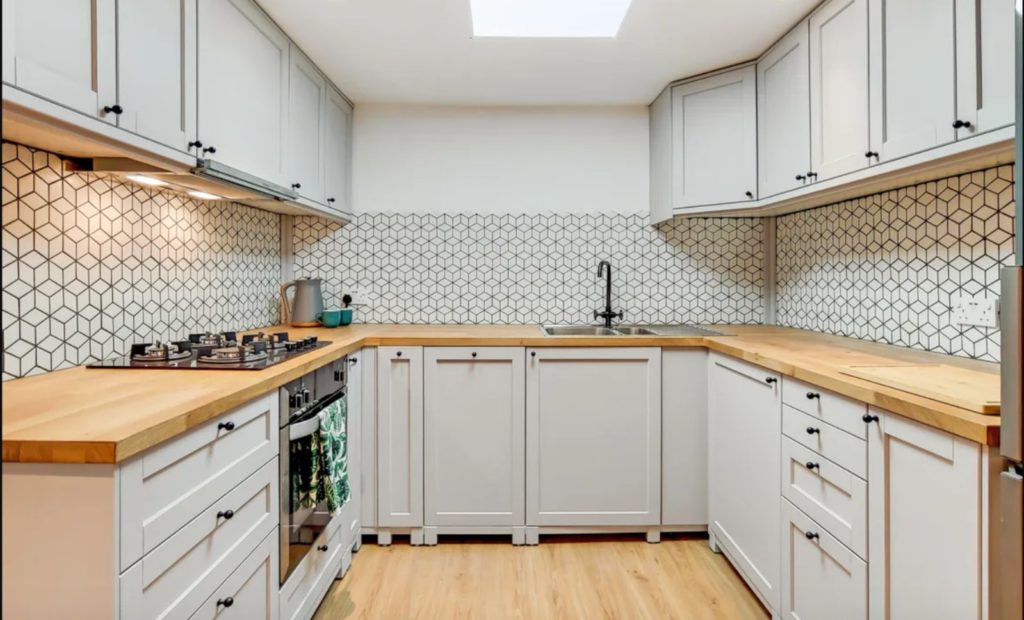 KITCHEN: Complete new kitchen (units, worktops, tiling, painting) including new sink and tap, new hob and dishwasher. The existing washing machine was moved out of the kitchen and rehoused in a cupboard in the hallway, to free up more vital storage space. We kept the old fridge/freezer and oven to save money. We lightened up the space with neutral soft grey units; a real wood worktop; adding personality with black accent handles and a matching modern black tap. The dark floor tiles were replaced with oak-effect wood flooring for a better flow into the living area. To brighten up the windowless space, we installed a clever ceiling light which gives the appearance of a light well. The entire transformation (including units, tiles, worktop, appliances and labour) came to just £2,500.
LIVING ROOM: Completely redecorated, including accent walls painted in Farrow & Ball Dix Blue. New oak-effect flooring was laid throughout; and the dated wall lights were replaced with minimalist uplighters. Our client didn't want to buy lots of new furniture, so we invested in contemporary yet reasonably-priced statement teal sofa and bright rug; then upcycled an existing vintage chest with chalk paint; and gave the existing table and chairs some TLC. Photographic prints of London by local photographer Caro Swan were borrowed to dress the walls.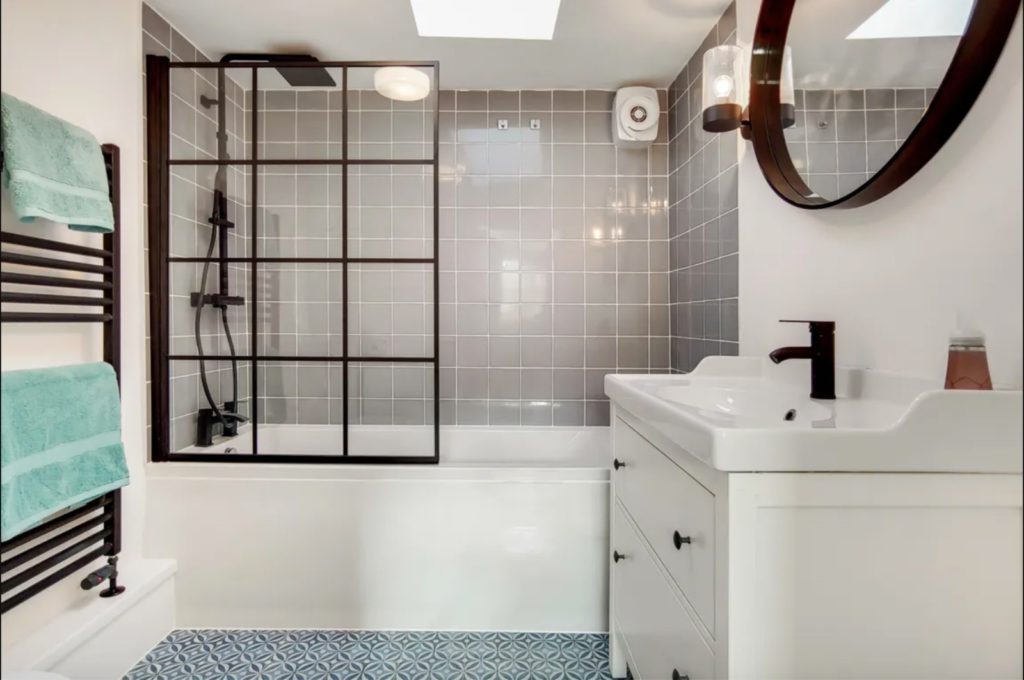 DOWNSTAIRS BATHROOM: The toilet was replaced; however we kept the existing bath, basin and tiling (which was thoroughly cleaned to restore it). We gave the room wow-factor with a crittal-style shower screen, new matte black shower and taps, black towel rail, large round mirror, black lights and teal towels. Teal tile-effect vinyl was used on the floor; and the pipework was boxed in to help it 'disappear' visually.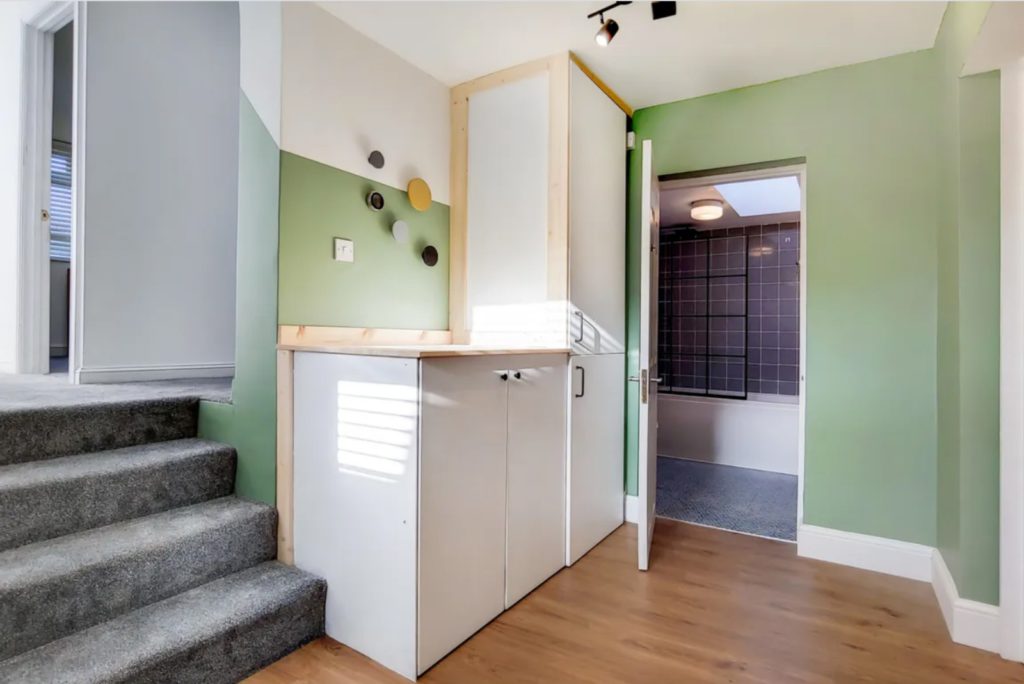 DOWNSTAIRS HALLWAY ANTE-ROOM: Completely redecorated, with a three-quarters effect painted in Farrow & Ball Breakfast Room Green. New oak-effect flooring, flowing from the living room, was installed for a cohesive look. The washing machine was moved here from the kitchen and boxed in, creating an airing cupboard plus lots of extra storage. Stylish wall hooks were added to the walls, new ceiling lights were installed, and a new mustard blind hung at the window. A new small sofa created a cosy seating nook, while the addition of a Nest Smart heating thermostat adds real value.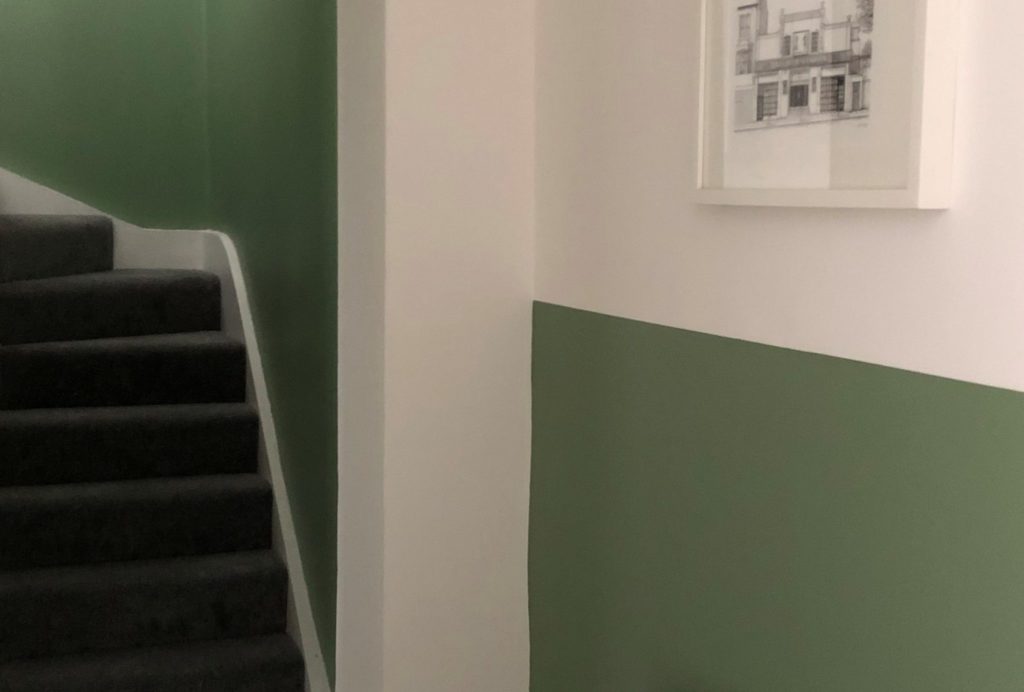 HALLWAYS: Repainted throughout, including accent colours on selected walls (Breakfast Room Green by Farrow & Ball) to add character; new carpet throughout; new coir matting by front door (to keep dirt off the new carpets); boxing in an electric meter; removing the oversized banister rail; adding plants and neutral artwork.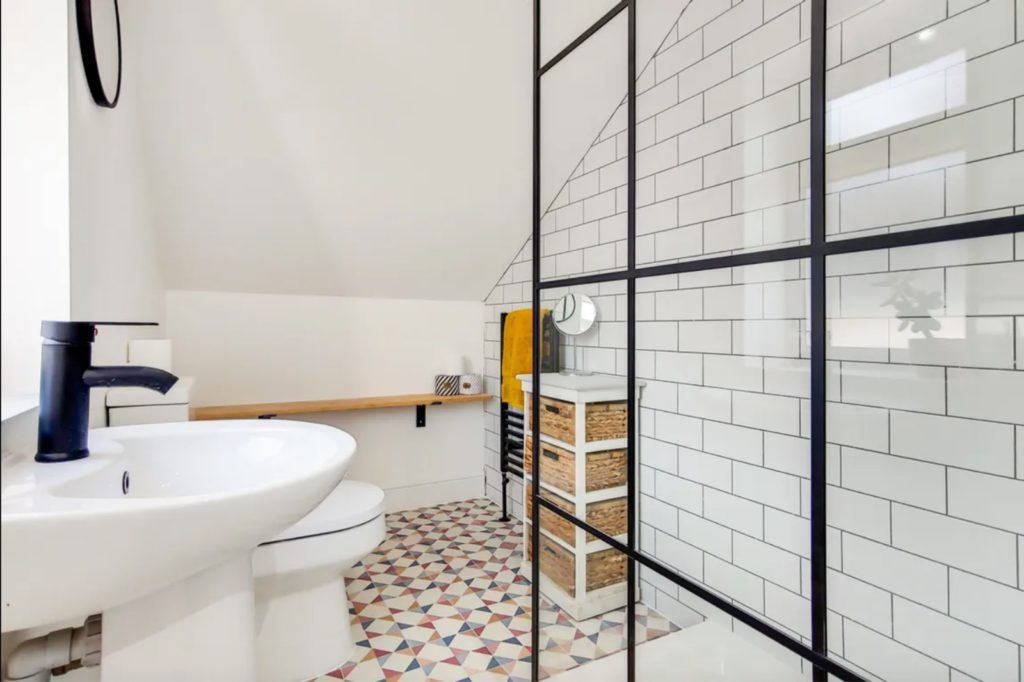 UPSTAIRS BATHROOM: The toilet was replaced, however we kept the old shower tray and sink. A smart new black crittal-style shower screen, shower, tap and towel rail brought the room more up-to-date. The dated tiles were replaced with an entire wall of inexpensive yet timeless metro tiles laid in a brick pattern.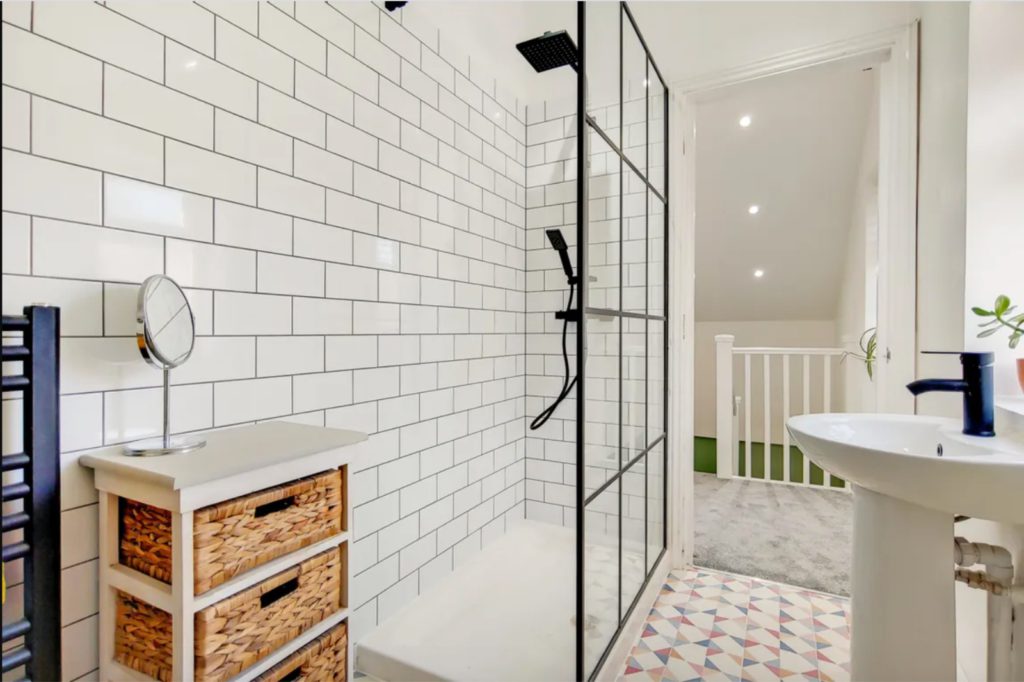 The existing storage unit was upcycled with chalk paint, and a simple wooden shelf added for extra storage. Contemporary tile-effect vinyl was laid on the floor, and plants, ochre towels and a black mirror added to dress the room. Finally, the awkward door, which intruded on the room, was replaced with a barn-style door, which simply slides out of the way when open.
We also repainted, decluttered, re-carpeted and refurnished all three bedrooms.
OUTSIDE: The small concrete front yard was jet washed and a bike stand added. A water and electric meter were boxed in and protected from the elements with a felt-covered roof. The walls facing the flat were painted in an olive green to improve the view from inside; while the wooden gate was painted in charcoal chalk paint for a smart first impression.
What out client said:
Hiring an Interior Designer to help is an expense many people aren't exactly prepared for or consider.  However, I decided I needed some inspiration to help me renovate. It turns out the value I received from Jenny was one of the best investments I made while renovating. I had a budget and hiring Jenny I believe helped keep the cost lower than making mistakes, she saved me lots of time by giving me options I never would have found by myself and ideas I also wouldn't have considered. After one room was complete and it looked amazing I trusted Jenny way more than myself. She really threw herself into the project, I think at times she had more passion for the outcome than me, actually, I am very sure of this.  I would recommend Jenny to anyone as she has a wealth of resources, a keen eye for what would work and can work within your budget.
Decorbuddi Credit: Jenny Wood
Before Photos