Calm & Relaxing Living Room
What could be more important than a home that makes you feel great? Somewhere which helps you to relax as soon as you walk through the door. We all live such busy lives it is increasingly important that we create a space we can escape to and recharge.
In this case our client was a family with two, young, active boys, and their open plan living space was bustling with daily life. Luckily they also had a separate living room at the front of the house. Our brief was to transform this into a quiet adult space to relax and entertain.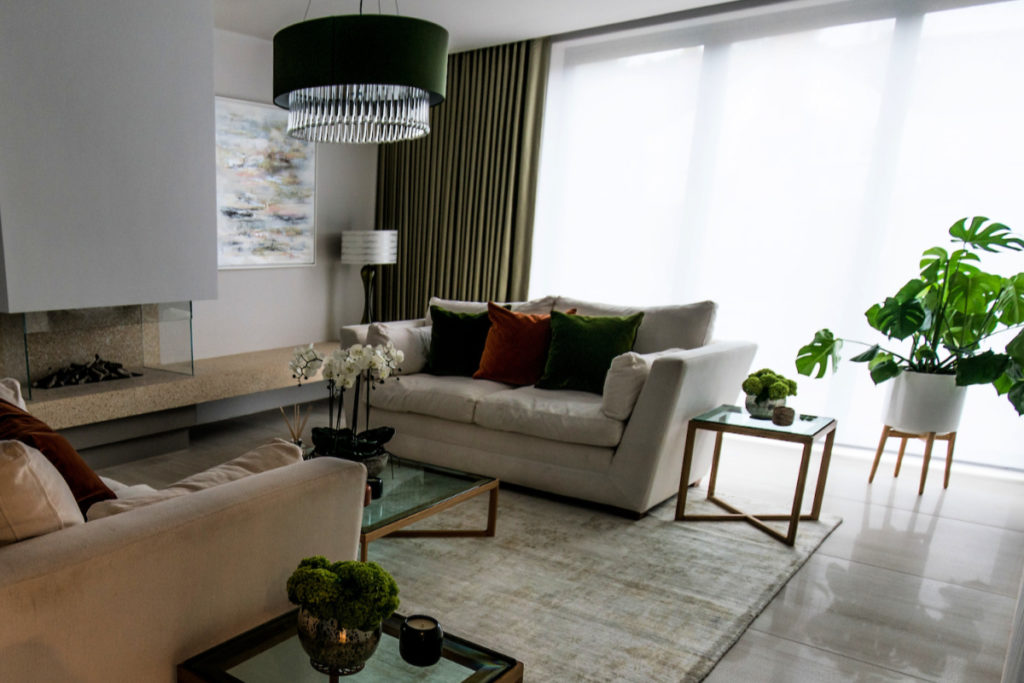 Starting with the layout, we placed the existing sofas either side of the fireplace, perfect for conversation over a glass of wine in the evenings, drawn together with this beautiful rug chosen to add a layer of softness on the cool tiled floor, it contains all the colours from the new scheme: natural shades of green and touches of warm burnt orange, perfect to optimise well-being.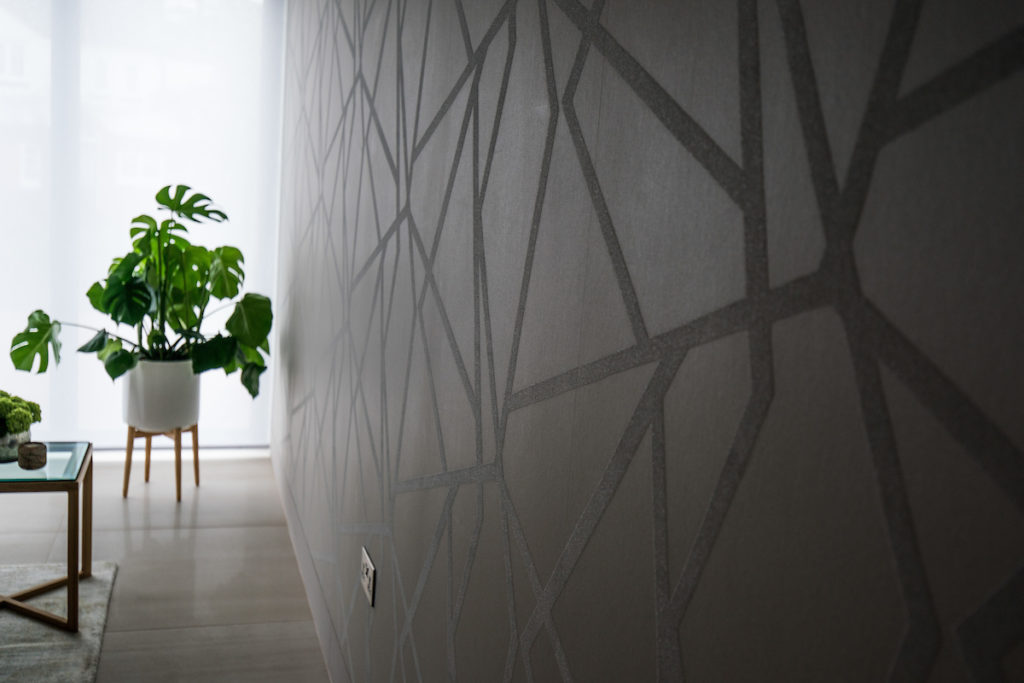 The large blank wall to the right of the doorway was the perfect place for a textured wallpaper. We selected a quietly geometric design, in calm neutral tones and just a cheeky little sparkle to a touch of elegant glamour in the evenings.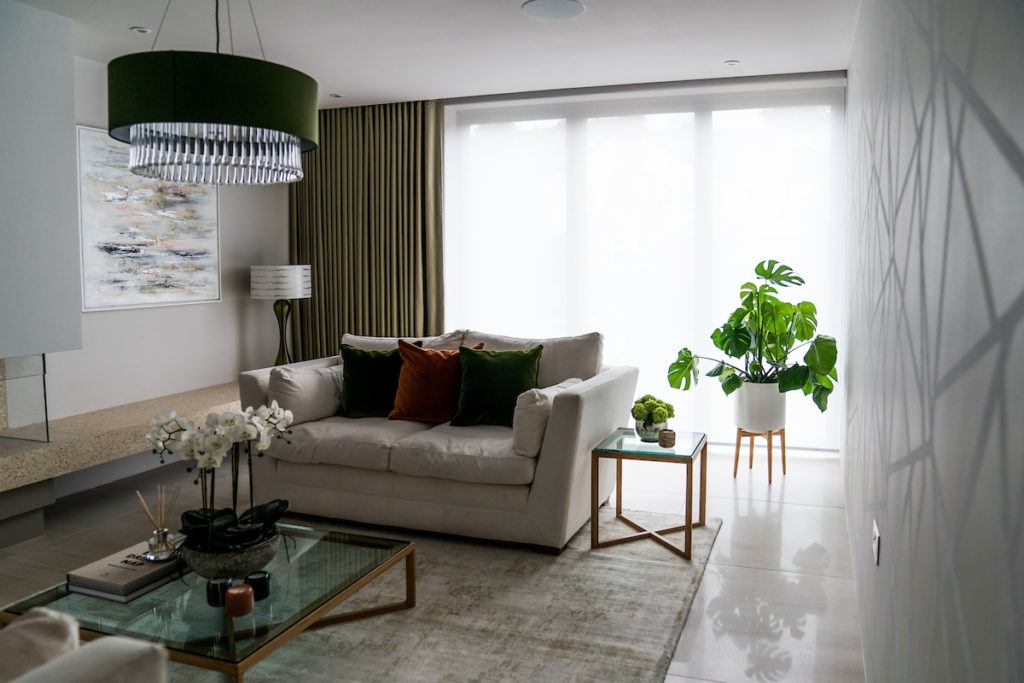 Natural daylight is such a positive influence on our well-being, but the living room overlooks the driveway and is visible from the road. We fitted privacy blinds combined with classic floor to ceiling curtains pulled to one side, to maximise light in the daytime and provide a natural coloured backdrop in the evening.
Houseplants literally help to clean the atmosphere and connect us to nature. Without a view over a garden, just one can make all the difference. Lifted in a pot above the floor helps to retain the sense of space and light.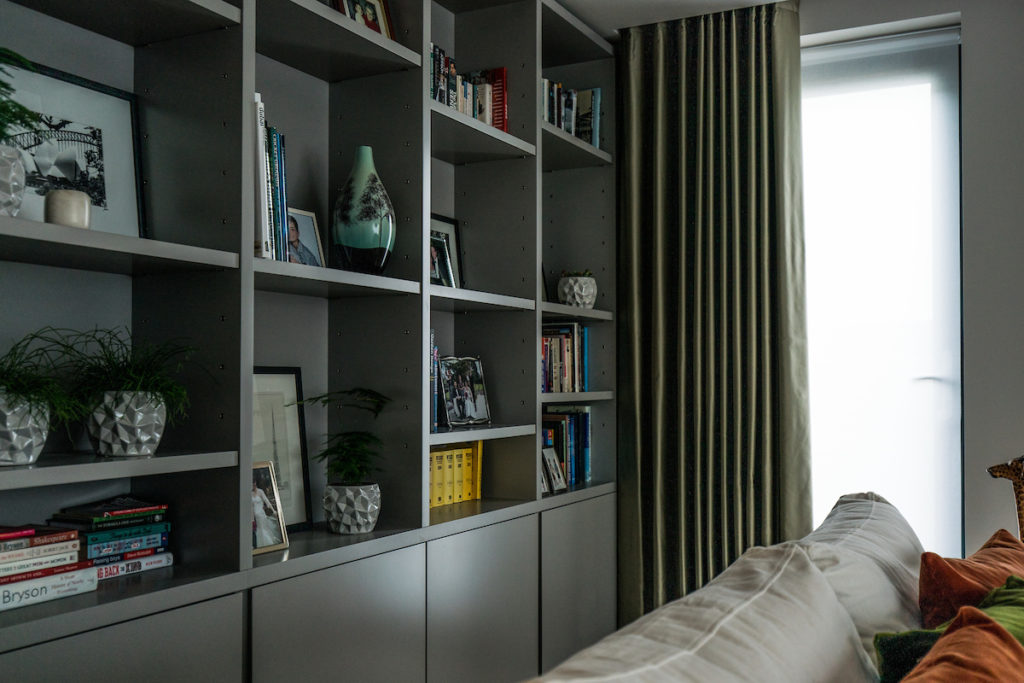 Storage is an issue in just about every family home we have been in. Creating a space where you feel great usually includes a phase of decluttering at the beginning, and then of course you need somewhere to put everything you keep. Here we spray painted the storage cupboards and shelving to give a perfect smooth finish to display favourite books and special pieces, with the less attractive clutter being tucked away in the closed cupboards beneath.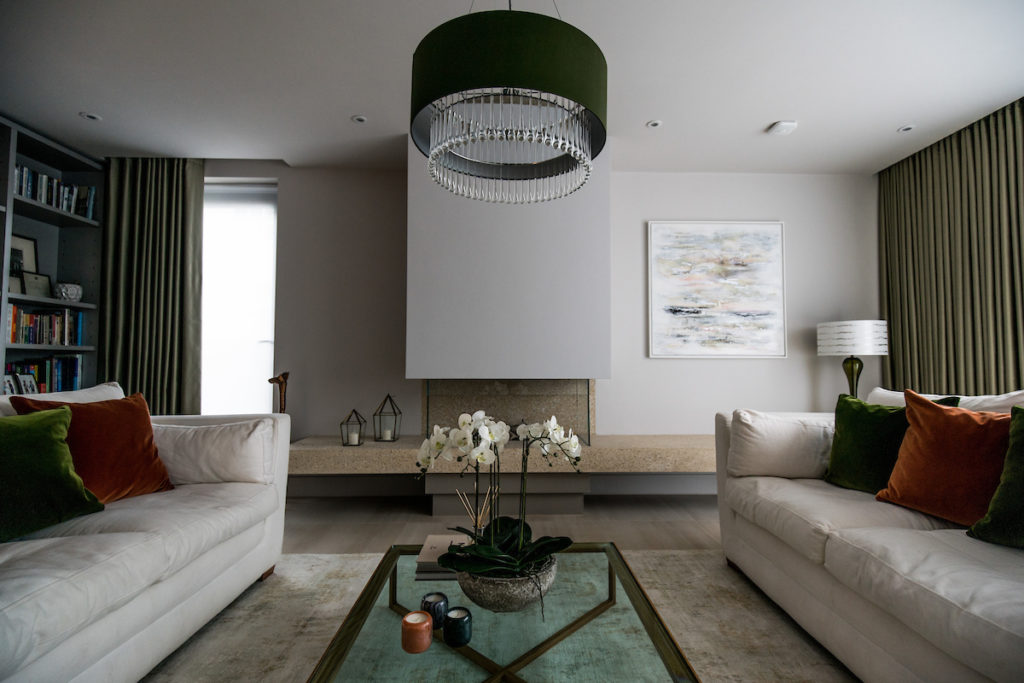 Lamps and candles create kind and gentle lighting in the evening, combined with the glow from the fire in the Winter. The final finishing touch is the artwork, again in-keeping with the colour scheme. This beautiful reflective piece draws inspiration from the coast, is perfect for this living room.
For further inspiration and ideas, you can find more of our featured projects here.
Contact: Please do get in touch if you would like help with your home or garden. Our packages and hours keep you in control of the look timing and budgets. Most of our services can be supplied face to face or remotely with a combination of telephone, email and facetime or skype as required. Always tailored to your requirements.
We would love to help you to create your individual home or garden.
Decorbuddi: Nikki Rees
Photography. Malcom Griffiths