From Hallway to Haven
Some renovations can come from a slow-burning desire to put your own stamp on a property and often that starts with a small scale project. Our client here, Therese, had moved into a house mid-construction that had been designed by Nick, her partner. 
This is a very busy household with working parents and all the comings and goings you would expect from a large family. Spacious and airy with clean lines, it presented a blank canvas but with three boys of varying ages as well as Nick, it had evolved over the years into quite a masculine space. So Therese began to scour the house for a corner to make her own and saw the potential of a transitional space adjacent to the master bedroom.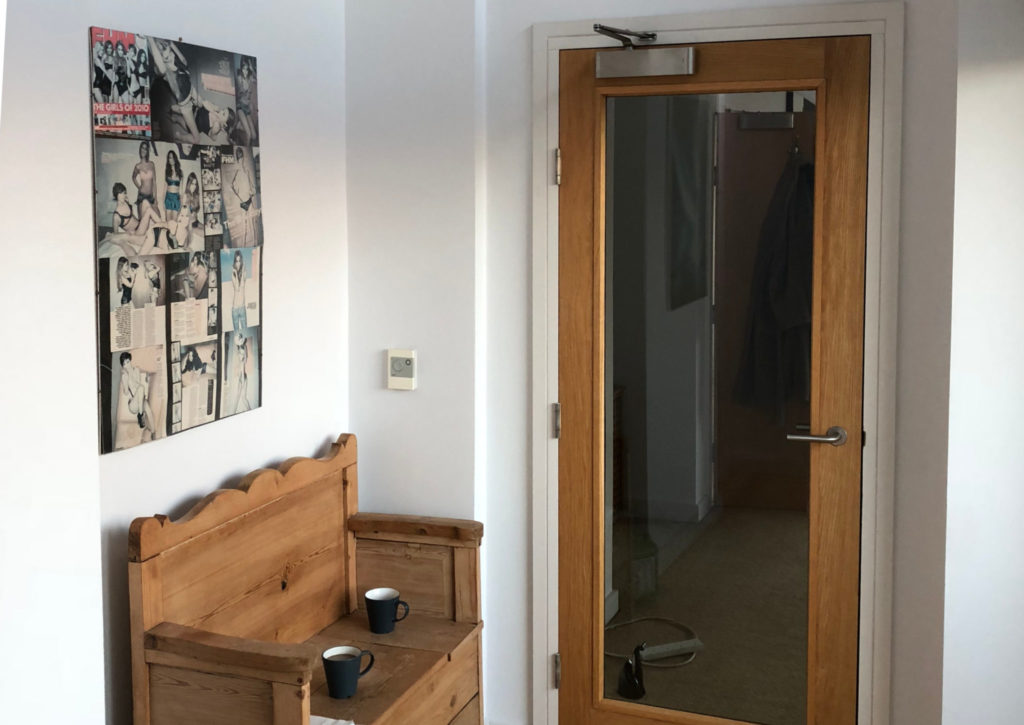 Our brief was to introduce a little femininity and create a boudoir feel. Living near Richmond park, she was keen to bring some of the outdoor beauty on her doorstep into her home. We considered a variety of ideas from a quiet, natural scheme, through simple calm colouring to more decorative ideas, large scale artwork and murals.
Therese was drawn to the stronger more original schemes with plenty of personality. When we found this gorgeous wallpaper at Designers Guild, designed to look like a mural, but more affordable, the decision was made. She loved it, as did we.
The wallpaper, carefully hung by one of our experienced decorators, immediately gave the space a softer, more feminine feel, quite distinctive from the rest of the house. The colour scheme and room design came together easily with the wallpaper design as our focus and guide.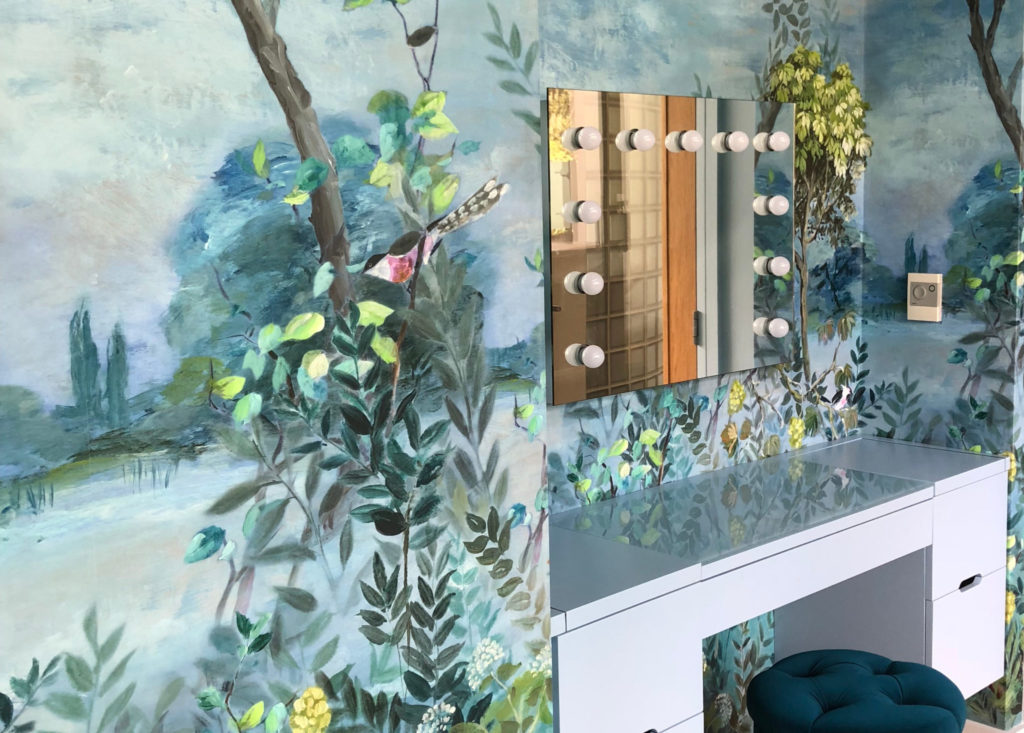 The shallowness of the alcove meant a built-in, bespoke dressing table was an obvious choice, allowing us to co-ordinate the soft aqua colour with the walls and floating so as to take up less floor space.
Just as importantly from a practical point of view is the inclusion of pop-up storage for make-up and hair dryers, complete with the necessary power points. This was Therese's own idea and, she was very clear about how it should be designed. We just provided a great joiner who brought her design to life. It is bliss for anyone tired of the sight of cables and plugs cluttering up their dressing areas.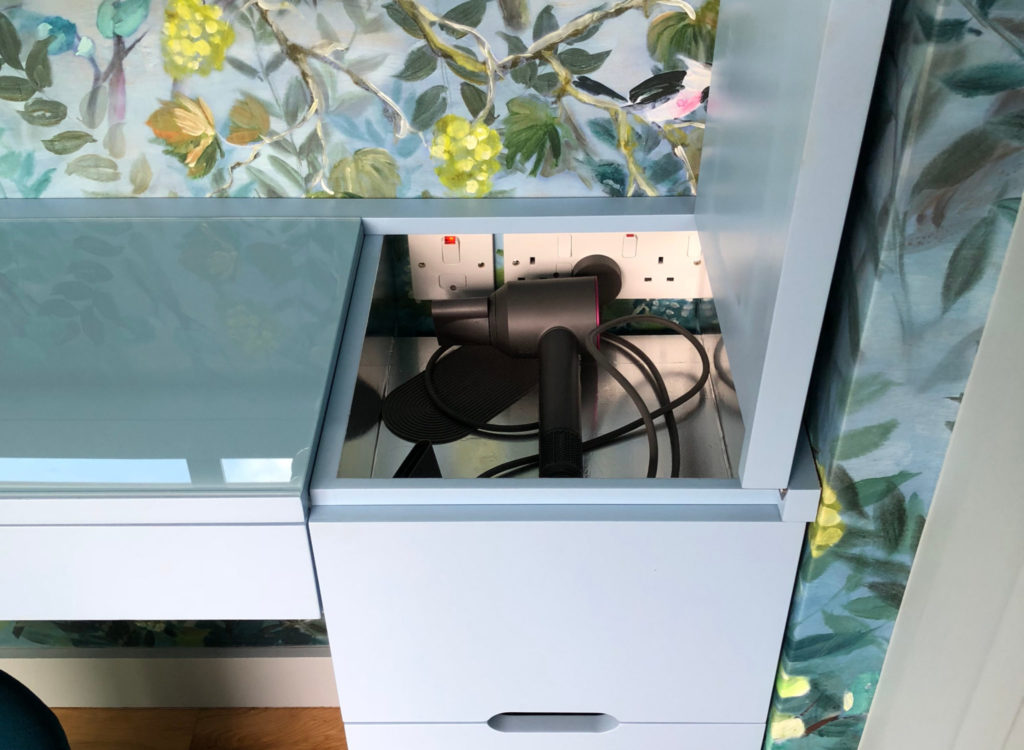 The deep turquoise velvet stool, from Footstools and More, completes the dressing area. But the thing that brings our client the greatest joy are those glamorous Hollywood style lights around the mirror.
For the chaise longue, we went back to Designers Guild, using a two-tone linen and linking to the wallpaper with a cushion in the same design.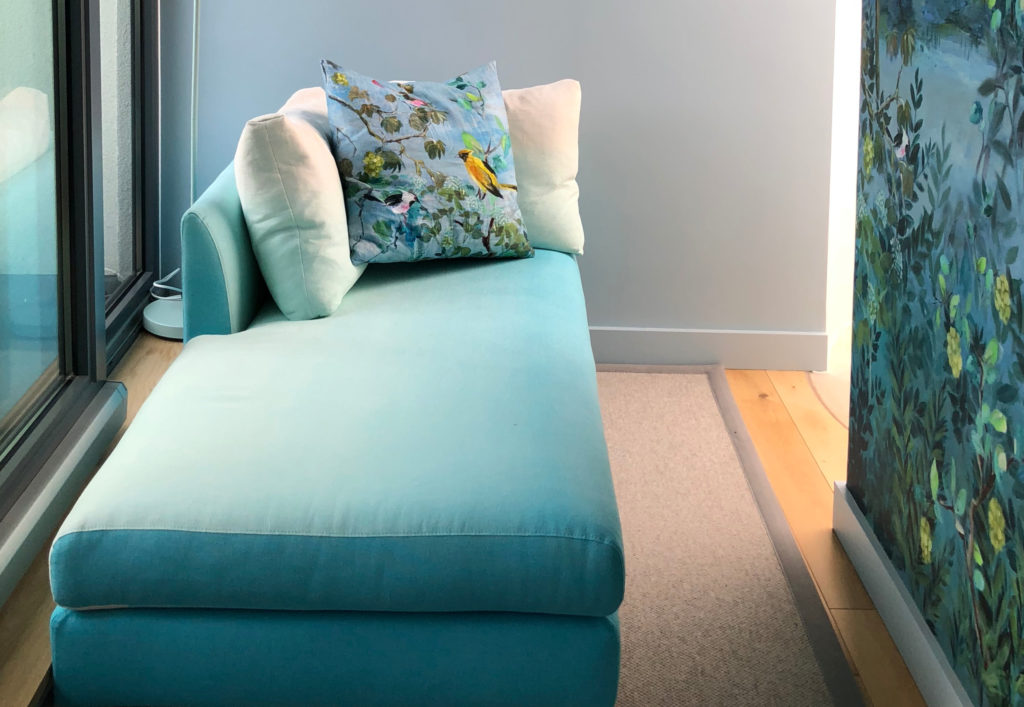 It can be daunting narrowing down your options and pulling a scheme together when your head is full of ideas but as in this instance, decisions on products, materials and contractors can all be made so much easier and quicker with a Decorbuddi to guide and manage the process.
This otherwise incidental area of the house is now a mini sanctuary for Therese, somewhere to relax where only her eight year old son occasionally joins her for a cuddle and to share a book. It also means she can get ready for a night out without fear of interruption. A lovely transformation from hallway to haven.
Contact: Please do get in touch if you would like help with your home or garden. Our packages and hours keep you in control of the look timing and budgets. Most of our services can be supplied face to face or remotely with a combination of telephone, email and facetime or skype as required. Always tailored to your requirements.
We would love to help you to create your individual home or garden.
Article by Anna Ainscough