Before:
Apartment Makeover
Our client was looking to achieve a complete apartment makeover. She had been living in her apartment for some time and had planned to move to something a little larger but when she looked around, she found that there wasn't anything available within a sensible budget. She took the decision that, instead of moving, she would change her current home so that it felt fresh and different. She asked us to help.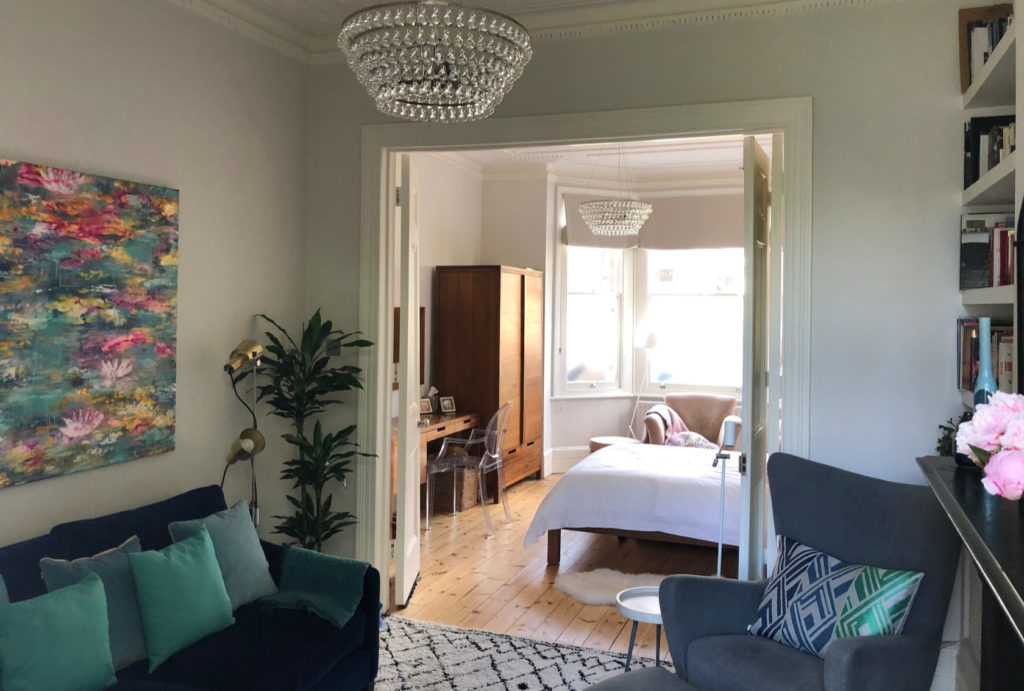 The apartment layout is perfect for one person. She has a lovely, light bedroom which opens, through tall French doors, onto the living room. Another set of doors take you out onto a quiet and secluded patio garden. The high ceilings and period features are a great starting point and large light windows at both ends of the property mean it never feels too dark.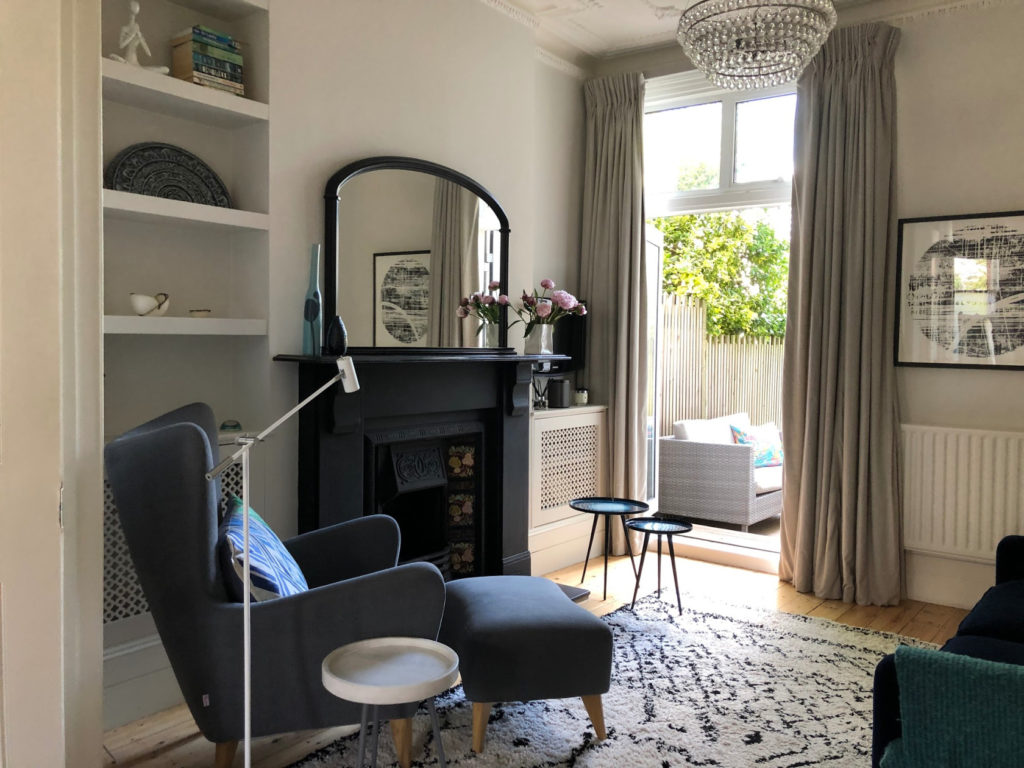 But the interior scheme was looking a bit tired – all deep plums and aqua – and so we set about finding a colour scheme that would be fresher and more modern. We kept a light neutral base and then chose colours that would work with the exquisite, original tiles in the fireplace – a beautiful balance of blues for the living area and feminine, dusty pinks for the bedroom.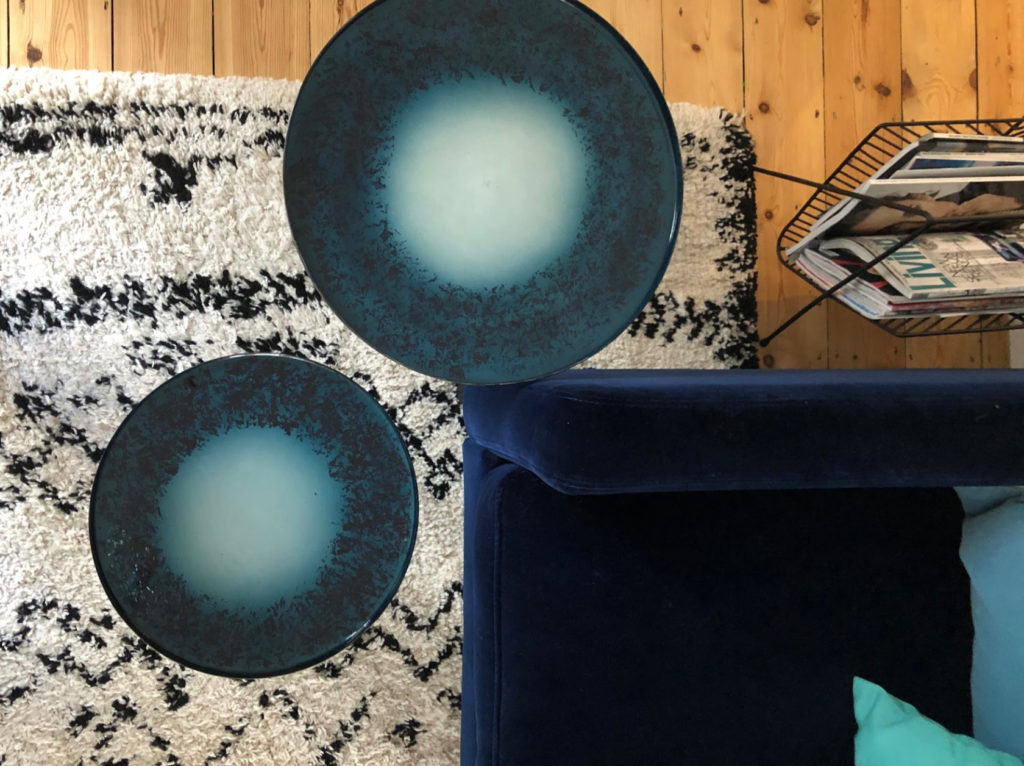 We moved things around, just a little bit, to make more of the space. We built shelves in the alcoves around the fireplace, re-positioned the sofa in the living room and removed the love-seat in the bedroom to create a greater feeling of space. The wooden floor was re-sanded and we reassessed the lighting, coffee tables and rug to bring it all together.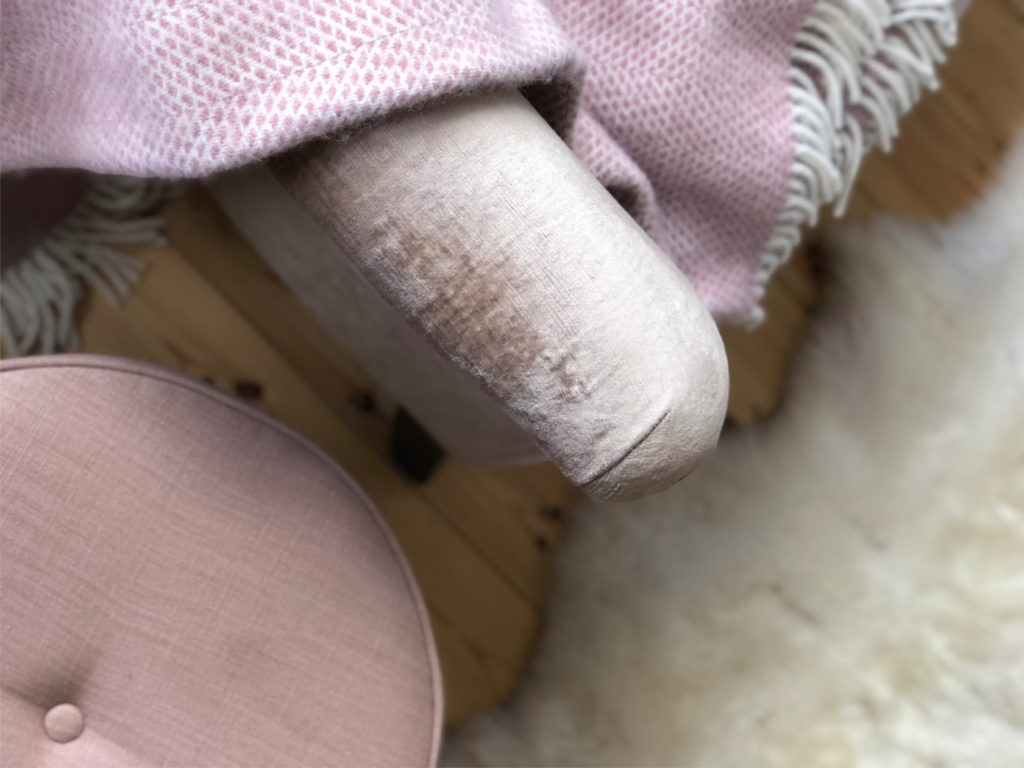 We introduced soft sheepskin rugs to step out of bed onto in the mornings and woollen throws across the chairs and sofas, a gorgeous mix of textures and finishing touches.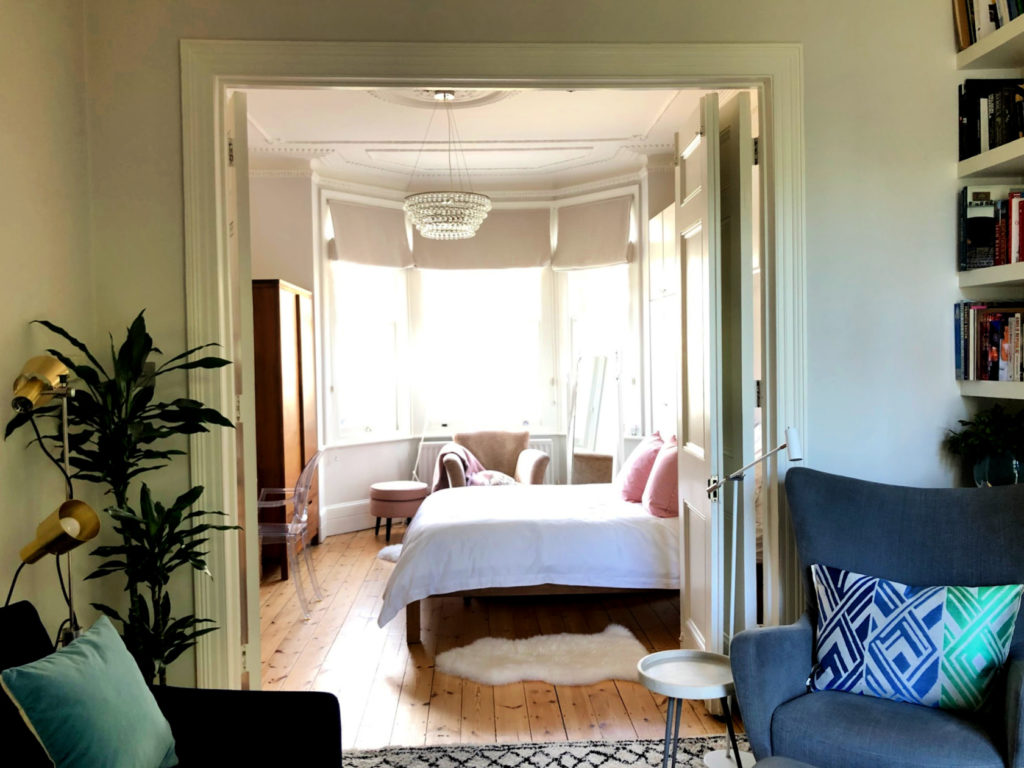 The curtains and blinds were chosen to create a lighter and more contemporary space than the darker blinds and striped curtains that were there before. The rug is a well-priced, short-term addition from the La Redoute collection – which will be changed over time.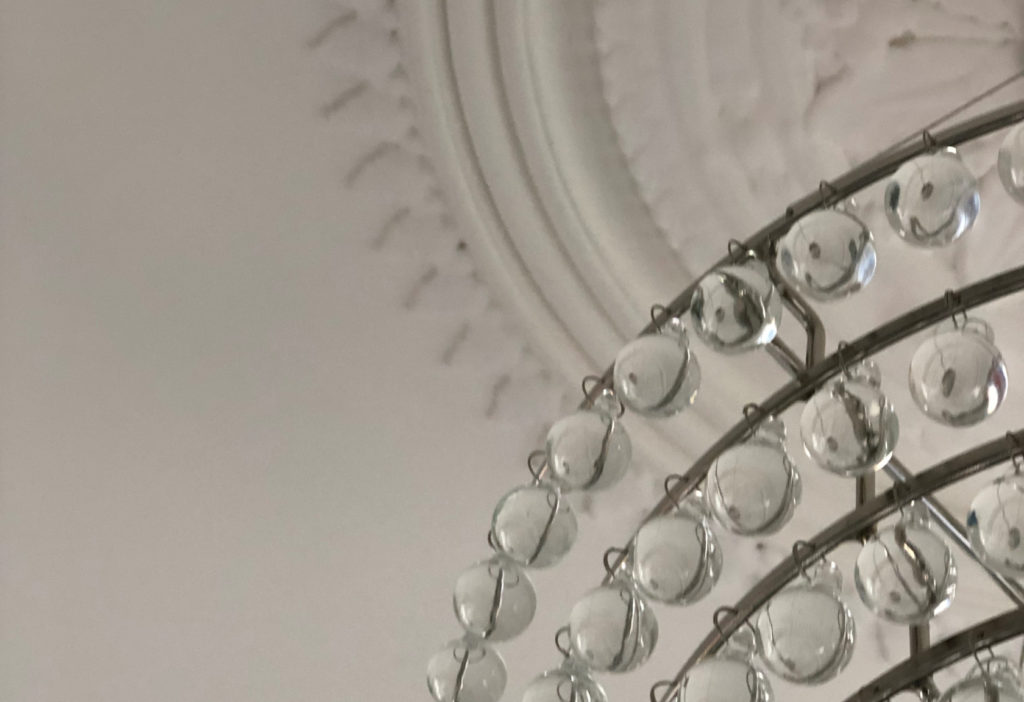 Together, we chose beautiful chandeliers from the White Company. The contemporary, glass, circular chandelier is a perfect complement to the original ceiling rose, creating gorgeous shapes in the daylight and sparkles at night.
The comfortable, modern wing-back chair is from Graham and Green and the cushions from Designers Guild.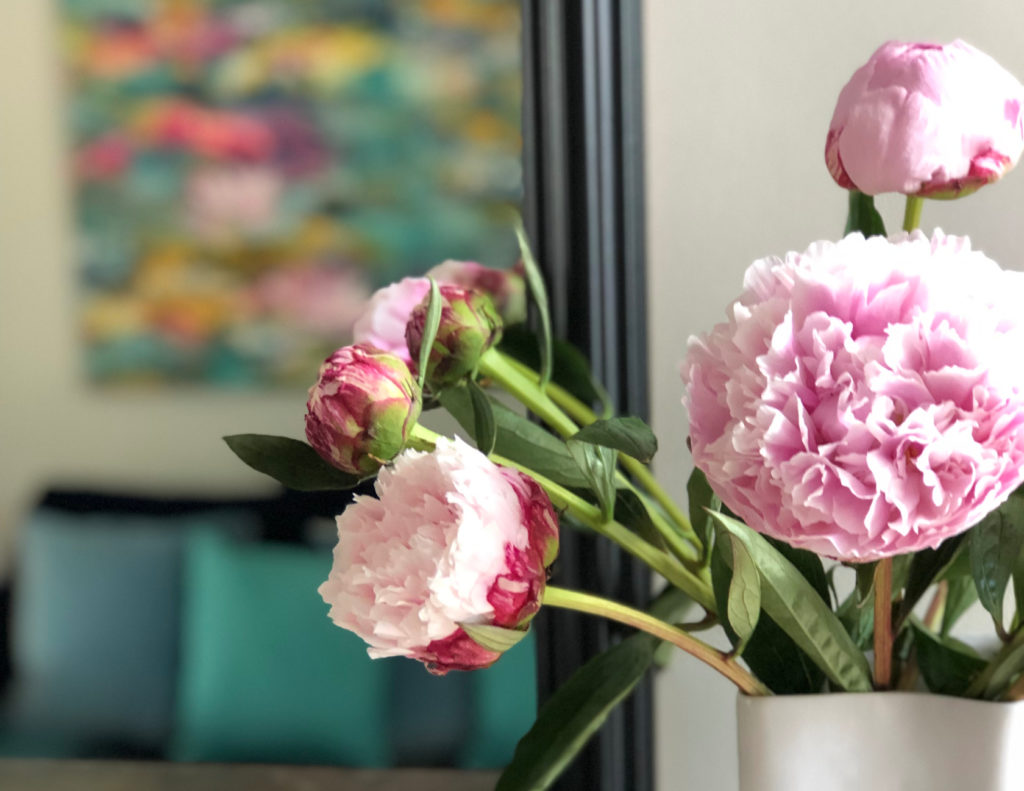 Having worked to a careful budget on furnishings, our client was able to make a little investment in the artwork, purchasing beautiful pieces with the help of Natalie Morgan-Davies, that she knew would make all the difference in personalising the space and that, when she finally does move, she can take with her.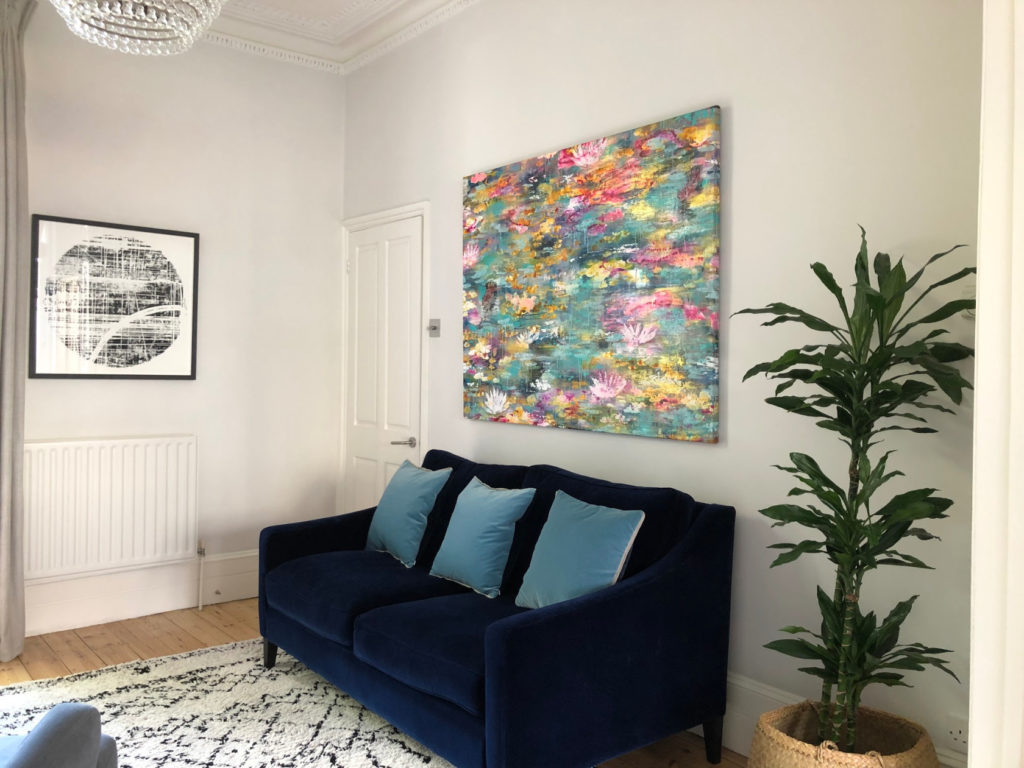 Contact: Please do get in touch if you would like help with your home or garden. Our packages and hours keep you in control of the look timing and budgets. Most of our services can be supplied face to face or remotely with a combination of telephone, email and facetime or skype as required. Always tailored to your requirements.
We would love to help you to create your individual home or garden.