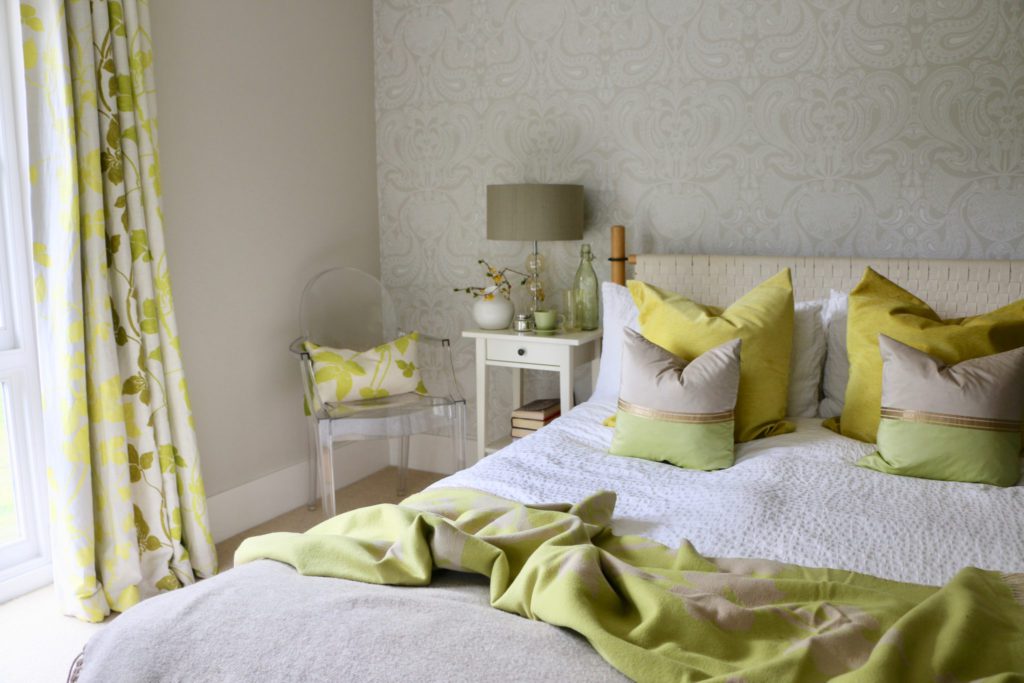 Flexible Bedroom Design
This project began when the client's adult children flew the nest. She decided to revamp her daughter's bedroom to turn it into a flexible bedroom design for returning children and guests. In fact there were really two clients as both Mother and daughter were very much involved in the process.
Whilst there are guests visiting, the room would still "belong" to the daughter and so it was important that her style was reflected in the new design.
Our design brief was to upgrade and increase storage, adopt a design that works well for both returning children and for guests. This was just as well, as during lockdown everyone was back home and the room became mini office as well as bedroom, and the storage was put to good use.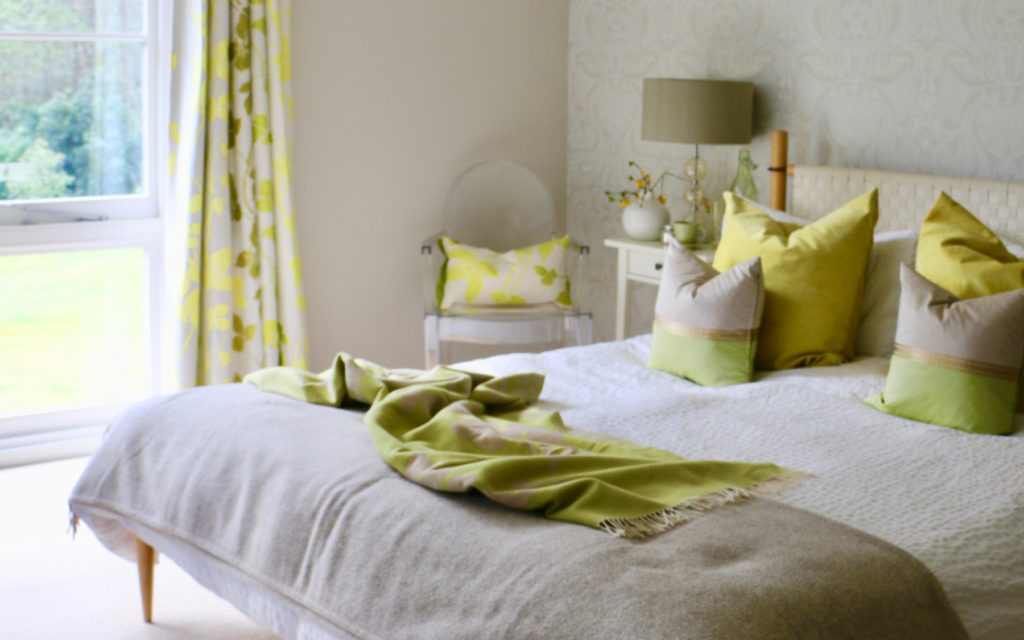 They wanted the room to feel fresh, light and uncluttered using natural furniture and fabrics, and to work with the daughter's favourite colour – lime, whilst creating an understated design.
The lime colouring works so well in this room. It is south facing, with large windows that allow natural light to flood in all day. The fresh and natural colour palette reflects the colours in the garden and brings the outside into the room.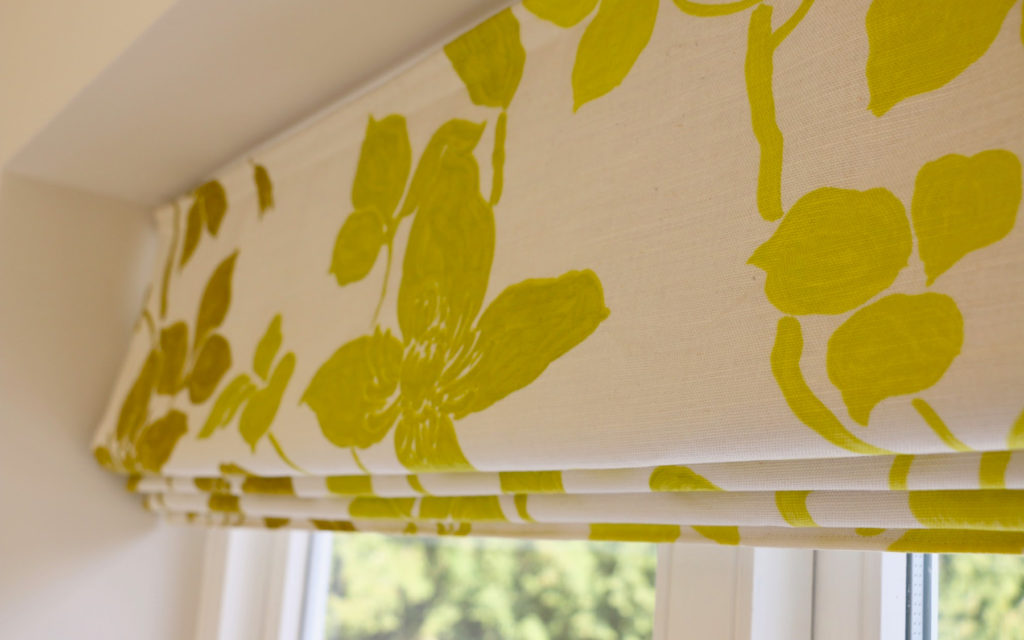 We chose floor to ceiling interlined and ring headed curtains in a gorgeous lime linen fabric from Designers Guild to highlight the beautiful windows on the largest wall. The finest feature in the room, they add another lovely layer of softness to this feminine space.
The room is double aspect, with a second window above a radiator on the smaller wall. Here, we used the same fabric on a beautifully handmade Roman blind. Both curtains and blinds are lined with a soft cream blackout lining for a restful sleep.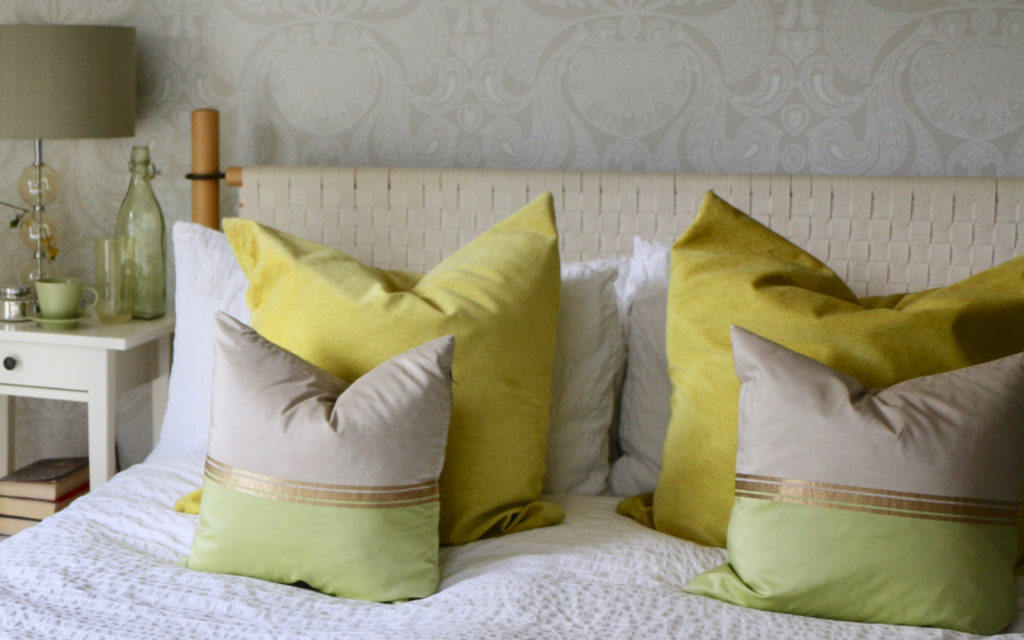 We kept the existing King size bed and chose a gently patterned wallpaper to reflect the natural weave of the headboard. The Cole & Son design was selected from their contemporary restyled collection to capture something of an Indian vibe, which will work well with the travel photos which are currently being framed, and will be added to the wall.
We made the cushions from a selection of velvet, silk and linen fabrics and combined with a woollen throw for a rich variety of textures.
The Philippe Stark Ghost Chair was selected for it's transparent qualities, maximising the sense of space, and is contemporary, in line with the brief. The side table is from Ikea – a perfect inexpensive piece.
Credits:
Decorbuddi: Amanda Delaney