Perfect Garden Design for A New Extension
The trend for opening up the back of your house to bring more light into the your home has moved the spotlight onto the garden.
At the end of the interior design project the garden design begins. This is a great opportunity to create the perfect garden design that links your interior and garden design.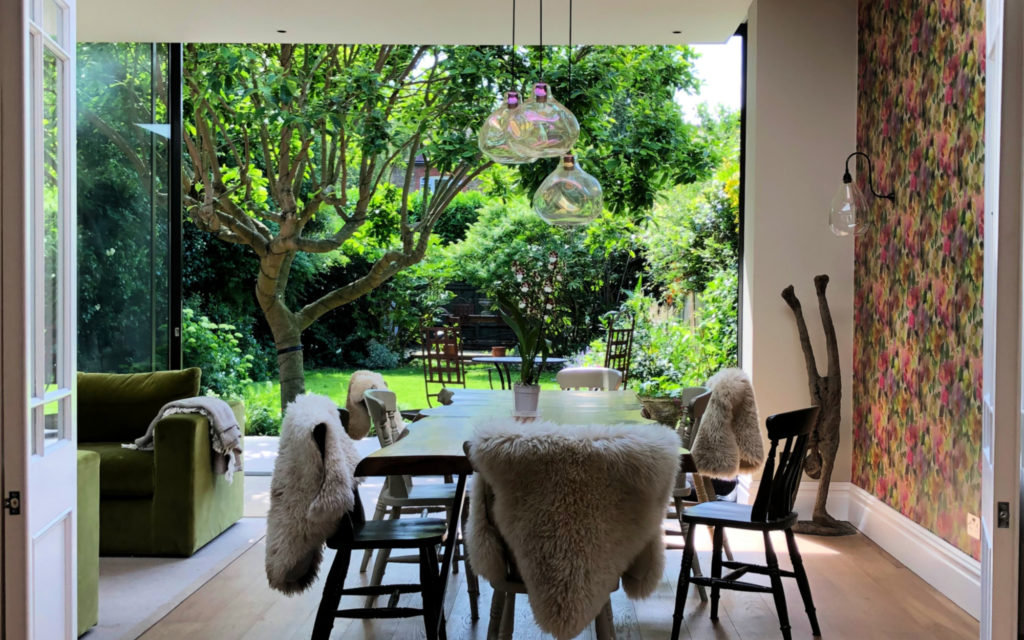 Here are our top tips for how:
1. Style. Consider the individual style you chose for your interior and how you can take that out into your garden. For example, if you chose something soft and and eclectic consider how that could flow into your garden with a planting plan that incorporates soft curves rather than hard lines, vintage garden furniture rather than modern pieces and romantic rather than exotic plants. In this project, we chose a relaxed and natural style.
2. Storage. Most projects begin with a phase of decluttering and sorting out the storage and the garden is no different. Having an old shed or compost bins is fine if you don't have great big windows looking out onto them. However, when they are in full view you will probably want to make sure that they are screened by plants or painted to look beautiful. In this case, there is space to tuck the shed away out of site at the bottom of the garden.
3. Colour. Taking your colour scheme from the interior into the garden is an excellent way to link the two spaces. In this case the interior scheme had be chosen already to link to the garden with natural wood and green as the main shade. We then took the colours in the wallpaper into the flowers outside. The important thing was to make sure that each plant was positioned in the perfect spot so that it would grow. Luckily the sunny side of the garden flowed from the wallpaper which made it easy for us to plant lots of beautiful bright flowers. The shady side is more naturally green linking the to living shelves full of spider plants inside.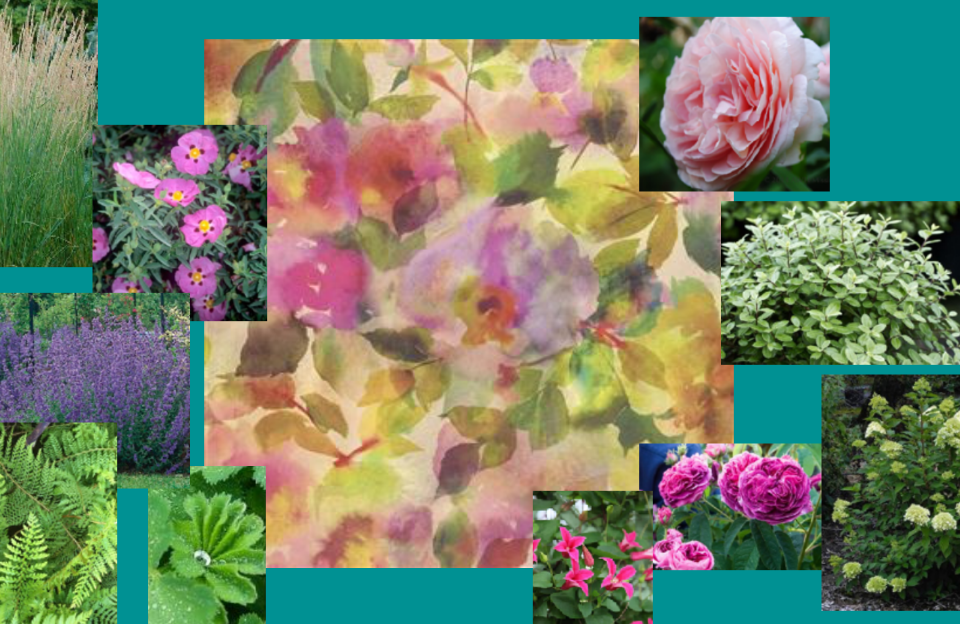 4. Function. Think about how you could change the design of the garden to enhance your enjoyment. Here, we already had a large dining table in the new extension so we made sure that the patio had enough space for a little breakfast table to sit under the magnolia in the mornings.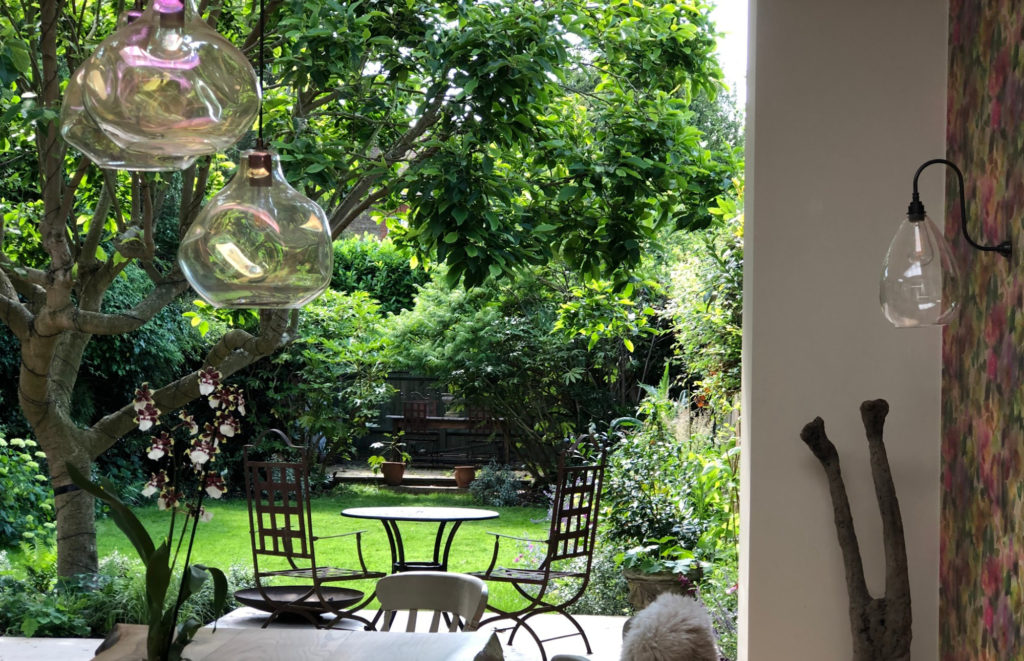 5. Aspect. Which direction your garden faces will have been an important consideration in your new extension. South and west facing gardens with floor to ceiling glass doors require shading and ventilation to ensure temperature control so that the new interior deoesn't get too hot in the Summer. Your garden can be designed to help with this also. Here we have a beautiful magnolia that is the focal point for the scheme, provides shade in the summer and maximum light in the winter when the leaves have dropped. Canopies, pergolas. climbing plants and shrubs are all natural tools to turn to to help with light and shade.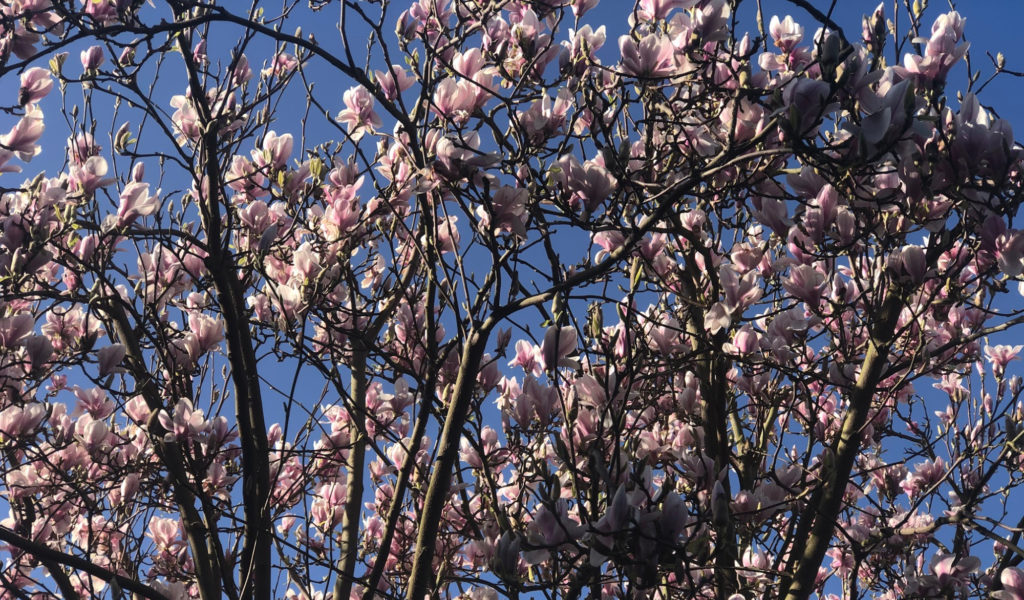 6. Lighting. Think about where you are directing your lighting so that it highlights a specific feature. If the light doesn't meet an object it will be lost as it vanishes into the sky. It is best just to pick the best few spots to highlight rather than creating a wash of light. Just enough so that you look out onto a pretty picture at night. In this case the obvious place to start was lighting the magnolia either with twinkly little lights or a single beam. Additional lighting will be placed in three more locations at the sides and bottom of the garden to lead you down at night.
7. Materials. In a previous project story we focused on the benefits of choosing materials that enable your interior design to flow outside. The most obvious example is flooring. It is now possible to match or compliment the interior flooring on the patio outside.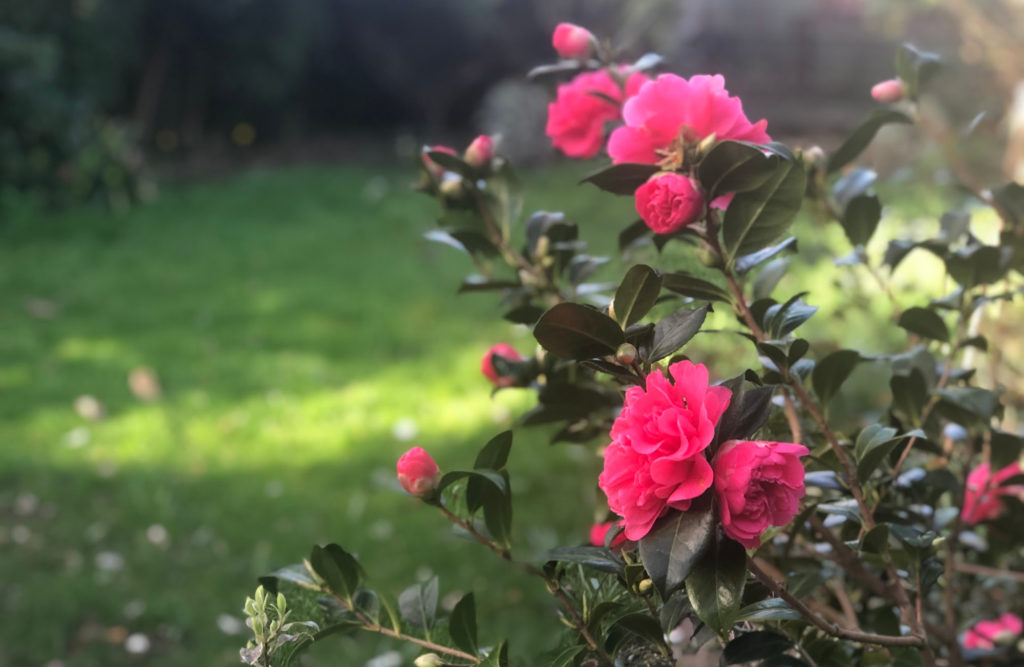 8. Problem Solving. Many urban gardens are overlooked by neighbours. Creating a garden design with high fencing, hedges, shrubs and trees can help that enormously.
9. Seasons. Most gardens look stunning in the spring, but it is worth considering the design of your garden so that it looks lovely throughout the year. Here we planted grasses at the bottom of the magnolia to create a "natural jungle zone" close to home that is green throughout the year. Likewise, shrubs and evergreen hold the gardens shape in all seasons. Then we planned the planting plan so that there are always pops of colour or elements of interest.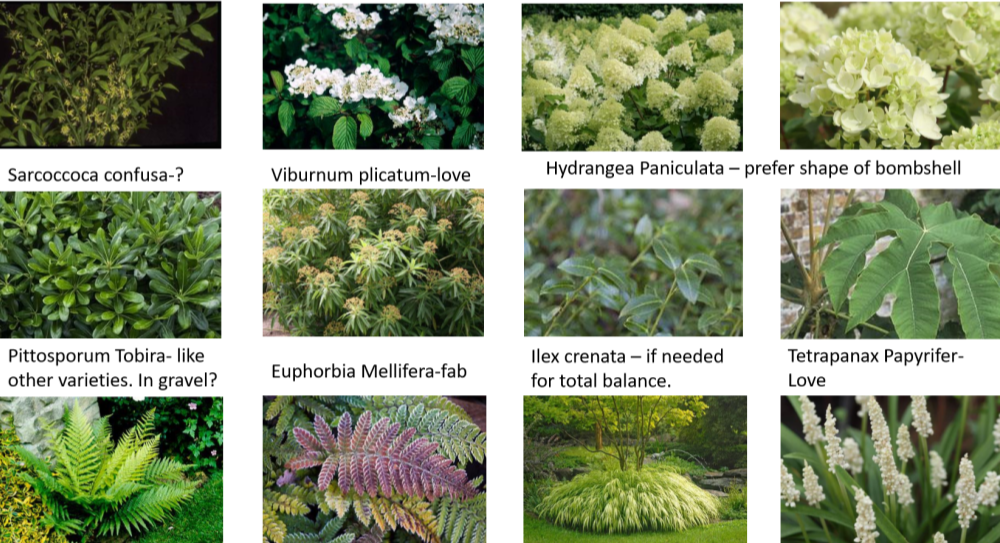 10. Environment. There are many ways that you can support the environment capturing rainwater, creating your own compost, adding a living roof on your extension, keeping real grass and plants rather than fake alternatives and choosing environmentally friendly products.We carefully selected plants that would support butterflies, bees and mini-beasts.
11. Kitchen. By kitchen we don't just mean creating a kitchen outside. Although that is very popular either with a built-in grill and oven or mobile bar-b-que. Rather it is worth considering to what extent you would like to incorporate a kitchen garden. This might just be a few containers or  a separate vegetable bed. Here we chose to mix vegetables and flowers throughout. We also planted herbs near the sliding doors so that we could enjoy their fragrance they can easily be picked.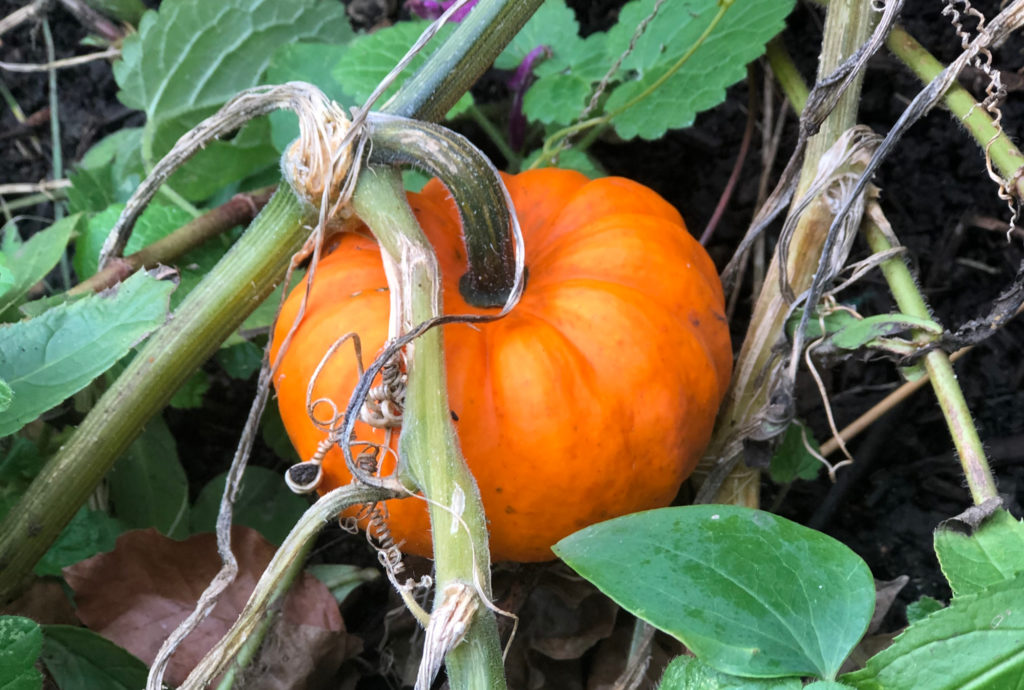 12. Time. Unlike the interior the garden will evolve quite dramatically over time. Depending on your budget you can choose the size of the plants you put in initially to speed up the process if you need. There are so many beautiful indoor outdoor furnishings that just like your home you can change the look of your garden over time.
Contact: Please do get in touch if you would like help with your home or garden. Our packages and hours keep you in control of the look timing and budgets. Most of our services can be supplied face to face or remotely with a combination of telephone, email and facetime or skype as required. Always tailored to your requirements.
We would love to help you to create your individual home or garden.