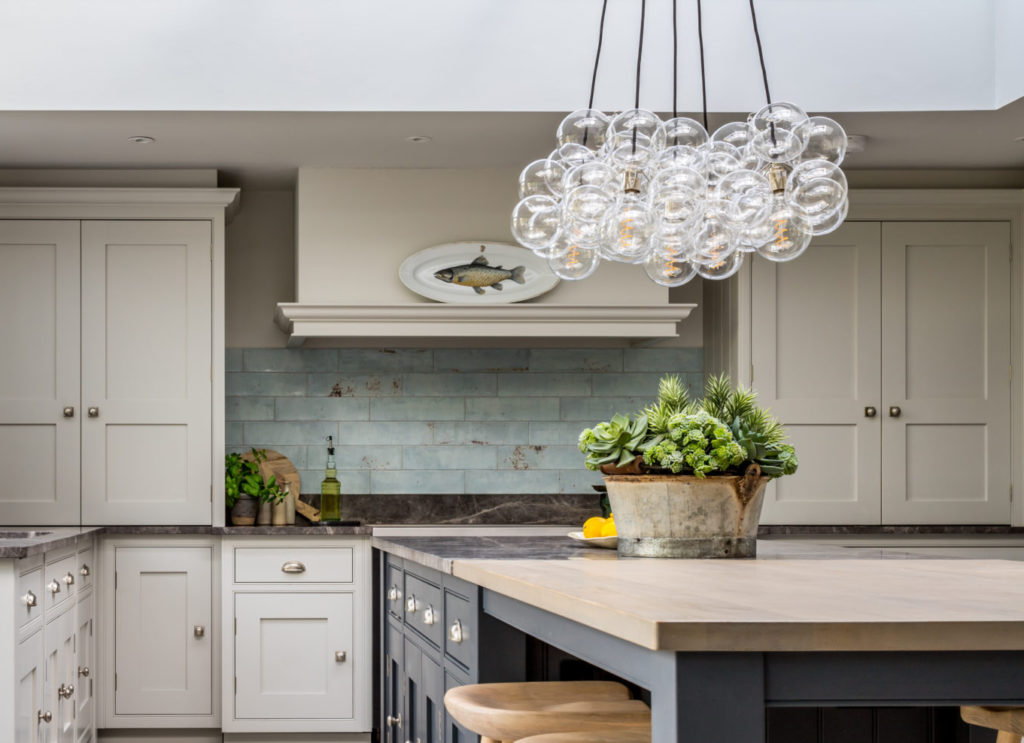 Until recently splashbacks demanded little attention, quietly fulfilling their function protecting the kitchen wall. With new materials and design options they have become the go to solution to transform a tired kitchen and create a focal point for a new one. The most inspiring options include:
Coloured glass looks modern and stylish applied in long, seamless panels to add a pop of colour. In an open plan space, choose a colour used in the living area to bring everything together. Powder coated, glass is available in a full spectrum of colours. For even greater flexibility, use plain toughened glass on top of any wallpaper or paint, so that you can remove the glass to update it when you redecorate.
Mirrored glass makes small kitchens feel larger by reflecting the light. Positioned opposite a garden or view of the sky, it can give the impression of an additional window, doubling the size of the room. A great way to bring the outside into your home. A small word of warning, do be careful to check what it will reflect, as if the view isn't pretty it can have the opposite effect. Antique glass has the added benefit of more character and historical quality.
Metals have an industrial feel. Stainless steel is reminiscent of professional kitchens, whilst Copper and Brass echo their domestic heritage linked to the pots and pans of the grand homes from the time of Downton Abbey.  Copper and brass are easier to clean than steel and can be allowed to tarnish or be lacquered to stay shiny. This beautiful brass has been pre-aged with splashes and marks that imply a long and interesting life.
Granite and Quartz remain the most popular choice. "If you are changing your splashback and there is existing granite or quartz worktop we would always recommended having the same material. It is more streamlined makes the areas look bigger." Says Mary of Konig Kitchens. Polished granite is sleek and shiny, whilst honed granite is matt and more textured.
Marble is one of the most beautiful materials available, and as every piece is unique it creates a truly original design, but is porous, and costly. Now there is an exciting alternative; Ceramics which replicates marble. "Available in wide tiles they combine the aesthetics of marble and the benefits of a man made material. Scratch resistant, stain resistant, heat resistant and easy to clean, you can use it for your work surface also to take the design from the counter to the wall." Says Mary Hogan of Konig Kitchens. It looks wonderful with a white worktop too."
Marble of course isn't the only option. Tiles are available in an extraordinary range of styles and designs from metro tiles to mosaics and natural wood and stone finishes, providing a wonderful opportunity to personalise your kitchen exactly as you would like.