ART INSPIRED BATHROOM
Have you ever wondered exactly where to start when planning to redecorate your home? If so, you are not alone. It is a problem that lots of people have. There are so many gorgeous colours and products, it can be hard to know what to choose or where to start.
Why not try to take a step back and start with your art? You can get inspiration from many sources including nature, travel or a stunning piece of furniture. But if you get inspired by art, it can be the very best place to start.
Art can transform an ordinary room from bland to grand. It can add colour and life, set the design style, evoke moods and emotions, make you laugh or smile. Place a strong piece of artwork in just the right place and you may discover that you actually don't need to decorate at all.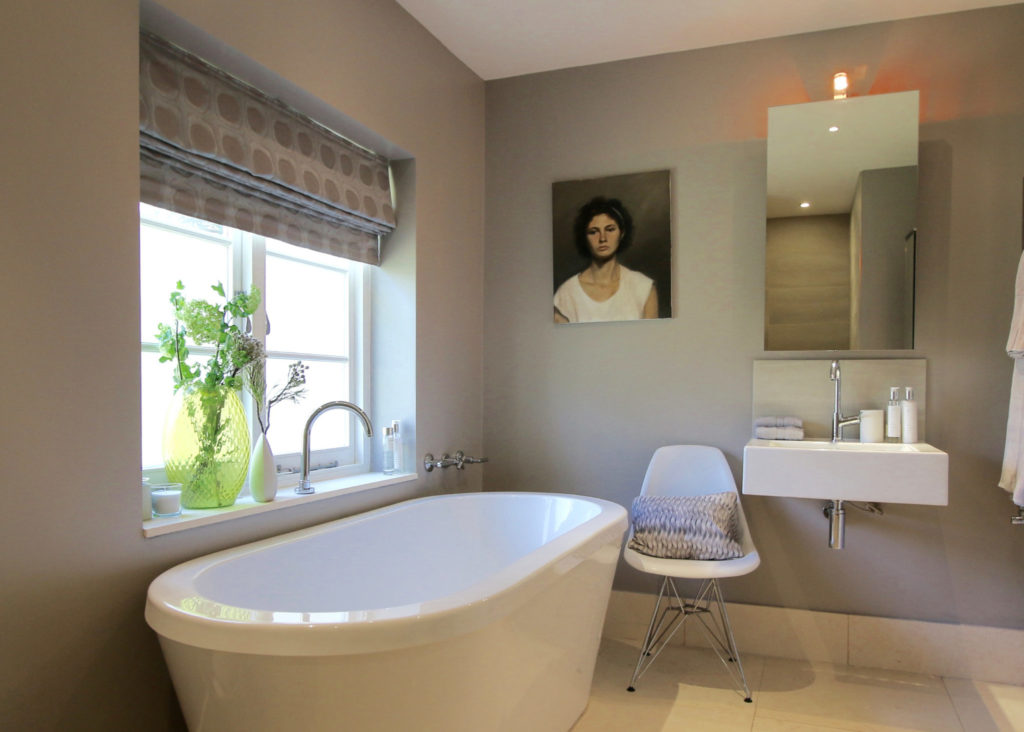 If you already have a collection of art you are happy with, take time at the start of a project to decide which piece you want where. Decorate to display it at its best, putting your personal stamp on every room. What is it that you love about it? Take a closer look at the colours and shapes in the piece. Try to work out why you chose it, whether it is the picture itself, or the emotions it evokes, so that you can take those elements into your living space.
If you haven't thought about how your art will fit into your new interior design at the beginning, you may find that it doesn't fit at all.
The oil painting in this bathroom contains rich creams, calm greys, neutral skin tones and purple hues which, combined with the subject, creates a sense of serenity, making it perfect for use within the relaxing environment of a bathroom. "The colours used within the bathroom reflect those of the painting. Alternatively, the art itself could work equally well in a bedroom where a sense of calmness is also desired." says Amanda.
An unframed piece like this works well with the informal nature of the room and reflects the simple, contemporary aesthetic.
One last thought: It may seem obvious but art will draw the eye, so place it where you want to focus attention. Here, for instance, it can be admired whilst relaxing in the bath. So much better than above an old radiator.
Contact: Please do get in touch if you would like help with your home or garden. Our packages and hours keep you in control of the look timing and budgets. Most of our services can be supplied face to face or remotely with a combination of telephone, email and facetime or skype as required. Always tailored to your requirements.
We would love to help you to create your individual home or garden.
Sourcing
Art by @lucianasiandelaney_art
Wall colour: Dove Tail at farrow-ball.co.uk
Ceiling colour: All White at farrow-ball.co.uk
Shower tiles: rectangular grey porcelain at farnhambathroom.co.uk
Floor tiles/skirting boards cream limestone. Similar at mandainstone.com
Flush shower tray: Fiora Pizarra01 Bianco Roto at farnhambathroom.co.uk
Freestanding bath: cphart.co.uk
Toilet and sink: Duravit at bathstore.com
Shower unit and controls: Hansgrohe at bathstore.com
Bath/sink taps: bathstore.com
Wall cupboard above sink: cphart.co.uk
Tall Wall cupboard: conranshop.co.uk
Roman blind fabric: Johnlewis.com
Towels/hand soap& cream: thewhitecompany.com
Chair: danetti.com
Cushion fabric: similar at romo.com
Vases: lsa-international.com