Multi-functional Space Planning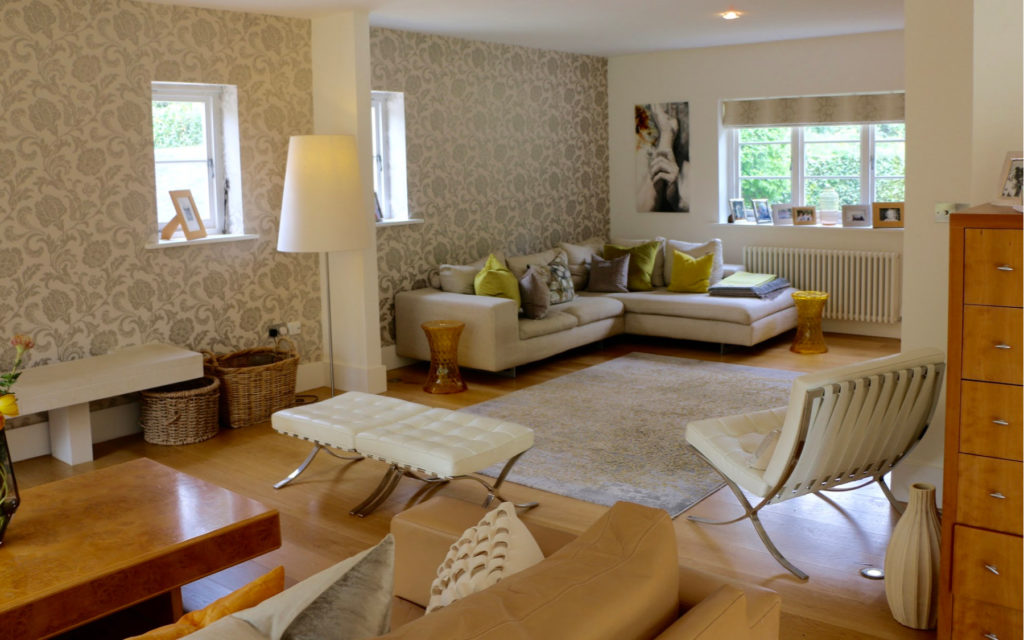 Sometimes making the most of your space is more about how you arrange your furniture than choosing something new. This is often the case in large open plan areas.
The art of successful open plan living is to create seamless zones that have a role and purpose within your household whilst ensuring that a cohesive interior design is achieved.
These zones help a space or room become multipurpose, allowing you to have a flexible area for changing needs. They can be created by the layout of furniture, varying floor levels/coverings and by a subtle transition in interior decoration.
Layout:
Here, Amanda created an area for chilling by the fire alongside a more sociable space for conversation and entertaining additional numbers with the use of the Barcelona stools. The stools give her flexibility, providing a movable division between the two areas and also additional seating for either activity as required.
The position of the furniture marks a soft boundary, defining two quite separate zones which can be reunited – for larger gatherings when needed – by simply removing or repositioning the stools.
Floor levels/covering:
A change in floor covering can be very effective in defining separate areas within an open plan environment. Changes in materials and texture – introducing wood, stone, concrete, carpet or rug – work well for zoning purposes and selecting colours from the same palette throughout will ensure your scheme is cohesive.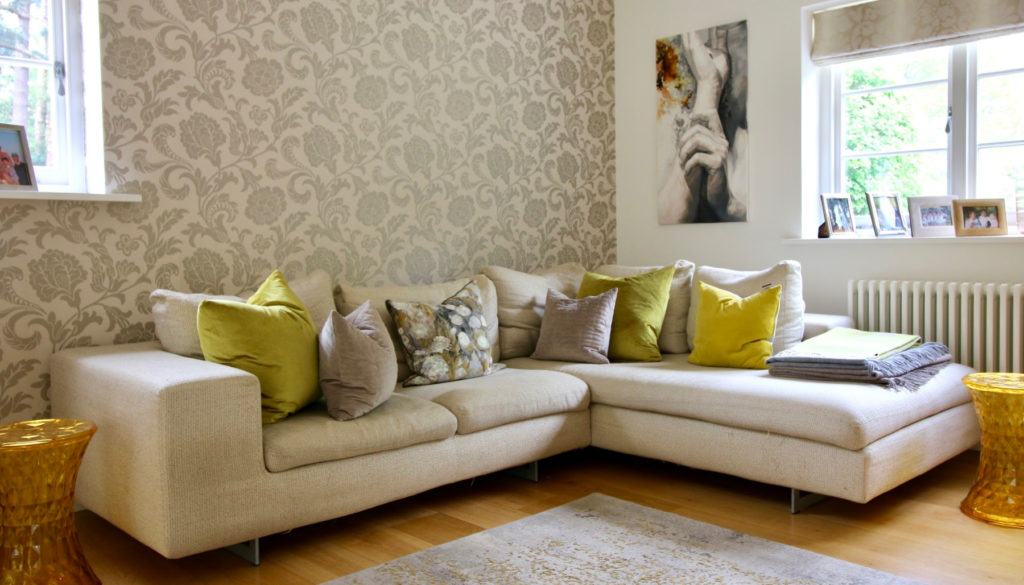 Interior style:
In open plan living, each zone needs to be creatively linked to the overall interior style of the house but also needs to subtly incorporate unique elements to define function and character. This can be achieved in a number of ways, such as changing wall colours or introducing textured wallpaper.
One of the simplest ways of achieving this is via soft furnishing and accessories, allowing you to experiment a little more with colour pallete and design. The fireplace area in the lounge photo is filled with texture, using faux fur, velvets, leather, felt and silks creating a cosy feel – natural hues with pops of orange. The TV area introduces a cream and green colourway and linens, wool and velvet. Subtle differences but consistent with the overall design.
Contact: Please do get in touch if you would like help with your home or garden. Our packages and hours keep you in control of the look timing and budgets. Most of our services can be supplied face to face or remotely with a combination of telephone, email and facetime or skype as required. Always tailored to your requirements.
We would love to help you to create your individual home or garden.