How much does an interior designer cost in the UK
How much does hiring an interior designer cost in the UK? A simple question with a less straight-forward answer. At Decorbuddi we know that creating your home and garden is a very personal process. 
An initial starting point to answer the question 'how much does
an interior designer cost in the UK' begins by looking at the project itself. As each home project is unique, its price tag is determined by various factors that can add or subtract from the tally of costs. Some of these factors include:
Project Size. This includes whether it is one room or a whole house, a simple renovation or a new build and the scale of workmanship needed to finish the project.
Type of Room.

 Project size also varies depending on the room type (or rooms) being renovated. A living room project will differ in cost from a kitchen regardless of relative size.

Expertise Required: For build projects you may need an architect, builder, project manager and specialist trades as well as an interior designer. Clearly defining the role of each at the start will minimise any overlap, speeding the process and keeping costs down.
The Designer's Involvement. 

How much would you like to project manage yourself, and how much would you prefer to delegate to a professional? Some of our clients prefer to take a more hands on approach with just a helping hand in the right direction from their designer. Others require a turn-key solution, from design concept through to project management, installation and final styling.

The Designer's Hourly Rate.

This cost varies among professionals based on their personal experience, location, and expertise in specific areas. The hourly rate is not a clear indication of final cost as designers work in different ways with more experienced designers working more quickly. Getting a proposal for your individual scope of work will provide a more accurate assessment.

Visuals. What type of visuals do you want to see. A mood board, 2D layout and shopping list of products will cost less than full 3D renders for example.
Decision-making. Spending time early on establishing the look and feel can save you money in the long run. It will help you to be more decisive, saving time and improving the project efficiency. An experienced Decorbuddi designer can gently guide you to make good decisions at the beginning.
Painting and Decorating Costs.

There is a trade off between price and the quality of the end result. For long lasting results it is worth investing in an expert with a proven track record. 

Bespoke Joinery. Bespoke storage and furniture cost more than ready-made items. They also add value to the quality of your life and to the return on your property investment when you sell.
Site Visits. Some small design projects can be run entirely online but the majority require site visits to your home. We have found that a balance between face to face meetings and online interior design consultations provides the most successful solutions at the best price. Estimating the number of site-visits will help provide a more accurate cost of your interior design project.
Products. Not all projects require product purchasing but if your project does it will help to set yourself a clear budget and share it with the designer as early as possible. If you have a flexible budget, take time to explore and set clear costing parameters in the first phase of work.
Garden Design. If you are planning to open up the walls of your home to extend out into the garden, remember to build in a budget for garden design and landscaping as well as the interior design to create a beautiful view bringing the outside into your home. Our Decorbuddi garden expert would be happy to help you with this aspect.
Consideration of these factors is the first step in determining the cost of hiring an interior designer.
Can I justify an interior designer?
Another question often asked, regardless of budget, is whether or not hiring and interior designer can be justified. TV shows imply that changing the look of your home is easy to achieve. In fact it is time consuming, complex and can be fraught with difficulty unless you have the specialist skills and contacts needed. Hiring an interior designer makes the process easier and more enjoyable, ensuring a better quality of end result.
The hidden cost of going it alone is the cost of mistakes made. Hiring an interior designer can help you to avoid expensive mistakes, from choosing the wrong size of sofa, to installing an uncomfortable bath or placing a staircase to your loft in a position without full head height.
I
nterior designers have first-hand experience and expertise in detailed budgeting, procuring exclusive furnishings, fixtures, and fittings at better prices than you could achieve as an individual and working with best-in-the-business tradespeople.
Enlisting the expertise of a skilled interior designer can be affordable, and even beneficial to project costs.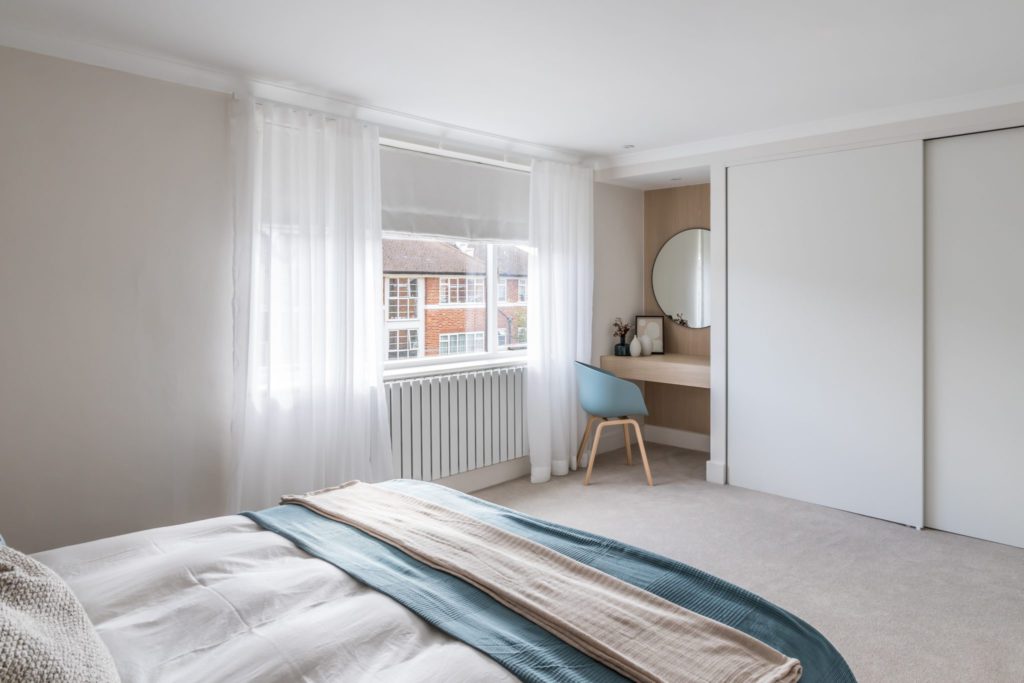 How much does an interior design consultation cost? 
Arguably the most crucial starting stage of the interior design service process, the cost of an interior design consultation depends on what
the interior designer offers during this first conversation.
A free initial call, will enable you to screen interior designers on basic factors such as project experience and availability for the project. The next step is a full interior design consultation to delve deep into the specifics of your individual project, identifying parameters and possibilities.
With a fixed fee of £250, our initial "Get Started" package includes a face to face consultation crammed
full of helpful advice, practical solutions, ideas and inspiration, as well as access to trade contacts and sources, as needed. Providing clear direction on how to proceed to achieve your vision, and the opportunity to sense-check the team, this is a valuable, no-obligation first step. A spring-board to kick-start your interior design project, clients complete this phase with a clear understanding of the process involved and confidence in the team.
These consultations usually take place in person, in
the comfort of your own home. We can also work remotely to suit you.
How much does an interior designer cost per room? 
The cost of an interior design project can be broken down
into a room-by-room basis, which is ideal for those only looking to update one or two areas of their home. As rooms vary in function and complexity, the type of room will affect the cost per project. 
From the fixtures and fittings to the implementation and shopping list of products,
a kitchen renovation is far more extensive than a living room, for example.
At Decorbuddi, we have a transparent process for costing the design of one room which takes account of the factors listed above. Broken down into three clear phases, 1) Design concept 2) Design Detailing 3) Implementation, we make sure that you stay in control of the look timings and budget throughout. Progressing on a phase by phase basis we are totally flexible so that our clients and can have just the help they need.
How much does it cost to interior design a house?
Expert guidance becomes almost essential when the project includes the whole house. A large-scale
task requires a full team, with clear roles and responsibilities. A team that works well together, will help you to progress the project more quickly as well as keeping control of costings. Time really is money with interior design and specialist trades.
Costing interior design for a whole house can seem daunting but it doesn't need to be. The process remains much the same as for a smaller project, and can be broken-down room by room, and task by task as needed. 
Inevitably there will be some unknowns, that become clearer as decisions and choices are made and the project progresses. Clear, regular communication between the client and team are key. Spending time to establish the design vision at the beginning will make it easier to stay on track, keeping control of the look timings and budget. Once the vision has been set it will be possible to give a more detailed costing for the entire project.
Having someone to co-ordinate the implementation of your interior design
ensures you save money where it counts. From sourcing the best people for decorating and construction through invaluable connections to securing the best rates for furnishings to ensuring that nothing goes awry.
Would you like a bespoke quote?
Decorbuddi breaks down the cost of interior design projects to fit your specific needs, allowing you to tailor the cost of your project to suit your budget. Ultimately, the best way to answer this question is to get in touch for an individual estimate. We are always happy to discuss your project with no obligation so please do not hesitate to ask us anything.