How To Make A Small Room Seem Larger
(All images from Decorbuddies projects)
They say good things come in small packages, but when you are faced with a cramped room that just won't cooperate with your interior plans, this couldn't feel further from the truth. However, there are a multitude of different ways we can create the illusion of space, transforming the pokiest of rooms into the most envious of places. This is a guide for doing exactly that:

Paint
Concealing the smaller size of a room can be as simple as applying a lick of paint. Create a seamless facade by painting all exposed surfaces the same colour – up over the ceiling, across skirting boards, cupboard doors and book shelves – no surface is safe! Painting skirting boards the same colour as flooring in an excellent tip for making a floor seem wider, particularly in hallways.
Should you wish to add some design detailing, do not be tempted by bold contrasts, but instead bring in similar toned colours. Keep overarching patterns faint, and bring in a pop of colour or two as a focal point – perhaps in an artwork. With no broken lines of paint to distract the eye and finishing touches that are both subtle and chic, the overall effect creates the appearance of a much bigger space.

Windows
Natural light is a true blessing to size-challenged rooms, so if there is a confident source of natural light, be sure to make the most of it. When dressing your window, choose blinds or curtains that allow the maximum light in and assemble the fixtures up as high as they will go. Go the whole hog and choose wall to ceiling curtains that lift the eye, making ceilings appear higher, or even ditch the window dressings entirely – just add a frosty film to the lower section of the frame for privacy, and allow light to shine in from the top all day long. Play with reflections and add mirrors to double the luminosity from the window, bouncing the sunshine around the space. 

LightING
If the room lacks natural light, perhaps it's time to consider embracing the darkness for a more dramatic effect. Attempting to conceal the shadows of a room by painting it a lighter colour, may only dull the space and highlight its gloominess. However, reaching for a deeper palette, a dark room painted a dark colour can become atmospheric and alluring, when carefully lit with striking lighting (this is a key component) and curated thoughtfully with decorative features.
Layering the lighting is just as important in a small space as in a larger room. Though you may be confined by less surface area, you are by no means limited to just one light source. Combining overhead, wall and/or task lighting, such as a bedside reading light in a small bedroom or lights either side of a mirror in a bathroom, will be better both aesthetically and functionally. Use lights to add some drama – think bright spotlights striking the wall or moody low-lit lampshades that illuminate shaded corners and create a warming atmosphere.

Decluttering
Overcrowding with 'stuff' is a sure-fire way to make a room feel cramped, so make sure you have a really thorough declutter and then be careful not to fill the space with lots of little bits and pieces. When reintroducing items back into the room, choose one or two show stopping elements over smaller nicknacks.
For the items you just can't part with, look to conceal them away behind closed doors and capitalise on some crafty storage space. Floor to ceiling push door cupboards, under eave, stair or sink drawers, are just some of the clever ways storage space can be maximised. Plan your layout very carefully for exactly what you want to house there and fit it bespoke. This doesn't need to be expensive, and you can opt to use Ikea frameworks with custom fronts or MDF.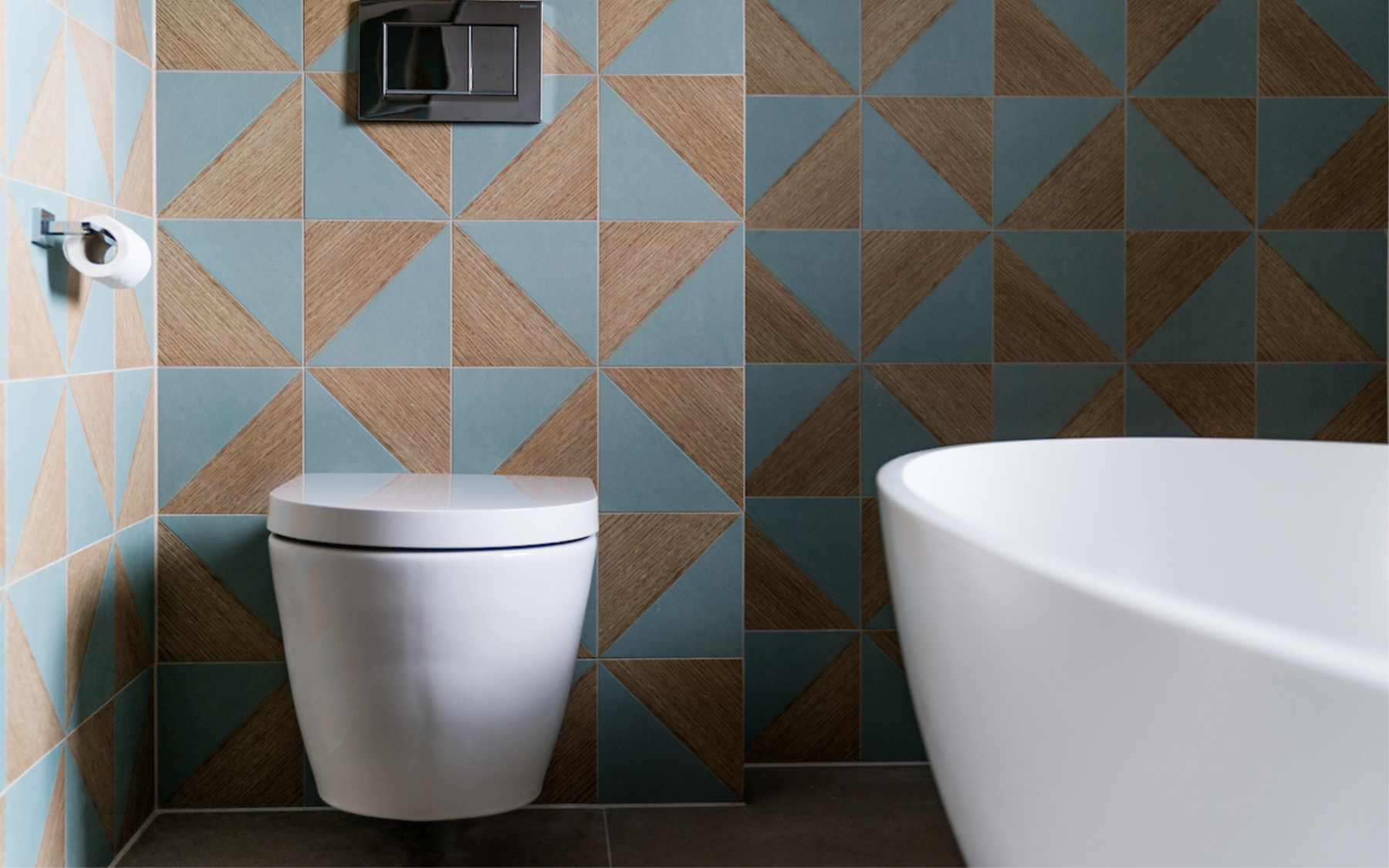 Furnishing & Finishing Touches
There is a temptation to think that small rooms need small furniture and decor but not at all! Carefully placed oversized pieces and patterns can con the perspective of the room into appearing fuller, and therefore larger.
When tiling a bathroom floor, for example, go for the biggest size tile possible to give the illusion of more space. Take the same tile up the wall to widen the feeling of the room yet further. Apply this same theory to your furnishing, and supersize the final finishing pieces.
Choose furniture with legs that leave space between the piece and the floor, and resist using the space for storage. Vacancies under a bed, chest of drawers, or bathroom cabinet will give a much greater sense of space than something that is boxed into the floor.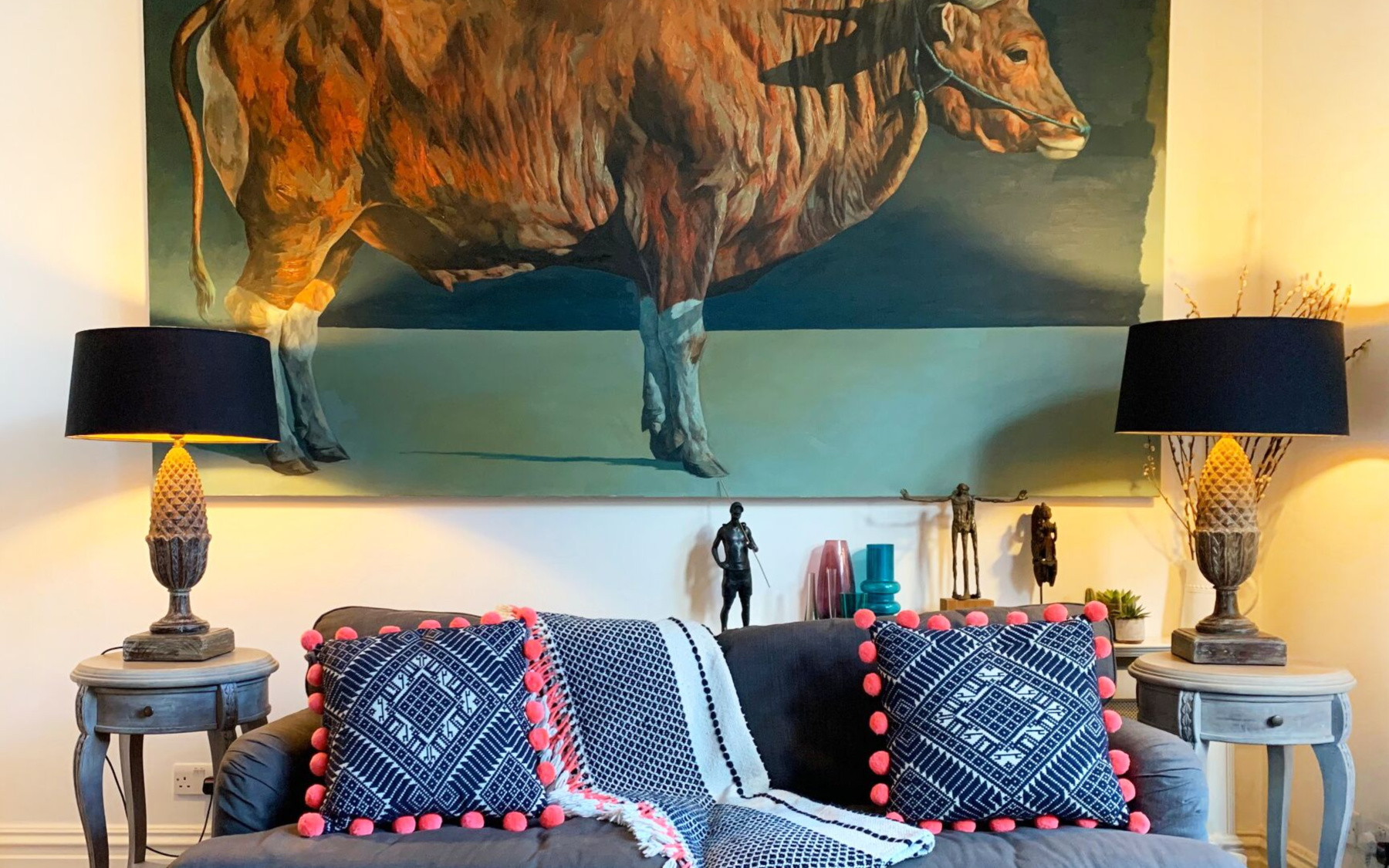 Large art or art grouped together as one piece will look much more captivating in a small space than lots of separate pieces. See our piece on gallery walls for some inspiration on creating that feature wall.
And finally, remember to play to your strengths in curating your small room. Whether it is highlighting the light or harnessing the shadows, decluttering your nicknacks or stashing them stylishly away, apply these tips to suit the space that you are working with, and transform that tiny chamber into a sensational suite that appears both bigger and fuller.
Contact: Please do get in touch if you would like help with your home or garden. Our packages and hours keep you in control of the look timing and budgets. Most of our services can be supplied face to face or remotely with a combination of telephone, email and facetime or skype as required. Always tailored to your requirements.
We would love to help you to create your individual home or garden.
Photo Credits: From top, thank you to Amy, Jackie, Amanda, Lorna and Laura.