How to update your interiors with the latest trends 2022
Gill Hynes reveals how to update your interiors with the latest trends. Written for Time & Leisure magazine, illustrated with photos from recent Decorbuddi interior projects. 
After the turbulence of the last few years, the dominant interior trends are all about comfort, health and quality of life. The desire to create a restful space to relax and unwind is the main driver, overlaid with a touch of pure escapism as we seek to make the most of every spare moment.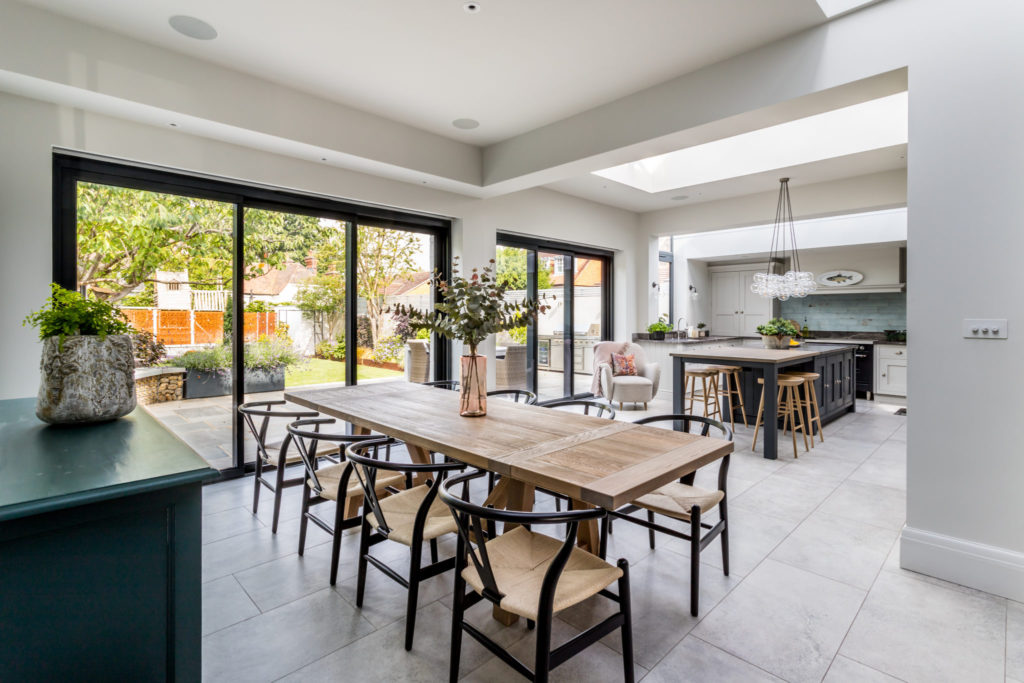 Kitchen Connections
The primary focus of most home renovation projects, and the place where we spend most of our time, the kitchen is at the forefront of the trend to create peace and calm by bringing the outside in.
A key consideration is how to connect the two areas. This may involve physically moving the location of units to bring us closer to the garden via glass doors on a new extension, the addition of a light-filled side return, or simply the choice of natural materials. Flooring is chosen to work with the patio tiles or decking. Furniture selection involves reviewing ideas for both dining inside and out. Appliance choices extend to pizza ovens and outdoor kitchens as well as traditional range cookers and induction hobs for the interior.
Even the smallest kitchens are being zoned for multiple functions, from carving out niches for home-working to incorporating bar areas for entertaining. Stand-along larders remain desirable, and wherever possible a separate space is allocated for the utility and, ideally second "dirty" kitchen.
Kitchen colours are evolving. Dark blue is being replaced with green, burgundy and a wider variety of heritage shades. A new palette of fresher, more pastel colours is also emerging. The latest trend, combines the two with kitchen schemes grounded in a dark base colour and lighter shades or natural wood being selected for the walls.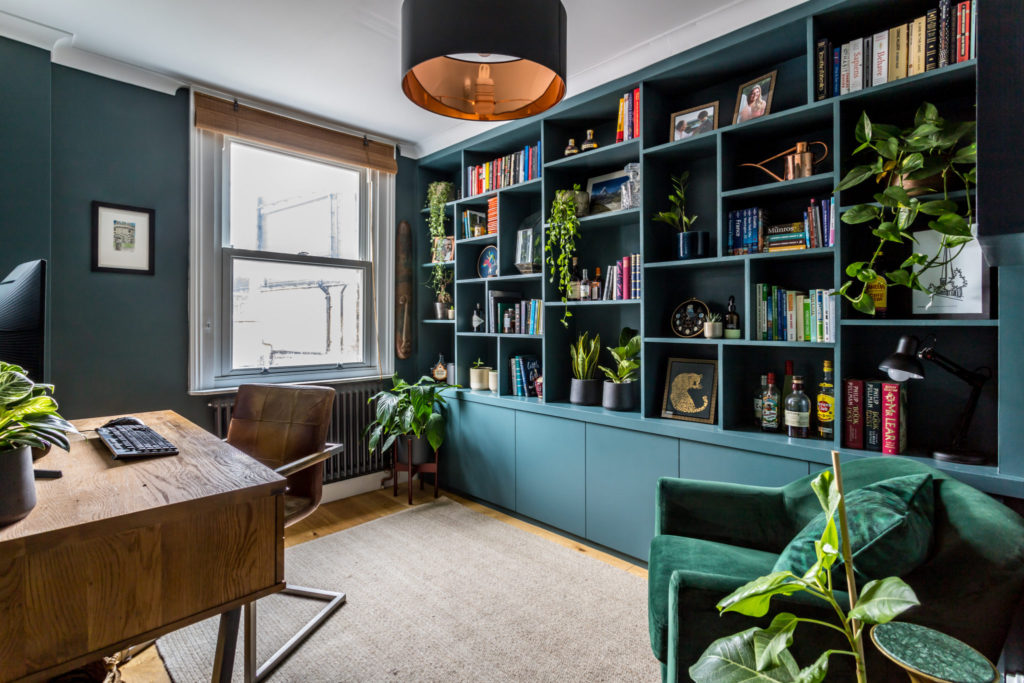 Studies Reimagined
Covid has brought the home-study centre stage and transformed the way we think about our office from desk and filing cabinet to holistic work and living environment.
The trend is to create a no-office home-office – a study or work space that contributes to the quality of our time, whatever its' size and location. Whether we have a discreet room or just a  multi-functioning surface available we are positioning ourselves in natural light, for those all-important zoom calls as well as the associated health benefits. Importantly we are no longer prepared to compromise our health and are taking the opportunity to consider our fitness, building in sports equipment that keeps us active, standing desks or pilates balls.
Clever storage is the essential trend that enables us to tuck away all signs of work at the end of the day and retain a good balance of life. Every piece of furniture is assessed for its versatility as well as aesthetics. Working in the living room? A storage ottoman is a great place to pop lap-top and paper-work. Art and décor is chosen to give pleasure in reflective moments.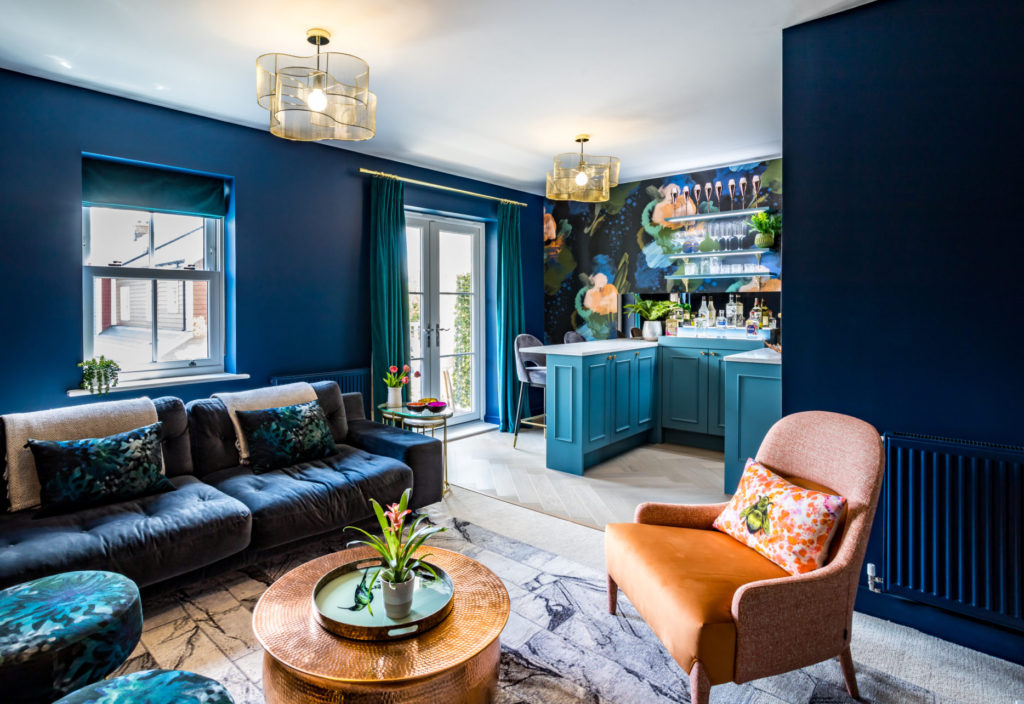 Living Rooms for Wellbeing
One of the lasting learnings to come from the pandemic is the importance of creating a living space that suits us personally. We are diving much deeper through the superficial layers of decoration and assessing how the improvements we make can enhance the way that we feel, our health and wellbeing. This translates into beautiful new design solutions.
Patterned fabrics and wallpapers are an increasingly popular method of adding character to previously bland interiors. Where wallpaper was once applied to just one feature wall, now we are confidently papering all four to immerse ourselves in the design theme completely. There is even a move towards applying colour and pattern to the ceiling.
With its, curly, nubbly texture, Boucle is the fabric of choice for the new curvaceous furniture we are drawn to. Wonderfully comforting to sink into, it is available in a wide range of colours and looks great in a traditional or contemporary setting.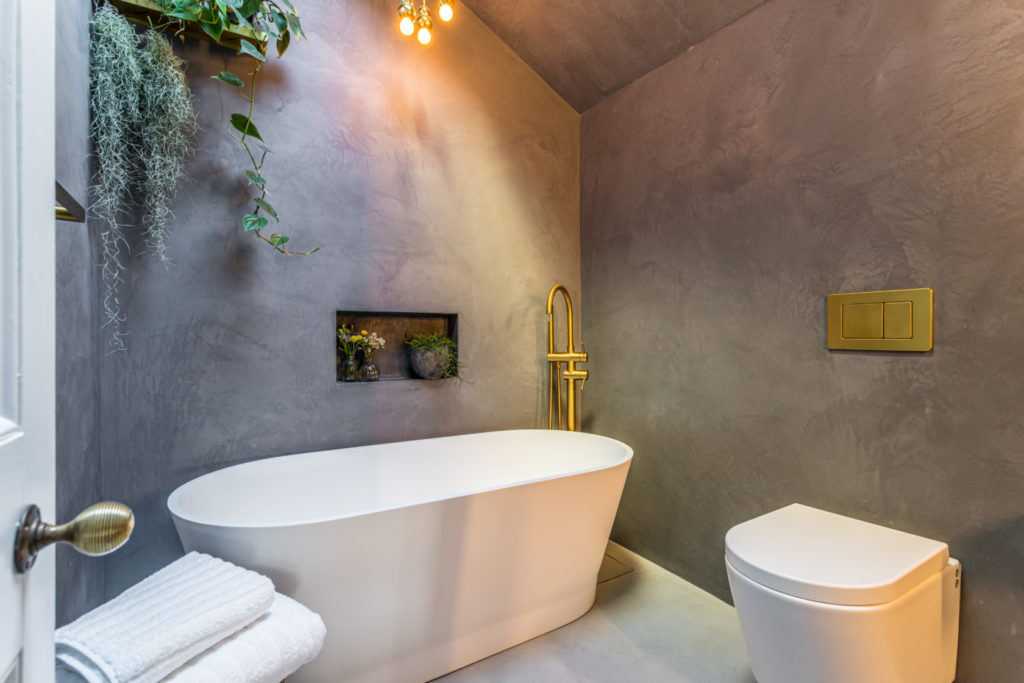 Bathrooms Made Beautiful
The desire to feel cocooned and cared for extends to the bathroom, seen in the move away from pure white and cool colours to warm pinks and soft greens in the paintwork and tiles. Wood is being left unpainted on counter-tops and cabinetry and making a come-back on flooring in its' natural form or as lookalike porcelain tiles.
The décor is increasingly decorative with layers of beautiful lighting, worthy of any living area, replacing spotlights and harsh make-up-mirrors. This is made possible by the growing number of manufacturers designing decorative pendants, wall lights and chandeliers with IP ratings, enabling them to be used in wet areas such as bathrooms and even outdoors.
Steam rooms and spa baths are growing in popularity. Spa luxury is trending as the most desired look and feel, created with a combination of open-shelving, soft lit niches and an abundance of plants. Micro-cement, Tadelakt finishes, and Moroccan styles replace the ubiquitous metro tiles. Folded, fluffy towels, infusers and carefully chosen toiletries add the final finishing touch of luxury.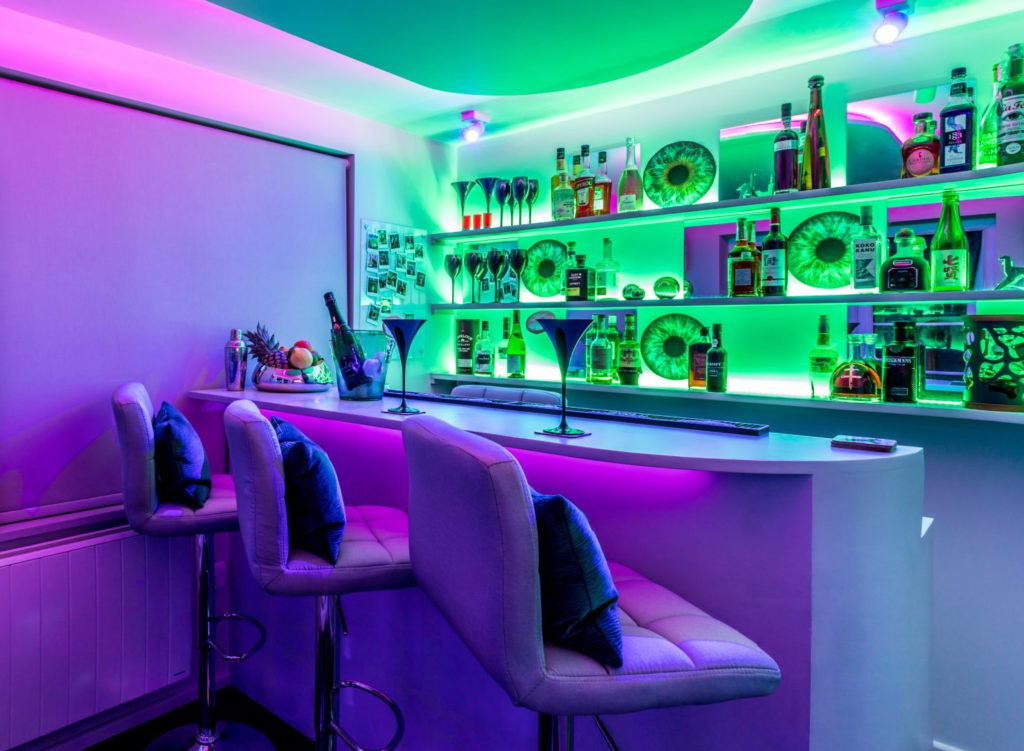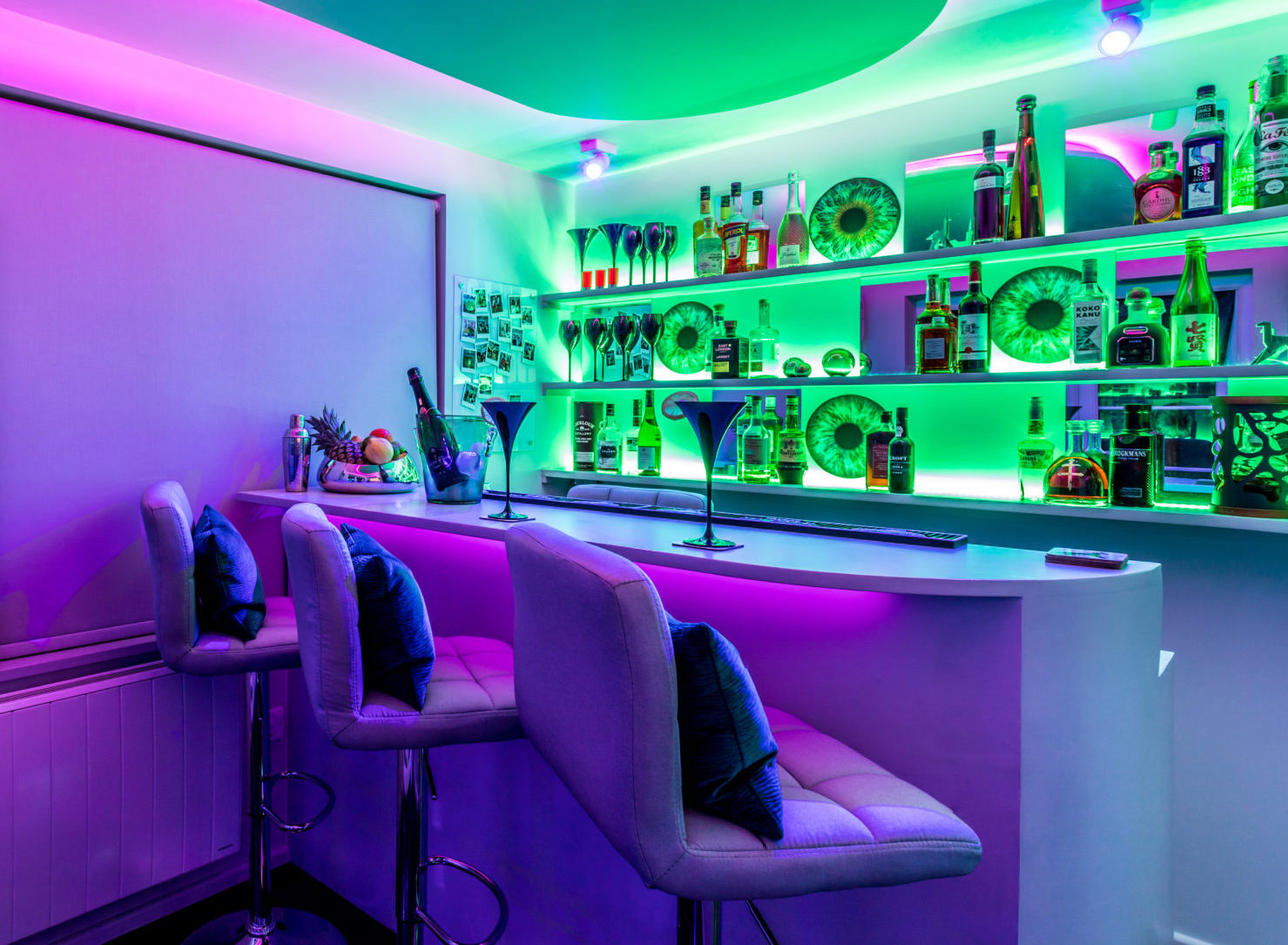 The Multifunctional Spare Room
"Spare room" trends are a misnomer in 2022 as we maximise the use of every space in the house. Home bars, gyms, offices, media and games rooms are being created in the under-utilised areas available or built into a new garden room – another significant trend. Even the occasional guest room is being made to earn it's keep with a secondary use when no-one is visiting.
We are using these re-purposed spaces to indulge our interior design fantasies from movie-themed bars to man-caves and boutique-hotel styles. Paint colours, wall panelling and LED lighting are the go-to tools of the would-be interior design master to bring these design ideas to life. Walls are painted in an ever-changing variety of shapes and shades to create a fresh look in super-quick time, at relatively little cost. Panelling is added to walls, existing cupboard doors and Ikea furniture to up-date an area with a new, interesting appearance. LED lighting brings drama to surfaces creating the much sought-after wow factor that can change the atmosphere at the literal flick of a switch.
Image Credits
Featured Image: Design by Gill Hynes
Kitchen Connections Image: Design by Amanda Delaney
Studies Reimagined: Design by Jenny Wood
Living Rooms for Wellbeing: Design by Debbie Hannah
Bathrooms Made Beautiful: Design by Lorraine Sakharet
The Multifunctional Spare Room: Design by David Massingham
Photography by KT1 Photography