Why Use An Interior Designer?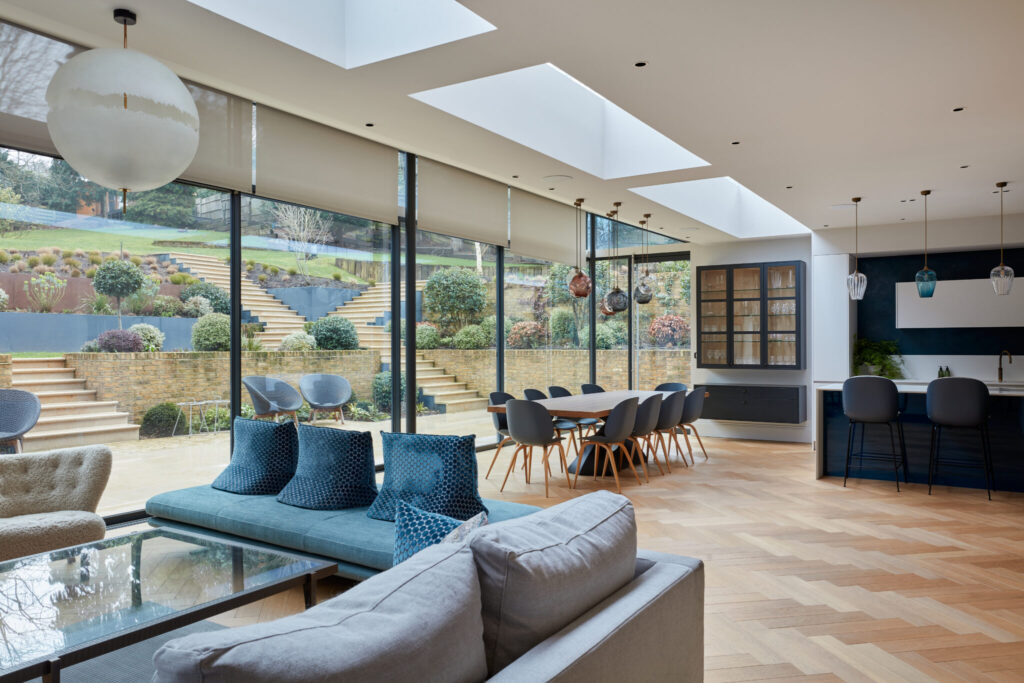 Why Use An Interior Designer? Watching reality home make-over shows might give you the impression that changing the look of your home is easy to achieve. All you need is a bit of inspiration a pot of paint and a staple gun and off you go. The reality is quite different. Creating a beautiful home involves a great deal of time, a lot of experience and access to team of specialist experts you can trust. It can be an overwhelming, time-consuming process, involving complex planning, budgeting and manging a diverse range of trades people.
Equally, using an interior designer can seem quite intimidating also. They have a reputation for being rather flamboyant, creative individuals with fixed styles and opinions who totally take-over and insist on how your home should be, with little consideration for budget or the practicalities of every day life. Today nothing could be further from the truth.
Interior designers are highly skilled professionals, focussed on your individual needs. Here are some of the ways that an interior designer can help:
Planning & Budgeting
Whether you are considering just updating the look of one room or an entire home renovation it is important to have a clear understanding of the process, any permissions required and what it is going to cost from the start. Your interior designer is well placed to help you in this task.
If you have a defined budget your interior designer can help you to allocate the money available to prioritise the elements that will add most value and give you the best result. If you have no idea of the costs involved your interior designer can help you to put a cost estimate together so to reduce the risk of any unpleasant surprises when you proceed.
Add Value to Your Property
A carefully thought out redesign can add immense value to your home. Whether you are planning to live in your home for many years or develop and sell immediately, it is very satisfying to know that the money you are spending will be profitable investment.
A question that we are often asked is what design changes will add value and which won't? If you are interested in exploring this aspect in more detail you may find this article of interest. Read more…
Define Your Style & Get Started
Not everyone wants a full interior design and project management service. Sometimes you may just need a few hours of help to define your style or to get started. An interior designer can provide this initial help to kick-start your project and give you just the direction you need.
Overcome Decision-Making Overload
With so many products available people find themselves faced with decision making overload. They are frazzled by the sheer volume of Insta/Pinterest inspiration out there and they go into a meltdown due to too much choice. Your interior designer will help you to overcome this by carefully curating a selected choice.
Change The Look of A Room
You may want to change the look of just one room. Your interior designer can do this much more quickly and effectively than you could do it yourself. There are an enormous number of brands, products and colours available, making it extremely time-consuming to sift through. Your interior designer will get to know you, your tastes and style and put together a curated collection just for you.
Visualise The End Result
When you are investing in an interior design project it is important to have a clear idea of the end result you want to achieve. This is essential for your own decision-making and also for communicating to your family and team of trade specialists so that everyone is working to the same end result.
Your interior designer will be able to provide you with the visuals you need from initial mood boards and concept drawings through to scale drawings and 3D renders, depending on the requirements of the project.
To Be Present When You Can't Be
Your interior designer can visit site to get quotes from trusted trade suppliers, take the daily decisions that are needed during the build and be available for the long list of deliveries when you can't be.
This may be an ad hoc requirement or involve full project management for busy individuals and families. We regularly manage projects for clients living abroad, with meetings held by Facetime, Teams or Zoom.
Create Your Individual Design
A client focussed interior designer will help you to create a design that is tailored to your needs. They will want every one of their clients to enjoy an interior that is bespoke. If you shop totally off the shelf you are likely to create a look for your home that is the same as many others.
Your interior designer will deep dive into your tastes and lifestyle and put together a look that you won't find anywhere else. This may be achieved by adding in some interesting products from little known suppliers or creating bespoke joinery or furniture.
Come Up With Clever Solutions
Every home has its quirks and every project has its issues. Interior designers are naturally creative and have many resources to draw on to generate ideas and solutions. They also have experience of similar circumstances on other projects to draw on. Working in collaboration with you and a trusted team of trade experts they will help you to make the most of every situation that arises.
Generate New Ideas & Bounce Ideas With You
An interior designer will generate new ideas. They can also provide a sounding board for the ideas you generate, to help you with your decision-making.
Having an expert interior designer at your side as you progress will make the project much more fun and enjoyable. Bouncing ideas with your interior designer will result in better solutions than could be achieved by yourself.
Offer Individual Services. Eg. Colour Schemes, Layout and Lighting
Interior designers have a great eye and can put together colour schemes or curated collections of furniture. They can provide individual room layouts or drawings to show how a whole house layout could be improved to maximise flow or storage.
Each aspect of the full interior design service can be broken down to provide you with just the help you need.
Elevate the Design of Kitchens, Bathrooms, Media Rooms, Home Bars etc
Each individual room has specialist requirements.  The interior designer will set the overall look and feel, design direction and flow throughout the house. They will bring in additional specialists as required. This may include a kitchen designer, joiner, tiler, sound engineer, builder, plumber etc. They will co-ordinate the team to elevate the design and ensure that the design detailing is on point from colour scheme to materials and lighting.
Provide A Complete Turn-Key Solution
An interior designer can supply a complete turn-key solution for your project from planning through design concepts, detailed design, procurement and project management. They will bring together a full team of specialists to provide all the skills and extensive support required. They will be able to arrange storage for timed deliveries if needed.
Access Specialist Resources and Trusted Tradespeople
An experienced interior designer will have developed an extensive little black book of specialist suppliers and trusted trade experts they work with. Most importantly they will also help you to select and co-ordinate resources.
Good quality contractors are typically busy, but they will prioritise working with their preferred interior designers. They know that they will receive good quality drawings, clear specifications and the support of an experienced team. This makes a good quality end result easier to achieve.
Save You Time, Money and Stress
The initial planning and budgeting stage is very important to save you time, money and stress.
Your interior designer will help guide you through a step by step process, and provide detailed drawings and design packages as required. They will ensure that the desired look and feel is defined early to provide clear design direction. Following this rigorous process will help avoid protracted decision-making and costly mistakes.
Full project management will ensure that the design is implemented to the highest quality standards, on time and to budget to achieve the desired end result.
Bring Your Interior & Garden Together
An interior designer will help to make the most of drawing the outside in and the inside out as appropriate. When opening up walls and building out into the garden, considering the link between the two spaces is essential. Your interior designer will have garden designers they can bring in to help as required, to create a seamless vision that blurs the lines between inside and out.
Suggest Sustainable Solutions
Your interior designer can help you to create a more sustainable solution. Sustainability is an enormous and ever-changing topic but is an important consideration in any renovation project. Your interior designer can help you to make more environmentally friendly decisions, reducing waste and choosing sustainable options. They will can also bring in additional specialists as required.
Improve Your Lifestyle and Well-being
Leaving the best to last, your interior designer will help you to create an environment that has a positive impact on your lifestyle and well-being. They will create a design that functions brilliantly, suits your perfectly and adds joy to your life.
Why Use an Interior Designer? Credits
Featured Photograph: Chris Snook Photography