Help To Get Started
Embarking on an interior design project can be a daunting prospect. Sometimes you know what you would like to achieve but you're not sure where to start or what to make a priority. Our "Get Started" session may be exactly what a you need – a great way to get started and progress your project.
A totally bespoke and personal service, our Get Started package is the perfect solution in a variety of situations:
Perhaps you are considering how best to reconfigure your space to work more effectively. You may have an area of your home that is rarely used and could be transformed into a media room, en-suite, utility or home office but you are not sure what is possible.
You might be considering opening up the back of your house or building a garden room but are not sure what is required or where to find the best people to help you turn your ideas into reality.
You could have a variety of elements in several rooms which feel unfinished and just aren't how you'd like them.
Or you simply require a change of colour or want to make a few teaks to transform a tired space into a room you love with a wow factor.
These are just a few examples. Whatever your situation Decorbuddi can help you.
With our 'Get Started' consultation your Buddi will come to your home, get to know you, your style and your budget. You will have a fun and hard working, in depth session, discussing your requirements. Your Buddi will share their ideas and experience. They will offer practical solutions, and sources as appropriate to help you to get your home exactly how you want it.
At the end of the session you will have had the opportunity to discuss and develop your ideas with an expert, made progress on your project and identified the next steps to achieve your objectives. You will be feeling inspired and in control of your project and your Decorbuddi will follow up with useful sources, as appropriate.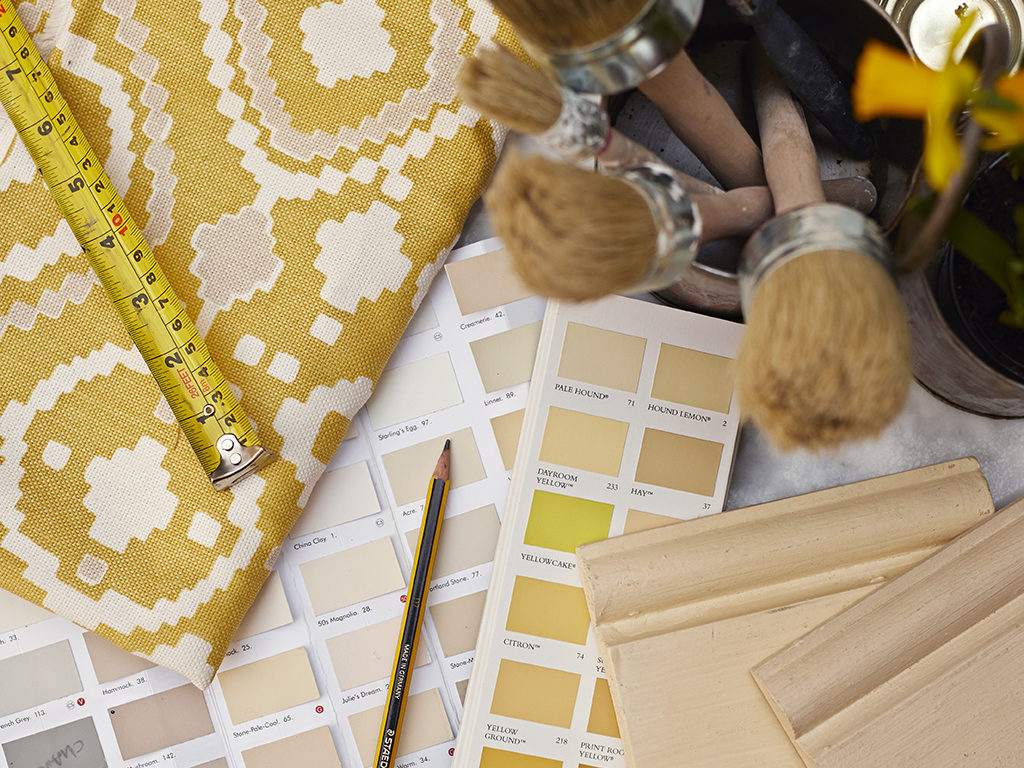 Included in this package:
A fun and hard-working consultation with your Decorbuddi at your home (we allow up to 2 hours)
New ideas, helpful advice and practical solutions
Clear direction on how to proceed to achieve your vision
Follow up access to trade contacts and sources (if applicable)
"Getting Started" is available as an at home or online service.
For many clients the Get Started session is all the help they need to kick-start their project, for others they would like some additional help. This can be arranged on an hourly basis or as a bespoke proposal, depending on the scope of the project.
Want more information? Read about our past projects here.
Reviews about our "Get Started Package
"I had a great 'Get Started' session with Laura at Decorbuddi, who has helped me plan a revamp of our summer house/garden room. It was really useful to bounce ideas off her and she shared her expertise on how to make best use of the space, as well as storage solution ideas that I hadn't thought of myself. Laura gave me a clear plan of how to start the project and what to prioritise, as well as useful links and ideas to consider when it comes to decorating the interior. I have gone from feeling overwhelmed with a blank canvas, storage headache and not knowing where to start, to knowing what I need to do to make best use of the space and feeling confident and excited to get going. Would definitely recommend to anyone!" EF
"Our experience with Decorbuddi has far exceeded our expectations. We initially did a starter package, we had just moved into a new house and lacked inspiration on where to start. We were assigned a Decorbuddi and within an hour of being in our house, she had made three suggestions that were not obvious to us but we loved and executed immediately! From here we continued to work room by room…" B O'S
"I took the Get Started package and was assigned Laura Finn who responded very quickly and spent a few hours with me. She was wonderful at teasing out what sort of look and feel we were looking for, the scope of work etc, and then coming up with lots of advice and ideas. She followed this up with recommendations and useful websites as well as companies who could undertake the work – extremely helpful." MB
"After a long renovation project, I was too tired and unmotivated to finish the interior decoration of the house, I needed help so I booked the Get Started package and was matched with the fabulous Ann. After my first meeting with Ann, I felt confident and re-energised! I wanted to inject more colour and drama into the house and I am so happy that we managed to achieve that (on purchasing additional bundles of hours). The quality of the products she recommended are excellent and the team of decorators who carried out the work were a pleasure to work with. Highly recommended." DA
"We requested a Get Started Report from Decorbuddi and Jenny was fantastic – at our meeting she provided extremely practical advice and the follow up notes she sent helped us prepare for the meeting we had with a prospective builder in record time. We would definitely use Decorbuddi's services again. Thank you!"