Pied-a-Terre Interior Design
Adam approached us for help transforming his Pied-a-terre in Battersea. His job in the city commanded long hours and he was time poor to undertake this project on his own.
The existing space was functional but lacked the comforts of his family home, in the country. Most importantly, he wanted to create a space where he could relax at the end of a long working day. A home from home that had, in miniature scale, the same level of style detail as his main home.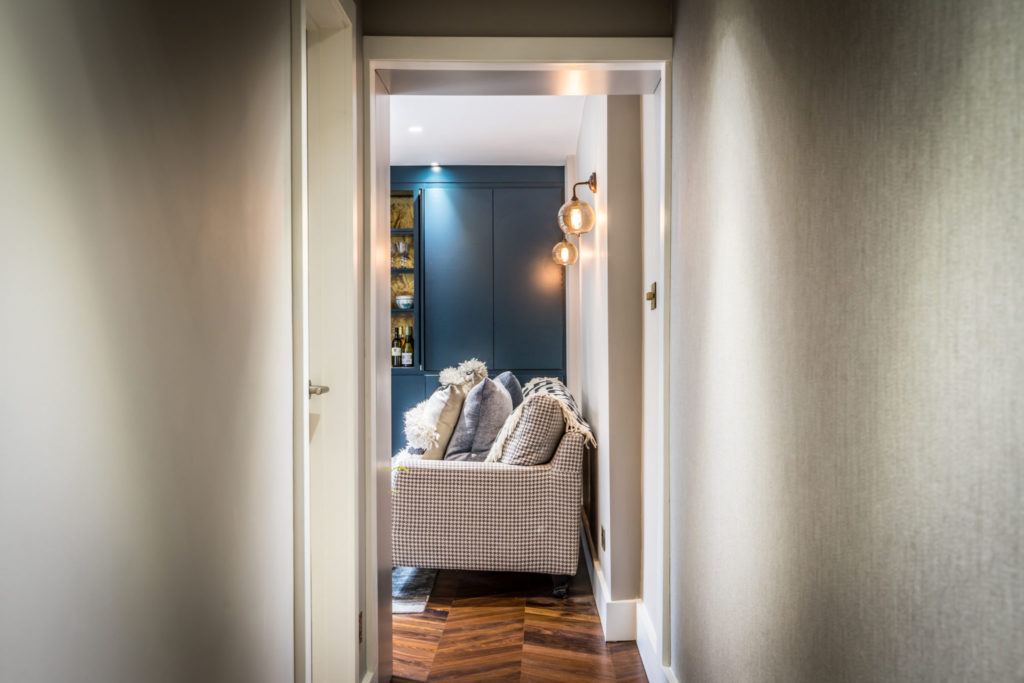 Following a damp course treatment and ripping out the existing flooring and standard kitchen, the space was crying out for some personality. With just one small open plan living area combining home office, TV, entertaining space and kitchen, great functionality was essential also. There was no existing storage.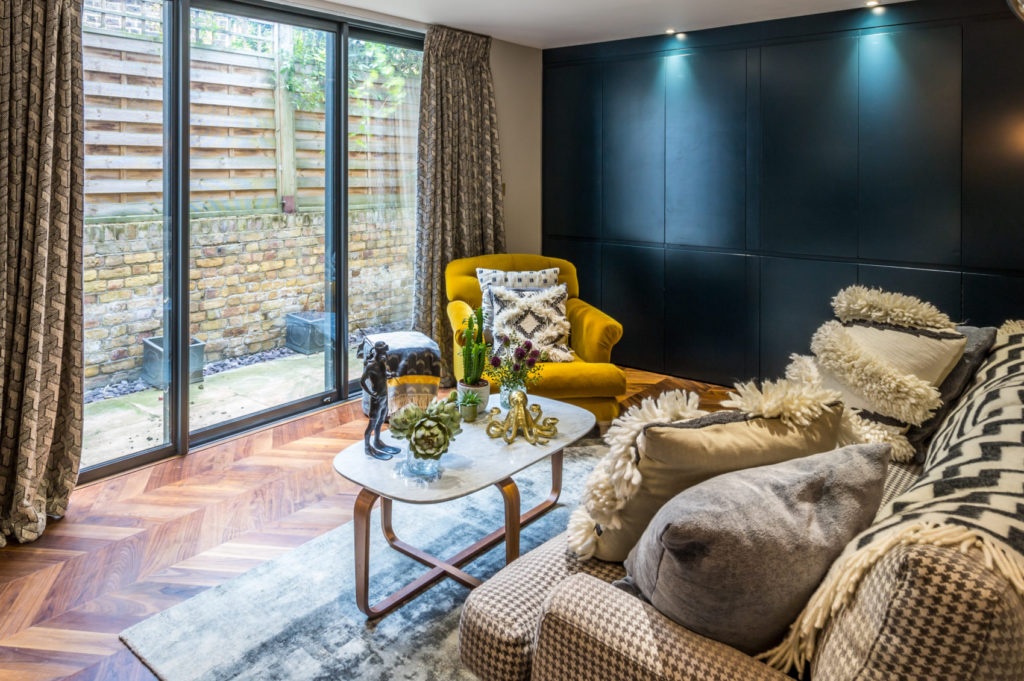 We were tasked with creating a calm space with a new colour scheme, lighting and flooring. We addressed the storage issue and furniture and designed a bespoke kitchen that could be hidden away behind panelling at the end of the room behind doors.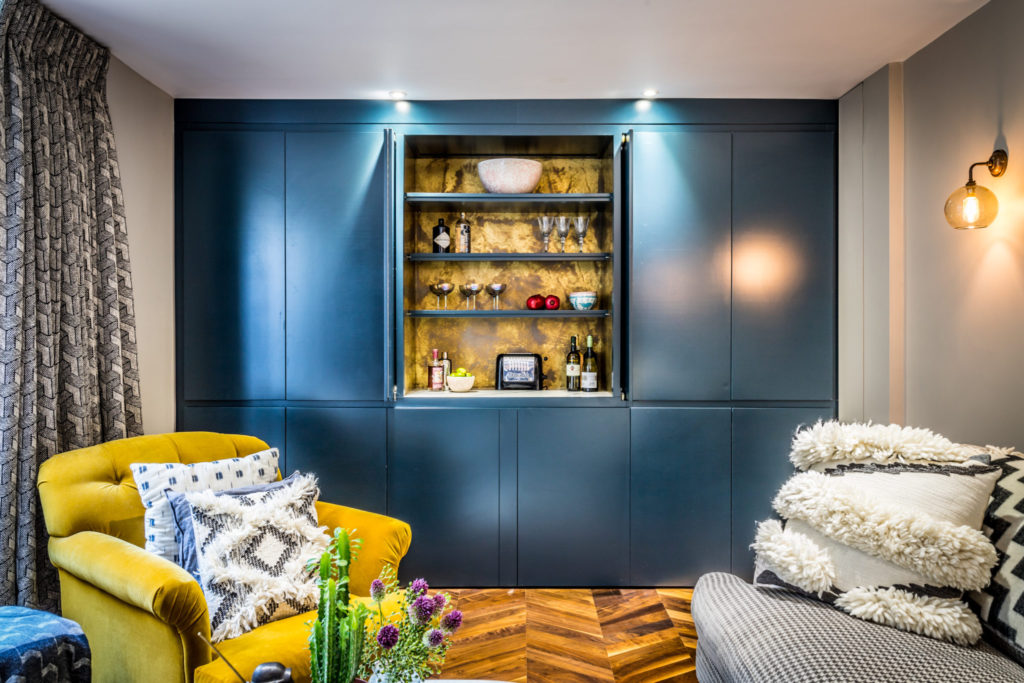 The centre was created to be opened when entertaining and each section could be closed when not in use, hiding the washing machine, fridge freezer and cooker dishwasher and hob. Clever door storage was created for utensils and herbs and spices.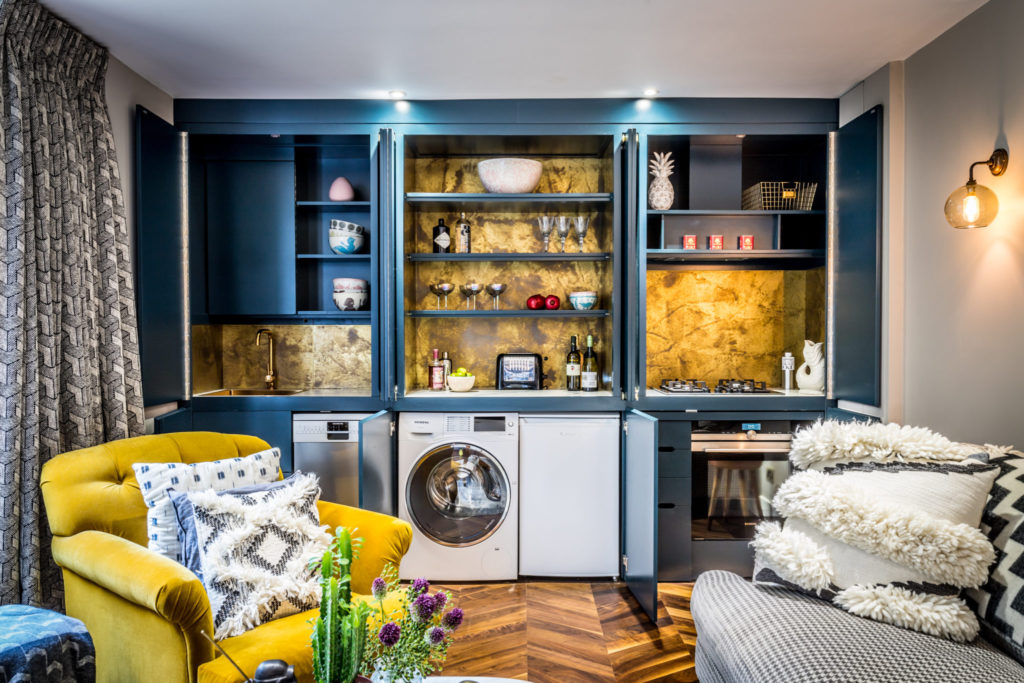 Drawers for the bin were integrated and the biggest challenge was a pull out table that would slide out from above the cooker which could be tucked away after eating.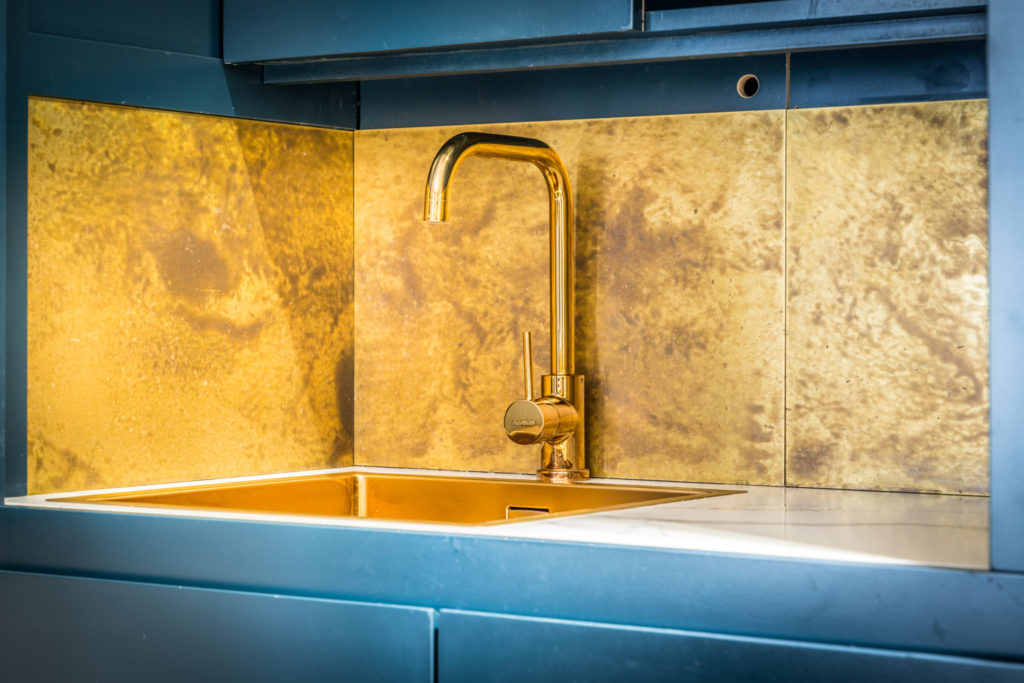 Aged brass panels lined the interior of the kitchen and a stunning marble work surface was integrated. The gold sink and tap look beautiful set in the marble stone.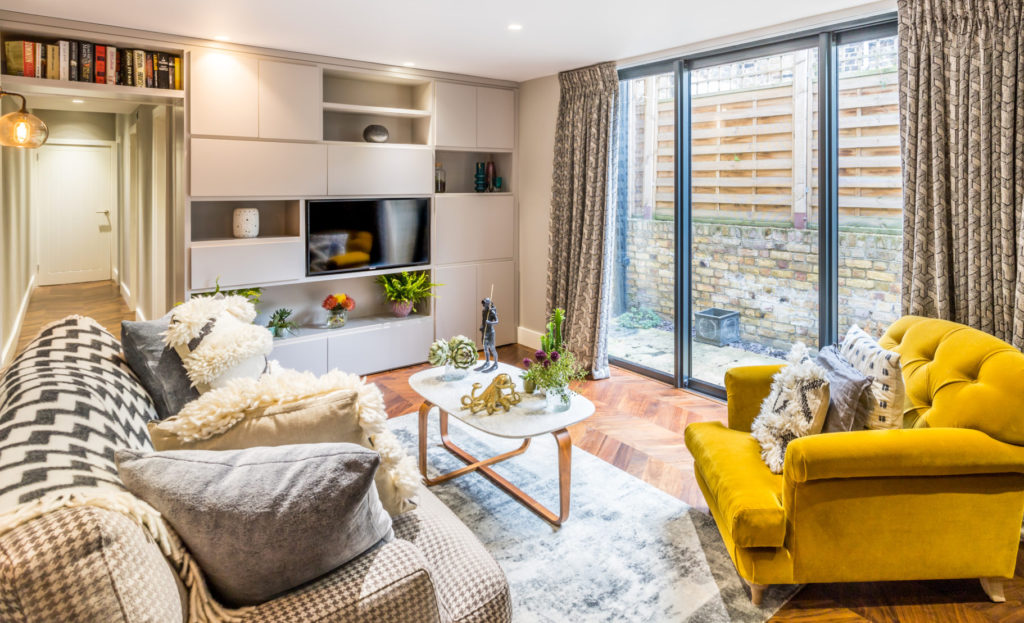 The floor to ceiling wall storage unit at the other end of the room was painted the same colour as the wall so it blended seamlessly and felt part of the room rather than a feature. This unit created the much needed space to hide the TV and office.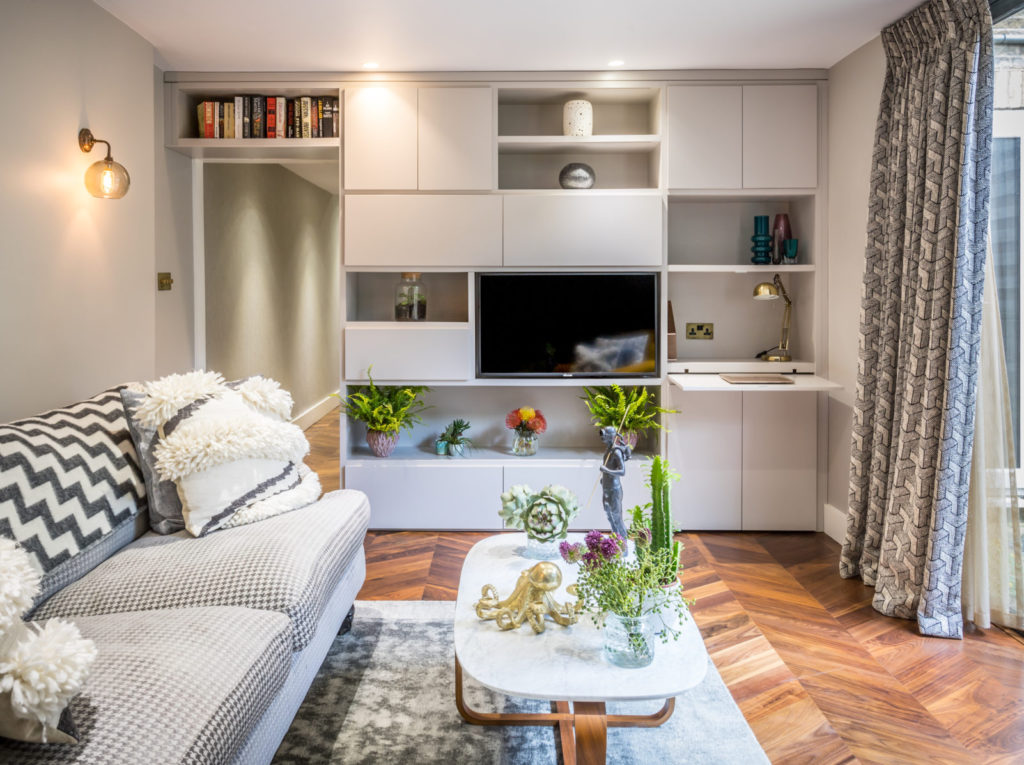 A pull out desk was integrated and room for the storage of a work stall beneath,  glasses and books whilst hiding the cable box. The lighting was subtle and was integrated into the unit.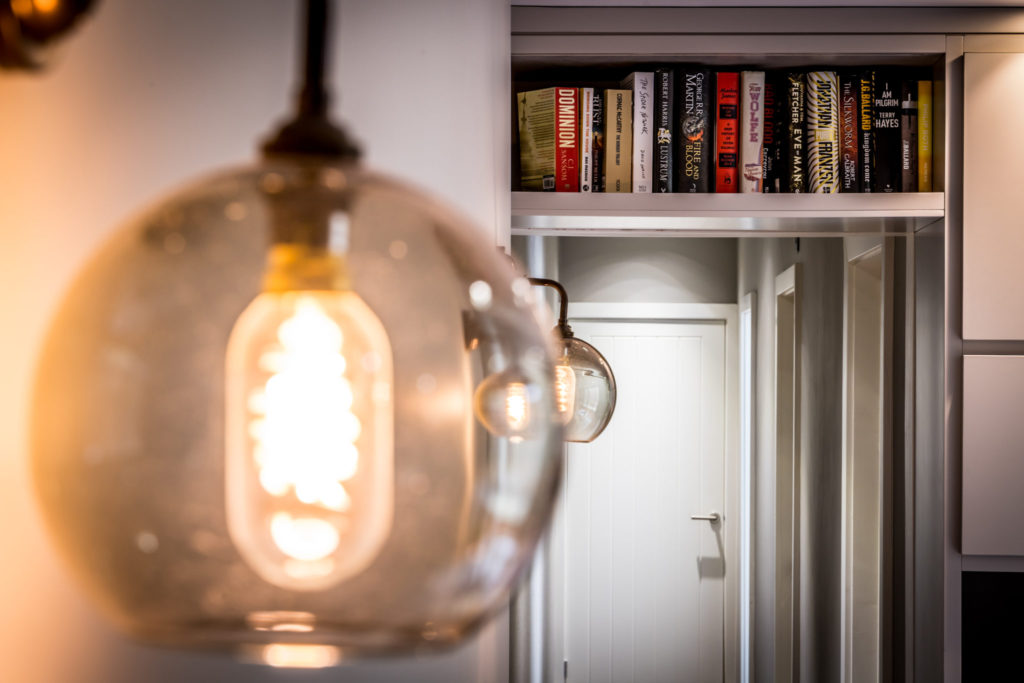 The Natural Flooring Company provided the chevron walnut flooring. Designers Guide upholstery fabric was selected for the curtains and plinth we had made. The rug was sourced from West Elm and Green palm plants completed the look bringing the outside in and breathing life into the room. The gold sink and tap were sourced from Alveus Marble work surface by Gerrard Culliford. Single 'Truffle' armchair in burnt yellow vintage velvet completed the room.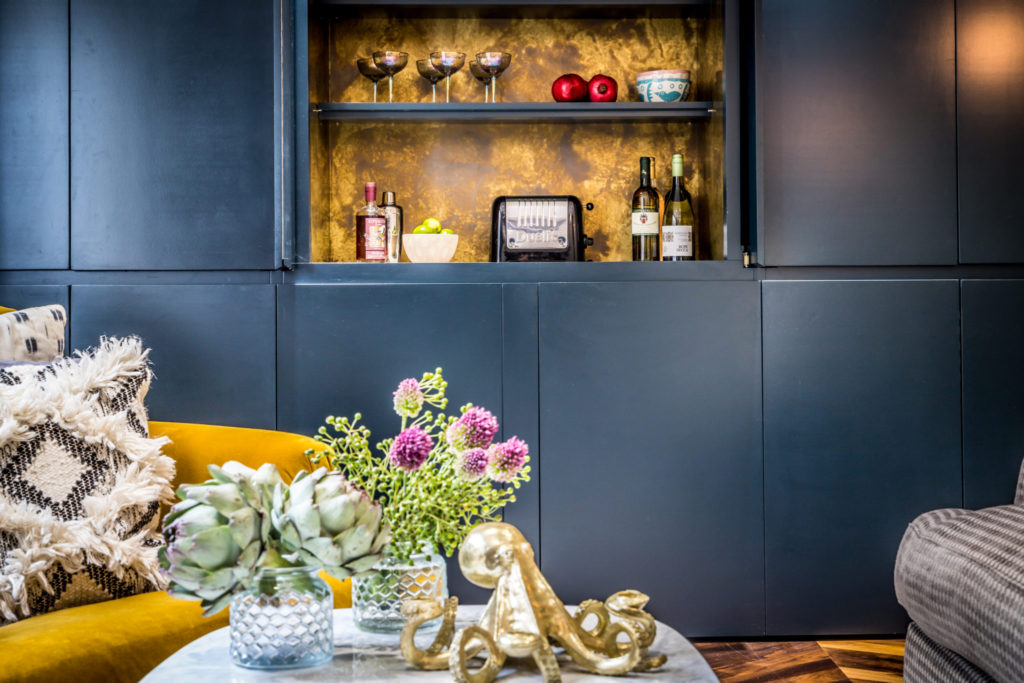 What Our Client Said
"I worked with Lorraine on a complete redesign of the kitchen/ diner in my basement flat. We ended up with a very different layout than I had envisaged , but much the better for it! Lorraine sourced beautiful bespoke cabinets to make the most of the small space, with a foldaway solution for the kitchen which works incredibly well. The colours, fitting and flooring she recommended have transformed the property. Further, she managed the project brilliantly, dealing with all tradesmen and even taking appliance deliveries to her own address when I was out of town. I wouldn't hesitate to use Lorraine for projects in the future or recommend her wholeheartedly."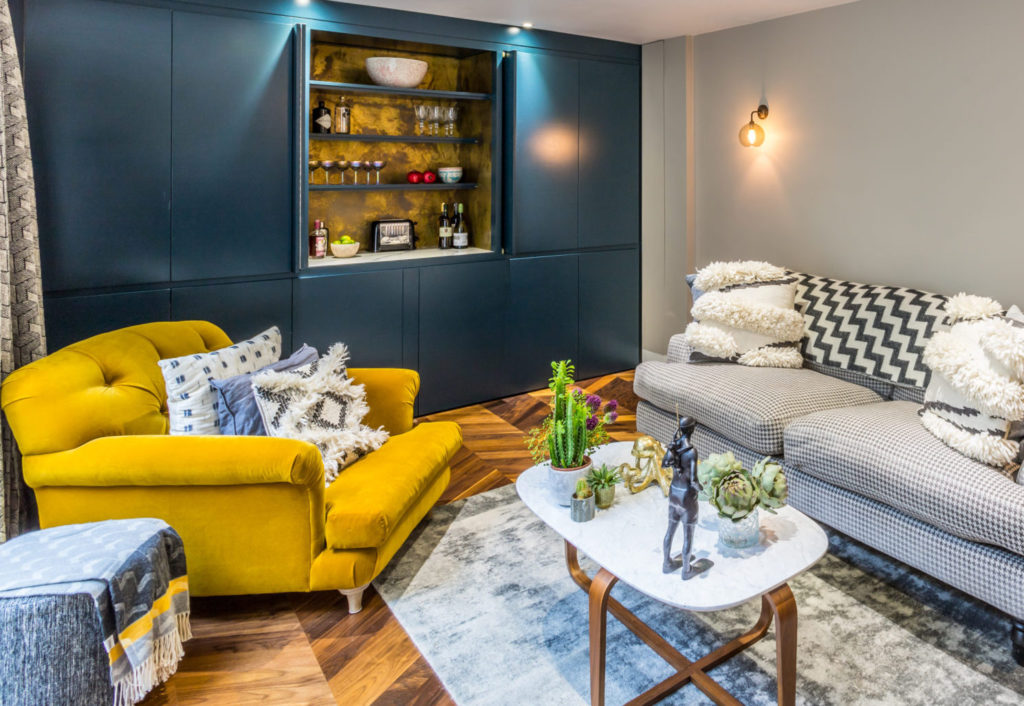 Credits –
Decorbuddi: Lorraine Sakharet
Photographer: KT1Photography