The Art of Hiding Your TV
One of the questions that we are often asked is "what is the best way to hide my TV." There are many options, from painting the wall behind it a dark colour so that it doesn't stand out to buying / making a media unit or adapting a cabinet. But what if you don't want a dark wall or the TV is hung above a fireplace where there isn't space for a cabinet?
An option that is growing in popularity is to buy a TV that doubles as artwork. The Samsung Frame TV allows you to display a collection of favourite family photos or choose from a massive selection of art and photography when you subscribe to their art store.
If you have an existing TV it is still possible to conceal it above a fireplace. This beautiful contemporary "artwork" hanging above the fireplace in Decorbuddi, Anne-Marie's own living room hide's the TV in a recess in the chimney place. The "artwork" is in fact high quality wallpaper, carefully chosen to reflect her contemporary scheme and papered onto the bespoke doors.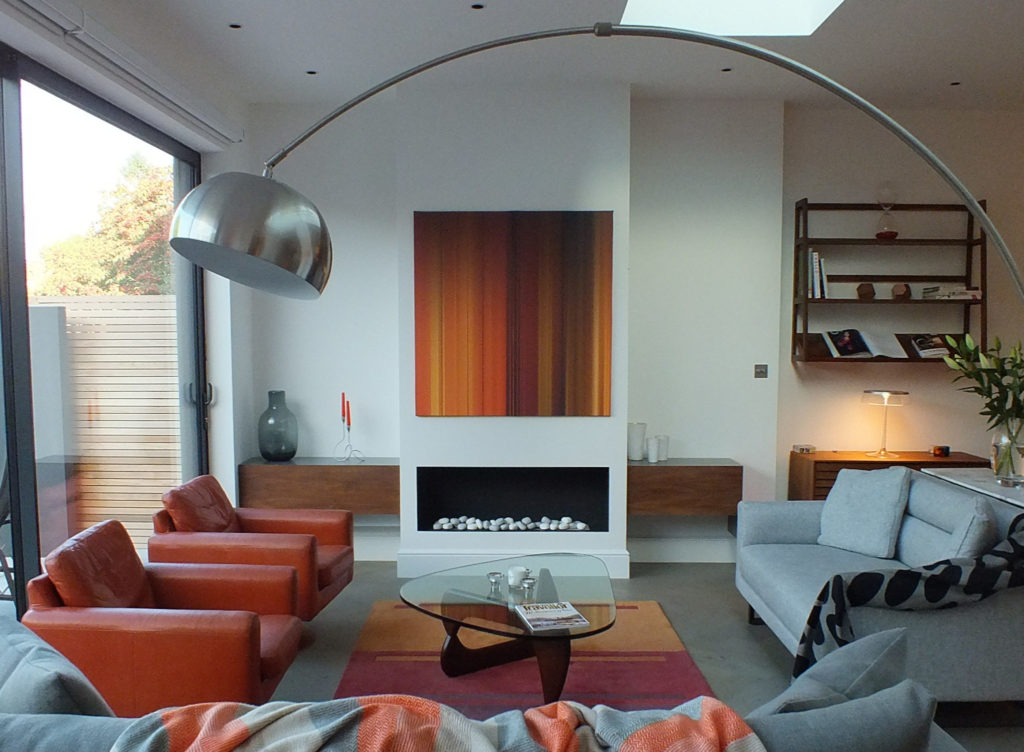 Do be aware that making the doors is highly skilled work requiring an excellent carpenter/joiner and the wallpaper has to be of a quality that won't rip or tear. A millimetre here or there in the door measurement or application of the paper can make all the difference to the end effect, but as you can see it is possible to achieve a stunning result.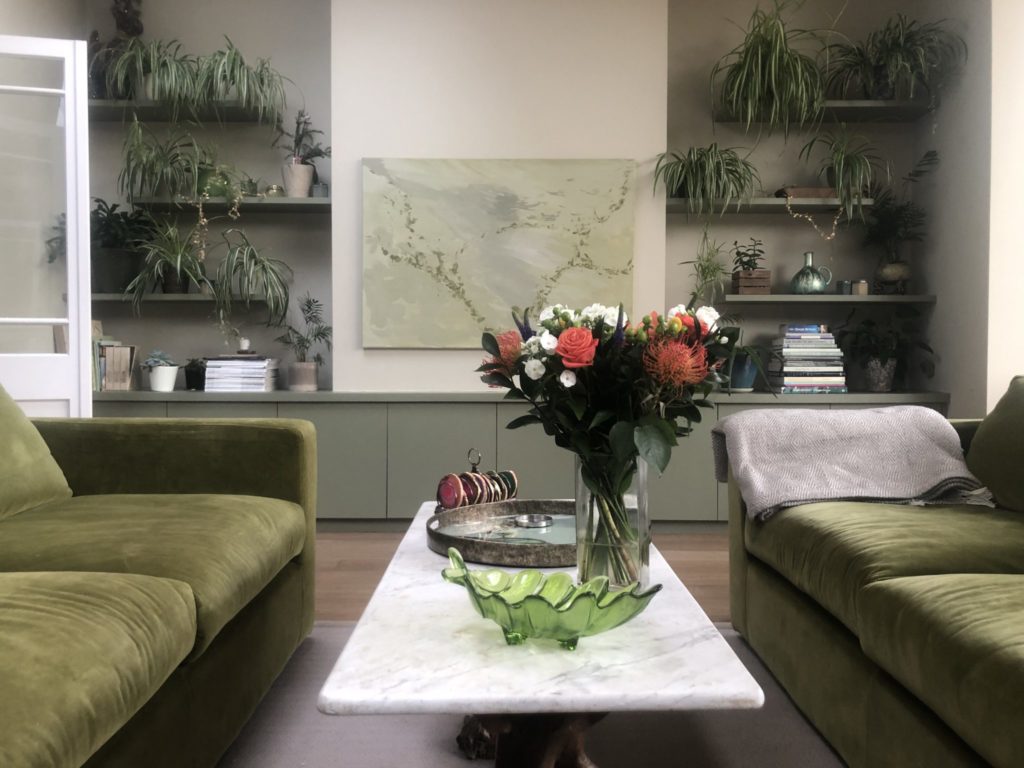 An even more low tech solution is to hang a painted canvas over the TV. Here we just measured up the size of the space, selected a canvas to fit and tapped a couple of nails into the wall above the TV (which can be painted the same colour as the wall so that they don't show).
You could choose a print you love or buy a blank canvas and paint it yourself. In this case we used the left over colour testers we had purchased whilst choosing the colour scheme (Wuthering Heights by Paint The Town Green) to create a simple and original piece.
The artwork is quite light and easy to move and leans against the wall behind the sofa when not in use. Alternatively, if you put shelves at the height you want the painting hung, you can just add a track to pull the artwork across.
Contact: For more information and help to create your own TV masterpiece please don't hesitate to get in touch. Contact us.
Our packages and hours keep you in control of the look timing and budgets. Most of our services can be supplied face to face or remotely with a combination of telephone, email and facetime or skype as required. Always tailored to your requirements.
We would love to help you to create your individual home or garden.