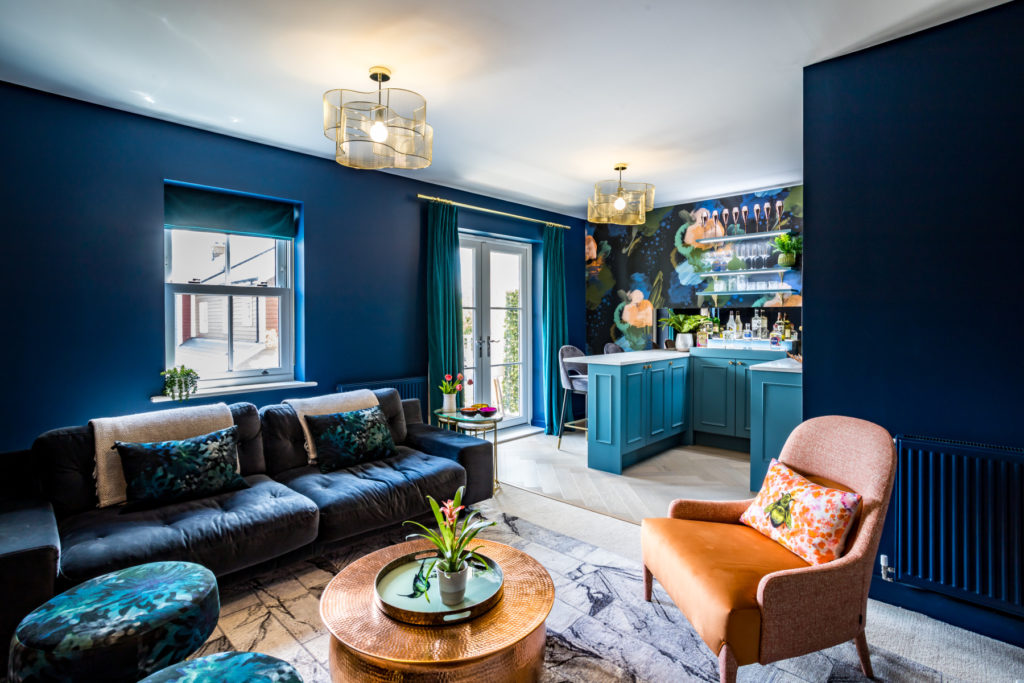 Bar & Media Room in Family Home
The family have a lovely open plan kitchen and sitting room for day to day life. Our brief was to transform the upstairs living room into a fun and fabulous space. This included a bar and media area for relaxing with friends.
Our clients are a warm and welcoming couple who love entertaining. We wanted to create the best possible space for them to enjoy. A space that really suited their playful style and where they could make the most of the time that they have to themselves in their busy lives.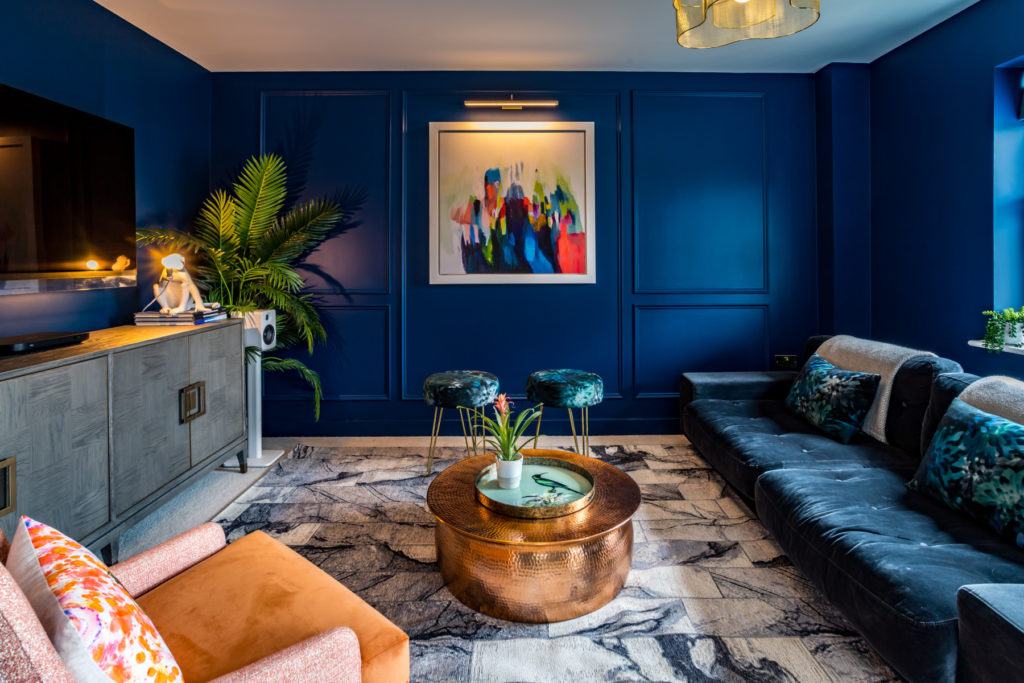 We designed the space in two distinct zones: a bar and a media room. Working within our budget we kept the existing carpet in the media room and sourced a herringbone design for the bar area, to underline the different spaces, whilst retaining the same colour tone to flow naturally between the two and adjoining hallway.
The bar was carefully designed for Jimmy to stand and host, chatting with friends whilst they relaxed on the comfortable bar-stools. We created bespoke shelving with LED lighting to add an atmospheric additional layer of light, reflecting off the glasses and sparkling on the brass bracket detailing.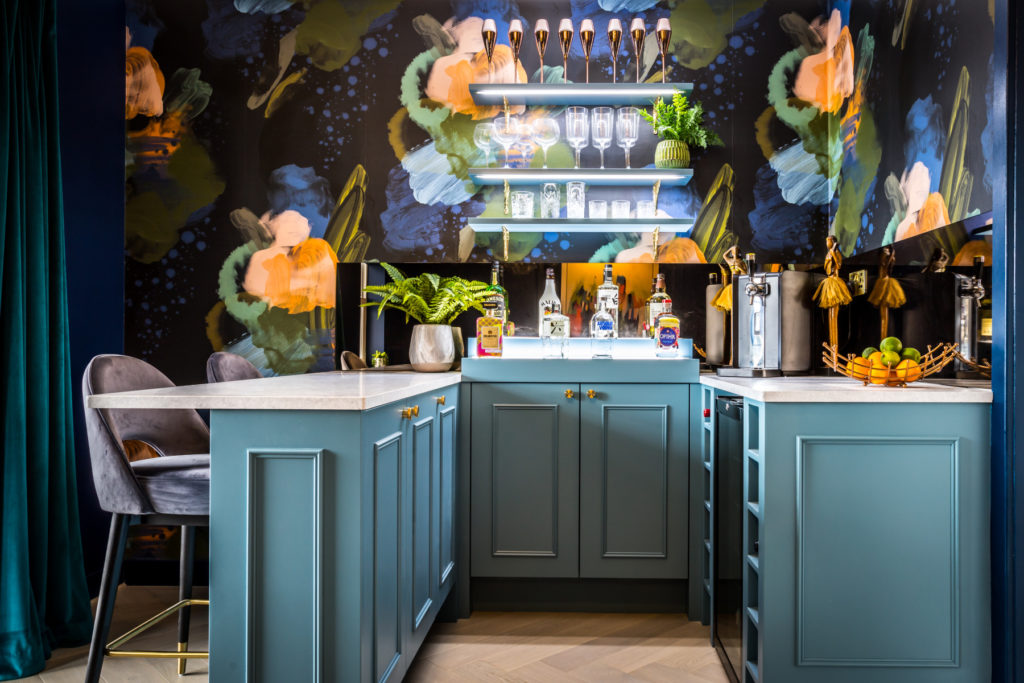 Working with the existing sofa, artwork, TV and coffee table, we sourced a spectacular wallpaper, combining all the colours that we knew our clients loved. We created a scheme that is rich and alluring in the evening but not too dark during the day.
The deep blue background shade was pulled across in the paint colour selected for the media room walls. Chosen not just to look great, but also to disguise the TV. We painted the radiators, storage shelves and skirting the same colour to achieve a seamless effect.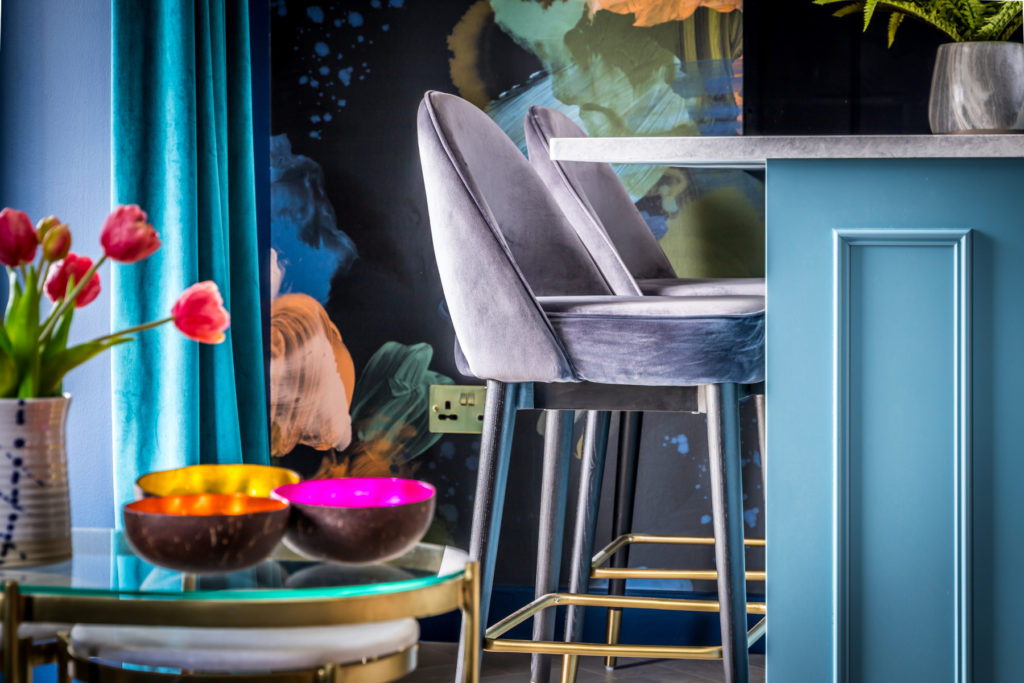 We sourced a media unit which holds it's own as a beautiful individual piece of furniture. The geometric detailing echoes the panelling we added to the end wall and the shapes formed by the bespoke cabinetry we designed in the bar area.
Our favourite piece is the supremely comfortable armchair. Chosen to match the low height of the existing grey sofa, the pop of colour picks out the peachy hints in the artwork and wallpaper and brings in the tones of the copper coffee table.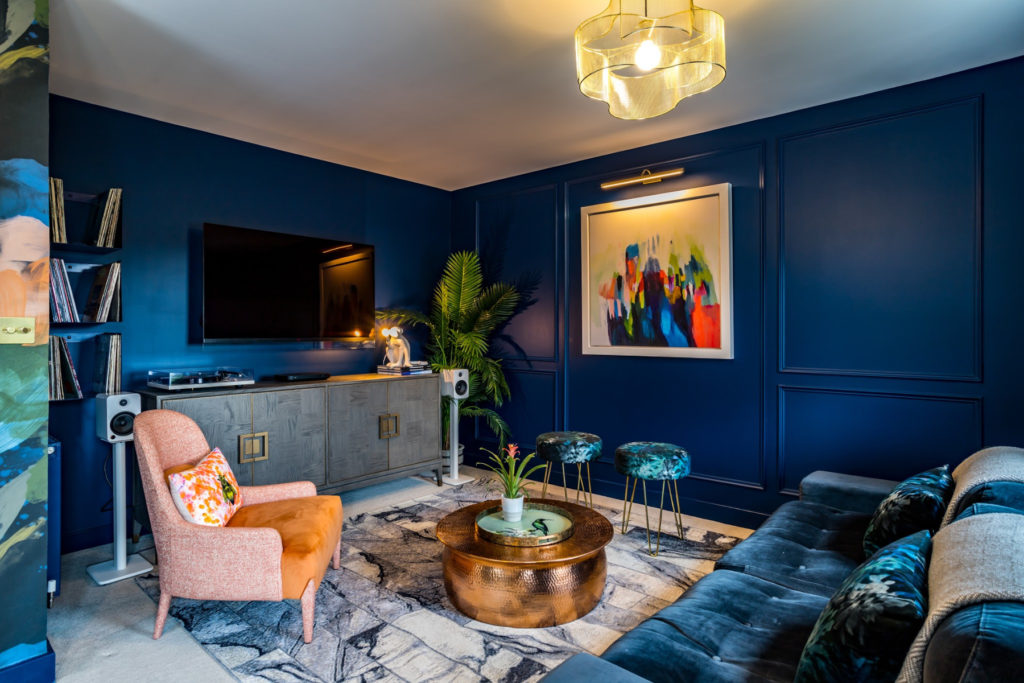 We made the curtains and blinds in a gorgeous rich velvet, reminiscent of luxurious boutique hotel bars in a lovely toning teal, again working within the palette formed by the artwork and wallpaper.
The final finishing touches are the large, light grey rug that brings the media room together and echoes the grey of the marble bar worktop and the beautiful Rebecca J Mills stools and cushions.
What our Client Said:
"Thank you for our absolutely stunning bar and media room. It is a sensational space where we spend our evenings, entertain our friends and where I can host wine club. We love, love, love it!" Shona and Jimmy
Gallery of Before & After and Design Detailing:
Credits:
Decorbuddi: Debbie Hannah
Photographer: KT1Photography