Finding The Perfect Rug
Rugs have been synonymous with home, from the earliest of times when we first laid animal hides on the cave floor to add warmth and define our territory. Thousands of years later, they remain one of the easiest ways to imprint our personal style, bringing a room to life when the builders leave and marking out areas for a variety of activities in open plan spaces. Finding the perfect rug makes such a difference.
The biggest question is how to choose the best rug for your space. Unlike paint and wallpaper you can always change your mind and return unsuccessful choices. Rugs are the quickest way to update the look of a room entirely and High Street prices make it possible to do so more frequently. Be bold and experiment! Here is our guide for choosing the perfect rug: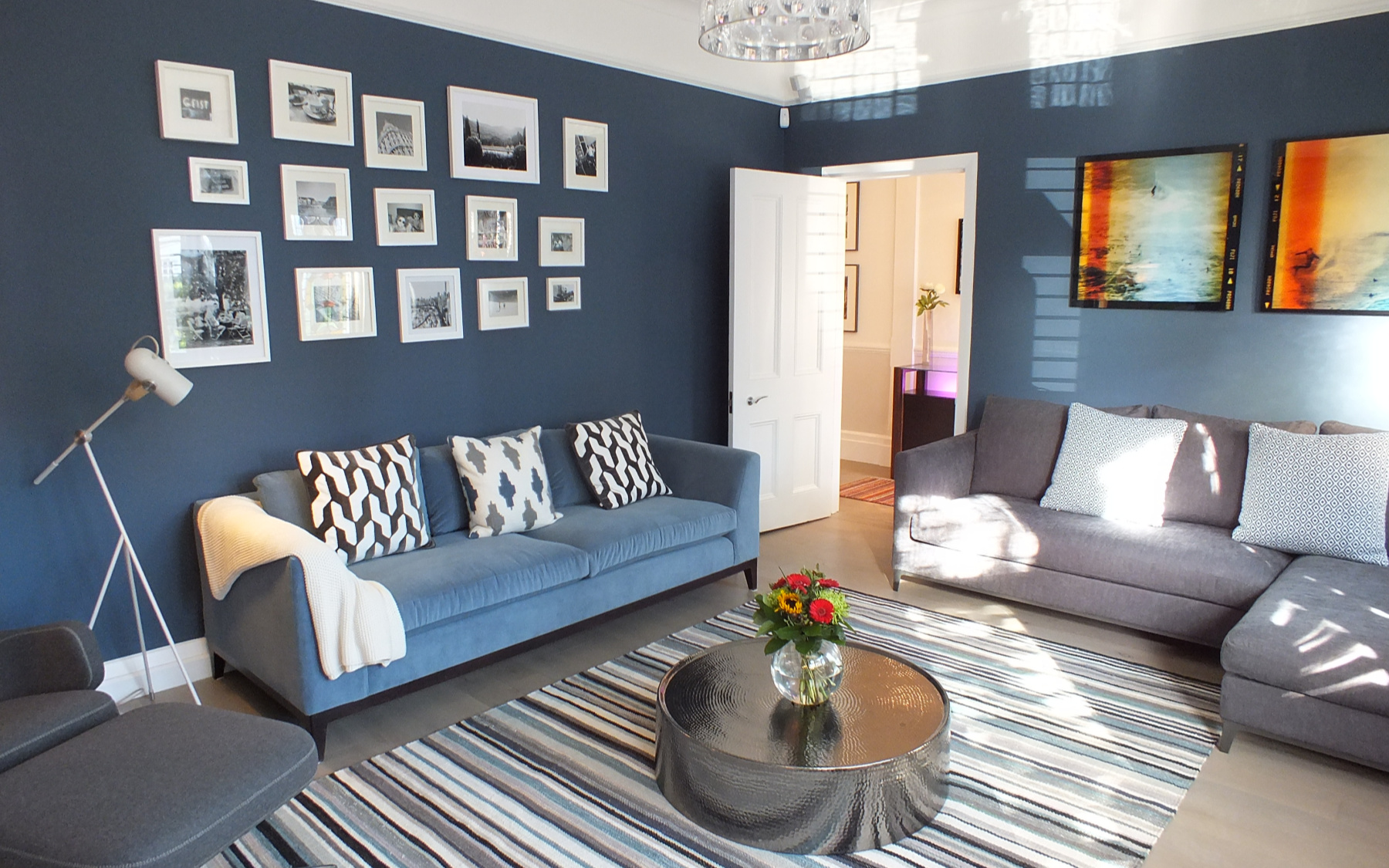 Picking a Pattern
Soft in every sense, rugs are a great alternative to a feature wall. Rugs look wonderful, feel fabulous on your feet, and also provide a simple solution to harsh acoustics, absorbing the sound around them. They are the perfect place to embrace the new fashion for pattern.
Finding the perfect rug design for your room can be tricky. There are so many different options to choose from! For modern look, geometric or intricate designs will add a wow factor to your scheme without becoming overwhelming. Choose soft greys for a gentle Scandinavian theme or the latest graphic designs, which retain just the outline, for a more contemporary scheme. Animal hides are still popular, thousands of years later. The naturally irregular shape breaks up a space, creating a more comfortable look and feel and adding a layer of interest.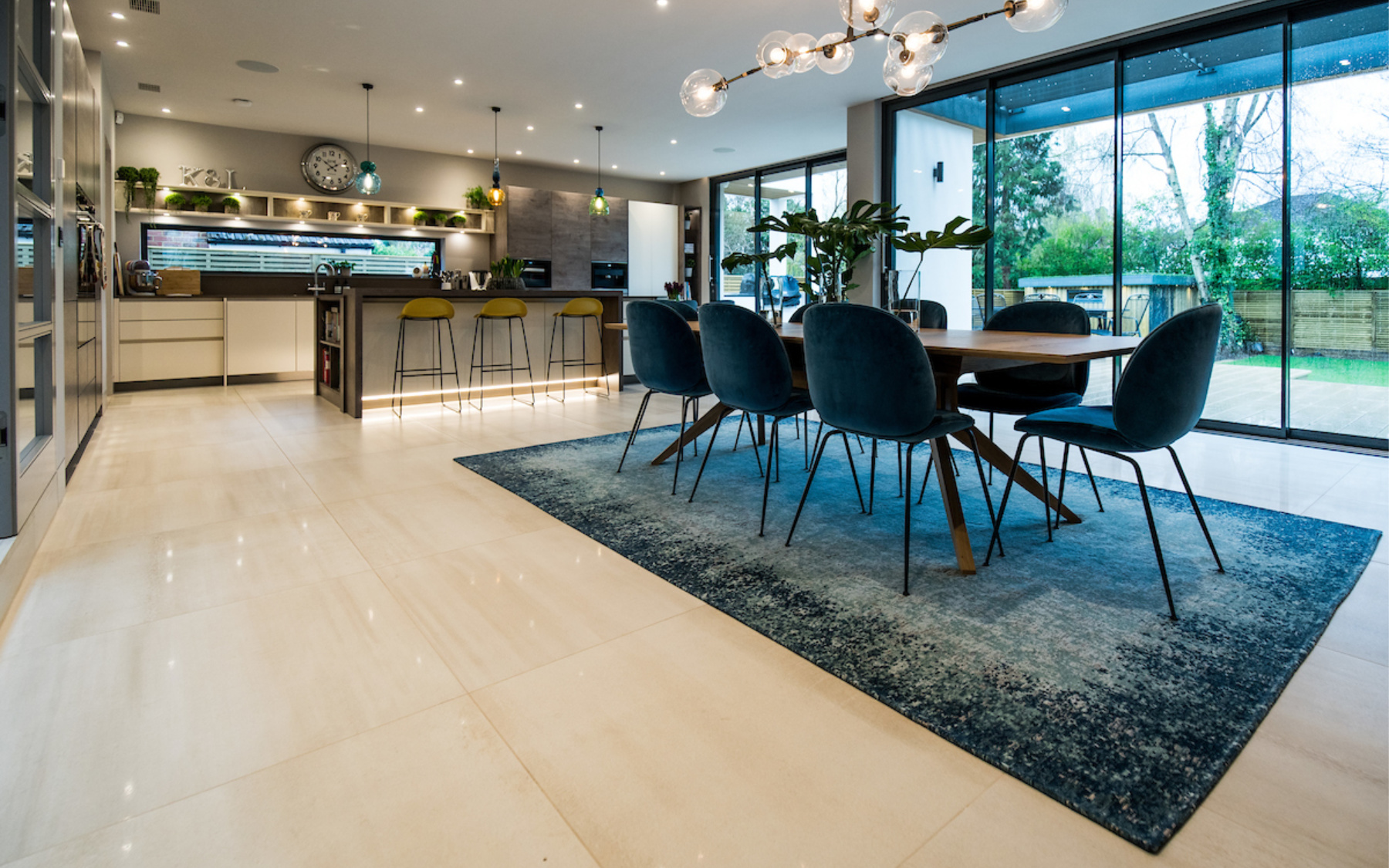 Size Matters
Once you have the design figured out, it's time to think about the size. The shape and size of the rug will be key to creating an impact with the design. This will be dependent on the room volume, of course, but consider also how you might use the rug to carve the space into different sections.
For an open plan room, such as a kitchen-living room / dining room, use the rug to separate these two functions. Placing the sofas and chairs on a rug brings the seated area together, creating a cosy conversational area. For smaller rooms, choose a large rug that leaves a boarder around it. Leaving a border of flooring creates a sense of space, making the room seem larger.
Choosing a rug that sits neatly inside your furniture can also work beautifully, perhaps lined up to skim the edges of two facing sofas. This works well for rugs that have a artwork-like design, such as a landscape or contemporary arrangement. Our rule of thumb usually is the bigger the better, and when placed under a dining table make sure it is big enough when the chairs are pulled out.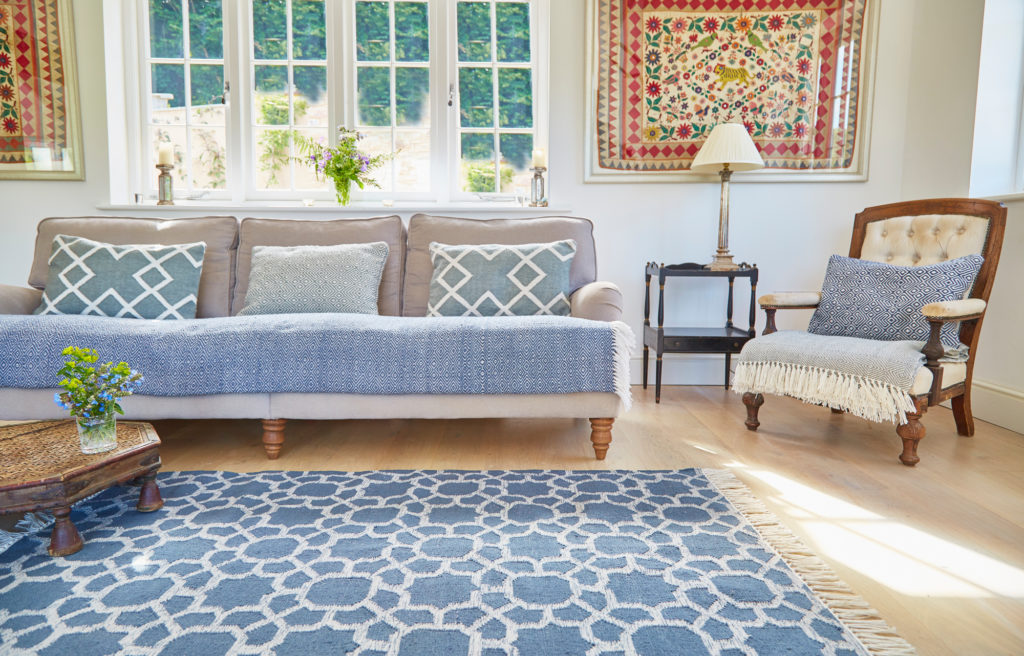 Function
But it isn't just about aesthetics. Rugs take the strain of everyday living and if you want to be able to relax when the children and pets come in from the garden, or with friends over a glass of red wine, they need to be easy to clean also.
How easy a rug is to clean, varies with each individual material and whilst natural materials are the most popular, man-made is more practical. This will be particularly important in kids bedrooms and playrooms!
With the trend for recycled materials heating up, consider purchasing a rug made out of recycled plastic bottles. Though this sounds strange, the bottles are processed to create a beautifully soft, hypoallergenic material that can used inside and out and even washed in the washing machine. Above is an example from one of our brand partners, Weaver Green rugs.
Finding the perfect room can be challenging, and will vary in style from room to room. If you need any assistance in finding your perfect rug, consider enlisting our of our Buddies to help.
Photo Credits: Featured image, top image and dining image by Malcolm Griffiths for Nikki's Decorbuddi project. Striped rug image by Anne-Marie. Final image Weaver Green.