Home Office Interior Design Tips
Decorbuddi Interior Designer Sophie Wells shares her home office interior design tips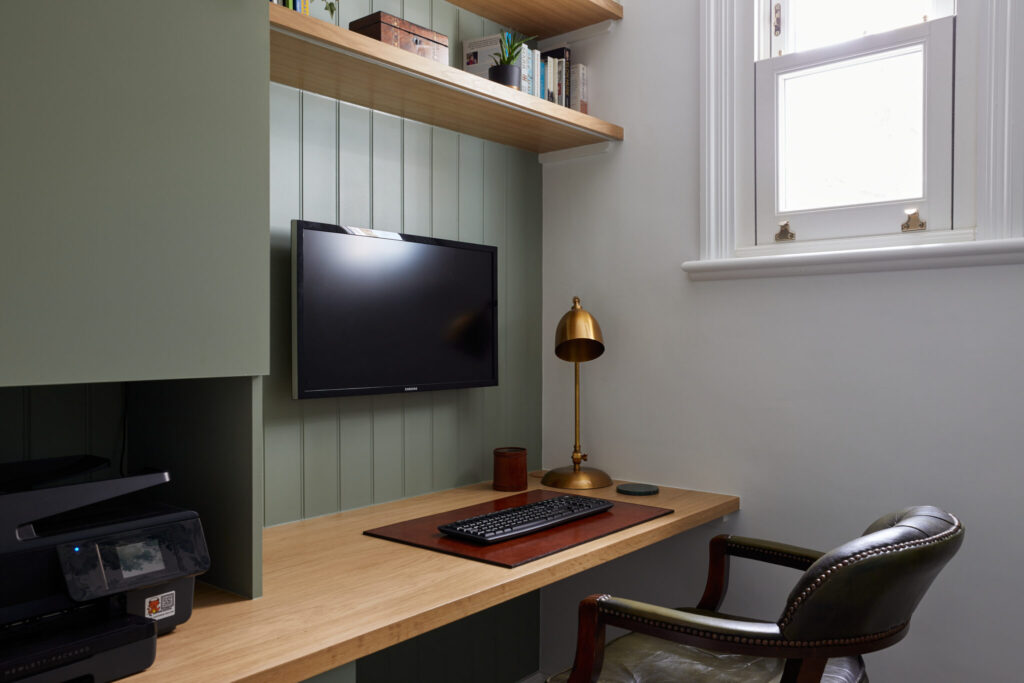 Wimbledon Interior Designer Sophie Wells shares her top interior design tips for creating a great space for working from home.
"Whatever the size of your work space and whether you work from home full time or part time it's worth investing in a good working from home set up. This could be; a hard working desk, a comfortable and supportive chair or efficient storage solutions. There are so many elements in a space that can influence your mood. A careful and well considered design can make all the difference to your levels of efficiency and productivity."
Sophie's Wimbledon Home Office
Sophie has created many interior designs and completed interior renovation projects for her Wimbledon & SW London interior design clients. Here, she shares tips from her own home office, completed as part of a major renovation project.
A semi-detached property in Wimbledon, the property hadn't been touched for many years. Sophie and her husband purchased it and totally renovated it from top to bottom on both a quick timescale and tight budget.
What is now the home office was once a small, bathroom in the middle of the first floor of the property. Using the same colourways as the hallway to create the maximum sense of space she transformed it into a beautiful functioning space.
Before and After
Sophie's Home Office Interior Design Tips:
1. Home office ergonomics
Ensuring that there is a good fit between you and your workspace is the number one priority when designing a home office space.
Taking this into consideration benefits your mobility, avoiding the possibility of prolonged injuries and poor working posture. It also effects your mental mindset and motivation to work.
The recommended standard desk height is 750mm, but do check what is best for you. Your computer screen or monitor should sit directly across from your eye-line to avoid neck and back strains.
Your desk/chair height alignment is equally important. Make sure that your arms sit comfortably on the desk when bent at a 90 degree angle from the elbow, without hunching your shoulders.
2. Electrical plan to keep cables out of sight and out of mind
A home office requires a number of electrical inputs. You will want to design these carefully to avoid a jumble of unsightly leads.
Decide what you need and where you want them. Then be creative about how to disguise them. Here, Sophie added panelling on the wall behind the monitor to hide the electrics that run up to the screen.
There are printer leads, computer leads, wiring for lighting, switches and sockets as well as Internet Category 5 cabling. These are all tucked out of sight in this home office design.
3. Lighting for wellbeing
A key consideration when designing your own home office is establishing good lighting early on in your design. The best office lighting design combines gentle general lighting with focussed functional lights for specific tasks. Carefully designed they will improve your health and wellbeing.
Consider where you need direct task light. A small lamp is ideal for desk work. Getting the lighting right will again help avoid eye strain. Position your desk to make the most of any natural light available. This might be in front or next to a window. Avoid windows and bright lights directly behind you when you are seated at your computer as they will glare on your computer screen and will leave you in the dark for your online meetings.
Choosing attractive ambient light enhances your mood when working. Here, Sophie chose a beautiful ribbed glass light designed by British lighting company Spark and Bell. It creates beautiful patterns across the ceiling in the evenings creating a positive atmosphere when working in the evening.
4. Durable desk for home working
Your desk and chair are the two most important pieces of furniture for your home office. A favourite, comfortable chair can be the starting point for the design. This original piece was sourced from The Dorking Desk Shop.
Planning exactly how you will use your desk will determine how much space to allow for the work area and what can be freed up for storage.
Here, Sophie chose a hard-working and durable oak desk. She allowed enough space to have the computer at one end, leaving enough room to spread out plans, samples and materials.
If space is very tight you can take the screen and lights up onto the wall.
5. Small room storage solutions
How to make the best of a small home office space? Even a small office can accommodate plenty of storage. Flexibility and using a mix of storage solutions is key.
Here, you can see that open shelves, drawers and cupboard with internal adjustable shelves work together to create a space that allows for maximum storage but doesn't looked cramped. The cupboard is not as deep as the drawers so that the room feels as deep as possible.
Lever arch files, books and printer paper are hidden away behind closed doors whilst smaller items that are needed more often and look more appealing are left on display.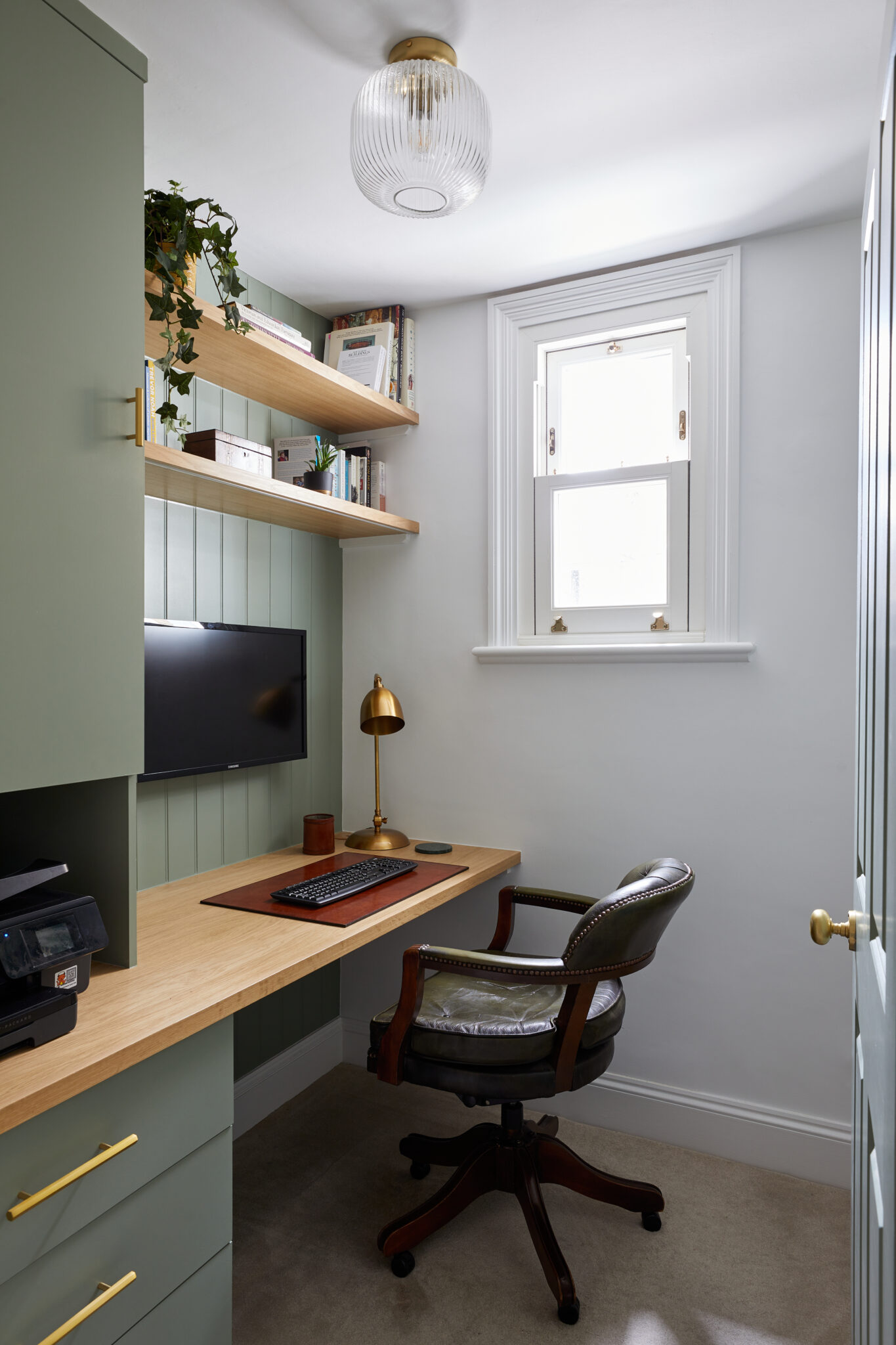 Credits
Decorbuddi Interior Designer: Sophie Wells
Photgraphy: Chris Snook
If you have any questions about your own interior design project or renovation please do not hesitate to get in touch