Tips For Great Lighting Design
Tips for great lighting design: Lighting design is both an art and a science. Technology is changing all the time, making it easier to create some magical effects. Used correctly, lighting can be an amazing tool to (quite literally) highlight your favourite interior features, and enhance the ambiance of your home. Below, we discuss how to optimise some lighting options that you may consider incorporating into your home:

Spotlights
Spotlights work particularly well in recesses, where they can turn dull objects into illuminated sculptures. Carefully choose which item you place under the spotlight. Consider how different shapes and materials will reflect the light and create dramatic shadows. The spotlight in the bathroom of our Weybridge project looks fabulous highlighting the beautiful pieces of coral, but it really wouldn't be the same if this was where the client chose to keep their half used bottles of shampoo and conditioner.
Like spotlights, uplighters are brilliant for making the most of interesting design details in the home, particularly architectural features. Combined with strategically placed downlighters, they can wash beams of light up and down a blank wall, creating drama out of nowhere. These would be perfect for breaking up a long run in a hallway.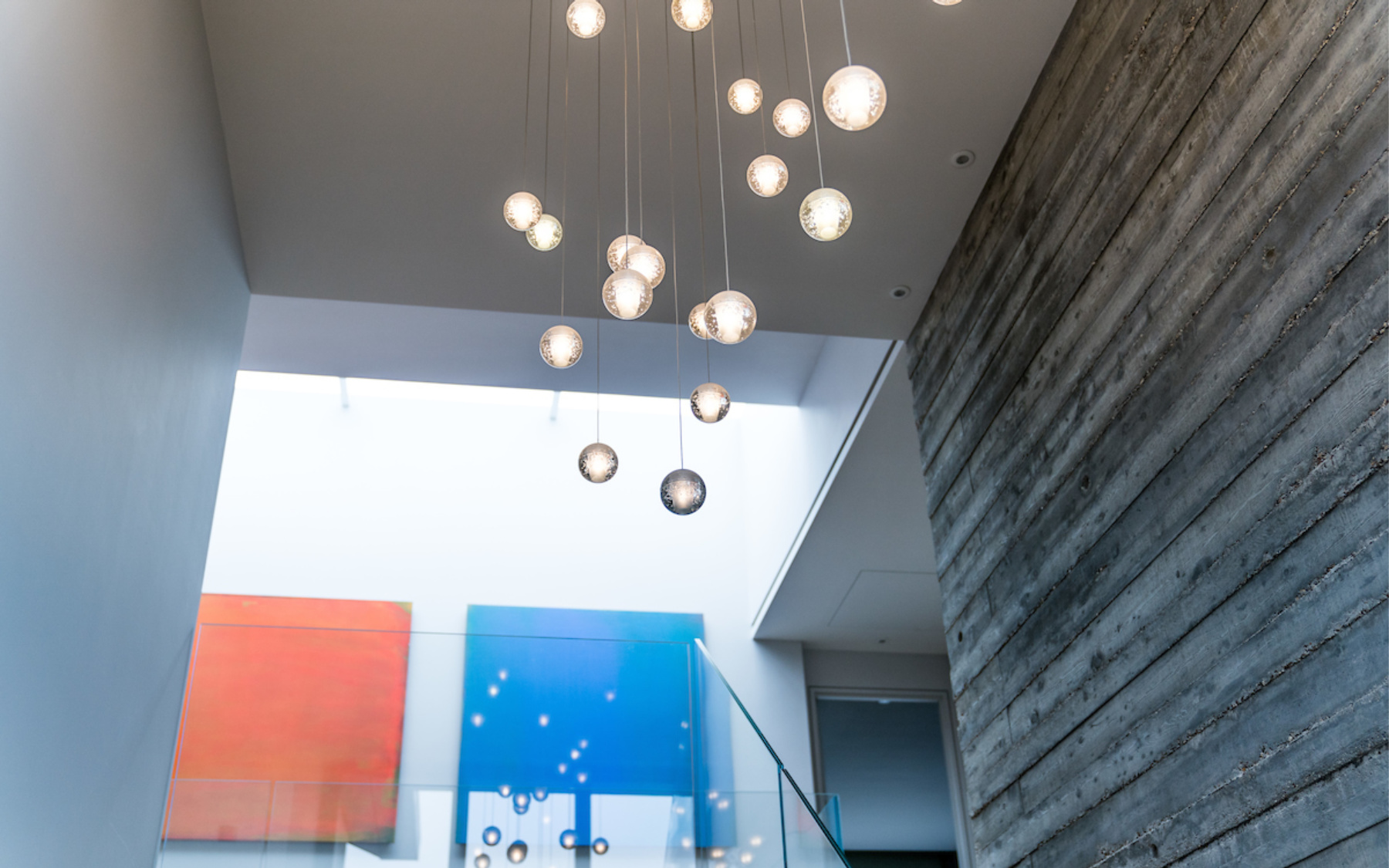 Pendants
Pendants can be used to create a fabulous centrepiece. Choose a playful scattering of bulbs or a single swinging orb to make a statement in an empty space. Consider hanging these lights in higher spots of the home, such as stairwells. This will create a cascading effect and fill in the out of reach space with an interesting focal point.
In this case, the pendant our decorbuddi, Nikki, selected with her client is designed to make a statement even before you arrive in the home, as it can be seen through the window from outside. Every single light in this project was carefully chosen and positioned to catch the attention and enhance the atmosphere on both the ground and first floors.

LED
Use LED strips where you want to add drama or provide more general, ambient light just about anywhere in the home. Under shelving, tucked in picture rails or, as seen here, built into the wine cellar. It has also become a very popular way to introduce some fun into your home with words spelt out in LED strips in different colours, which work as either stand alone pieces or integrated into bespoke furniture.
Even if you are not embarking on a major renovation project, there is a lot you can do to change the atmosphere in your room with lighting. For instance, adding a dimmer or changing the size and position of plug in lamps. There are so many gorgeous lights to choose from. Ikea has some fabulous lighting solutions that work well if your budget doesn't stretch to sculptural pieces like these wall lights from Porta Romana. And of course there is plenty in-between.
Contact: Please do get in touch if you would like help with your home or garden. Our packages and hours keep you in control of the look timing and budgets. Most of our services can be supplied face to face or remotely with a combination of telephone, email and facetime or skype as required. Always tailored to your requirements.
We would love to help you to create your individual home or garden.
Photo Credits: All photos taken by Malcolm Griffiths for Nikki's Decorbuddi project.