Blade Runner Style Home Bar
Blade Runner Style Home Bar Project : Our client approached us with an ambitious and unique task of redesigning their existing garden room to transform it into a cool and contemporary home bar inspired by the iconic 1982 dystopian science fiction film Blade Runner.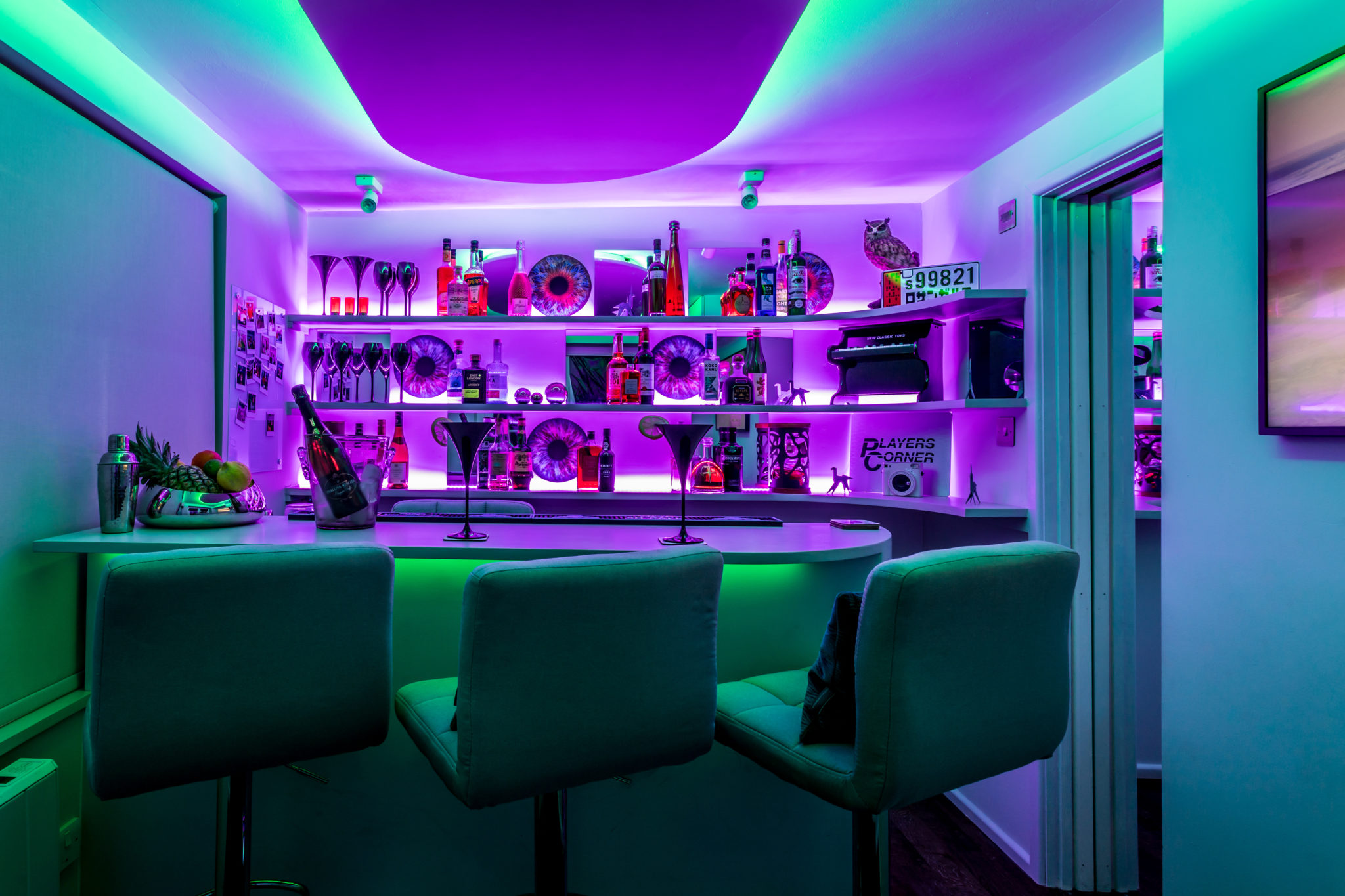 Garden Room Home Bar Design
Utilising the existing space which featured a narrow garden room and a small adjacent washroom, we stripped and pared back the room to establish how the space could be carefully and effectively designed for our client to comfortably host and entertain friends and family. Our Decorbuddi David was able to allow our clients' ideas to flourish by pushing them out of their comfort zone when it came down to selecting fundamentals for the space, including special curved channelling lighting, soft furnishings, a bespoke bar and a dropped ceiling design.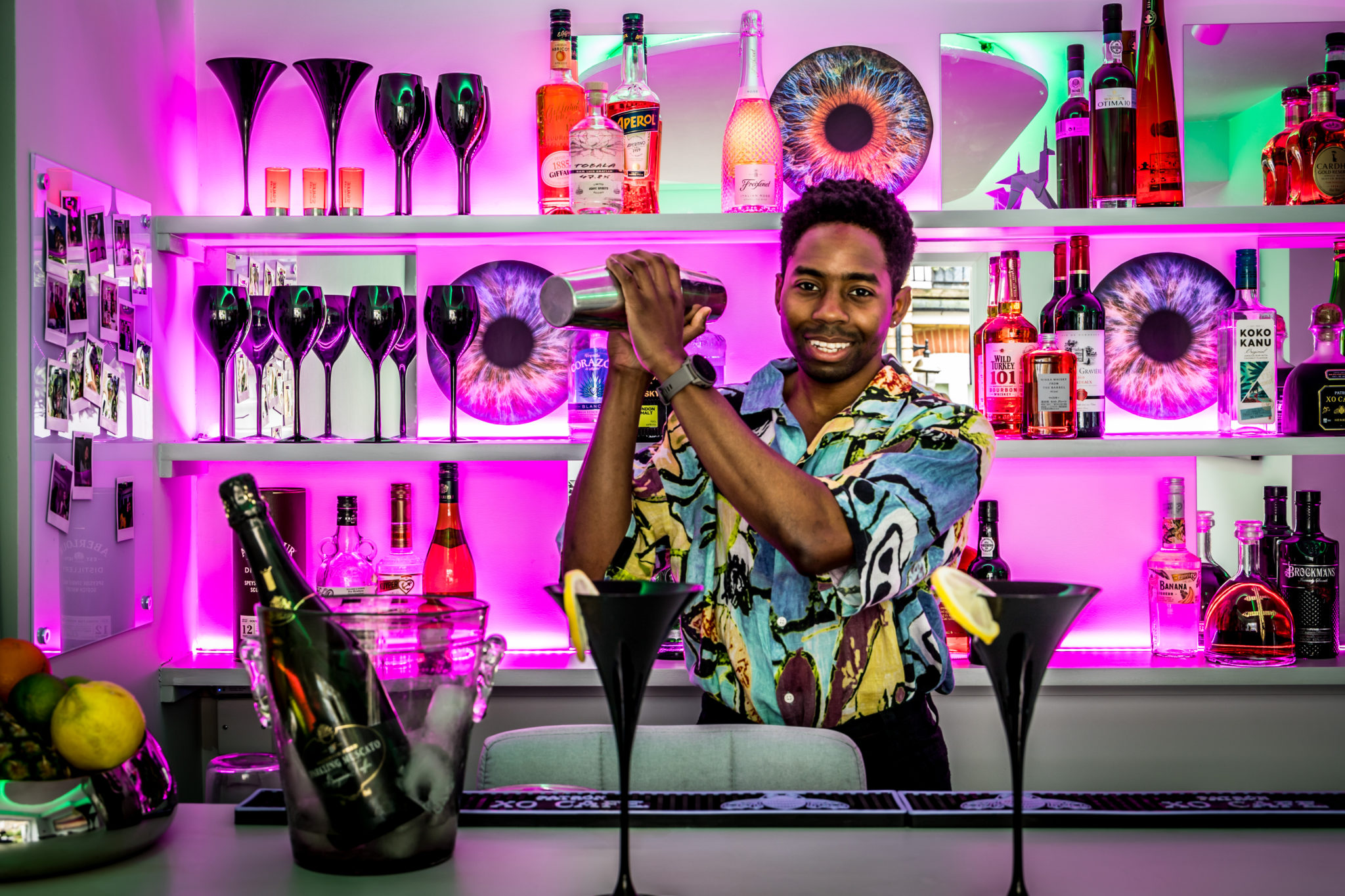 Cocktail Bar
Initially, we removed the original washroom door to replace it with a sleek and modern sliding mirror door which was more in keeping with the desired theme. The newly installed mirrored door not only now conceals the adjacent washroom but also creates an illusion of greater space which has allowed for additional shelving and open storage space behind the bar. Which was an important factor for our client who is a very talented cocktail maker who needed ample space to store all of his alcoholic mixers, shakers and cocktail making accessories.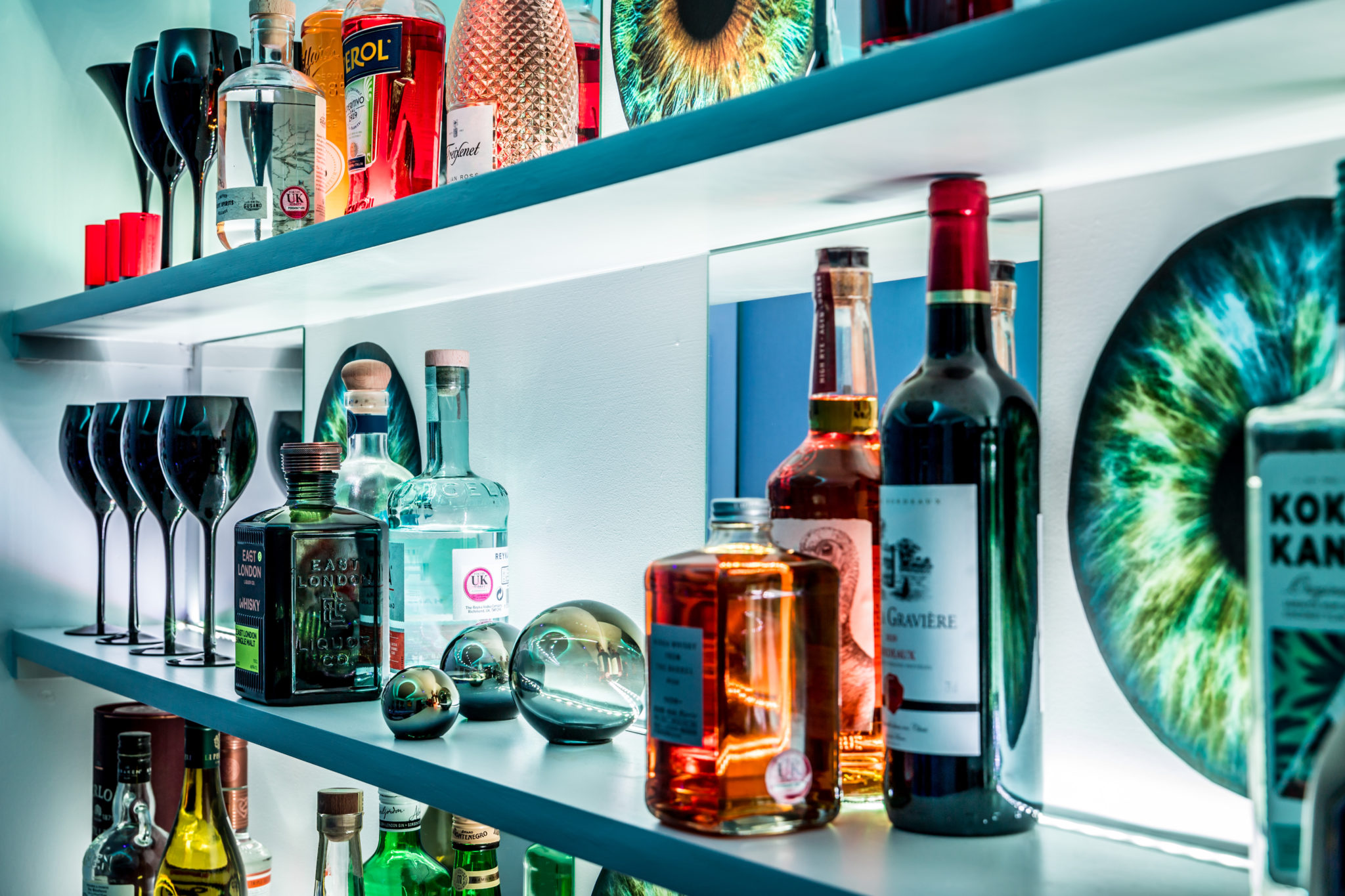 White Dragon Noodle Bar Styling
By combining a mix of eclectic design ideas, we were able to bring our client's vision to life to create a fun and unique space that incorporates several key elements from the 1982 sci-fi film. One of, if not possibly the most eye-catching design feature, is the newly installed ambient LED lighting which depicts a high tech, moody and atmospheric environment similar to that of one of the leading scenes within the film that features an iconic White Dragon Noodle bar. This additional layer of saturated lighting enables our client to establish various moods whether that be dark and solitary or light and inviting space through dimmable and interchangeable colour controlled LED lighting, which have been sourced and installed by one of our skilled and reliable suppliers to ensure high quality and longevity throughout the lighting design.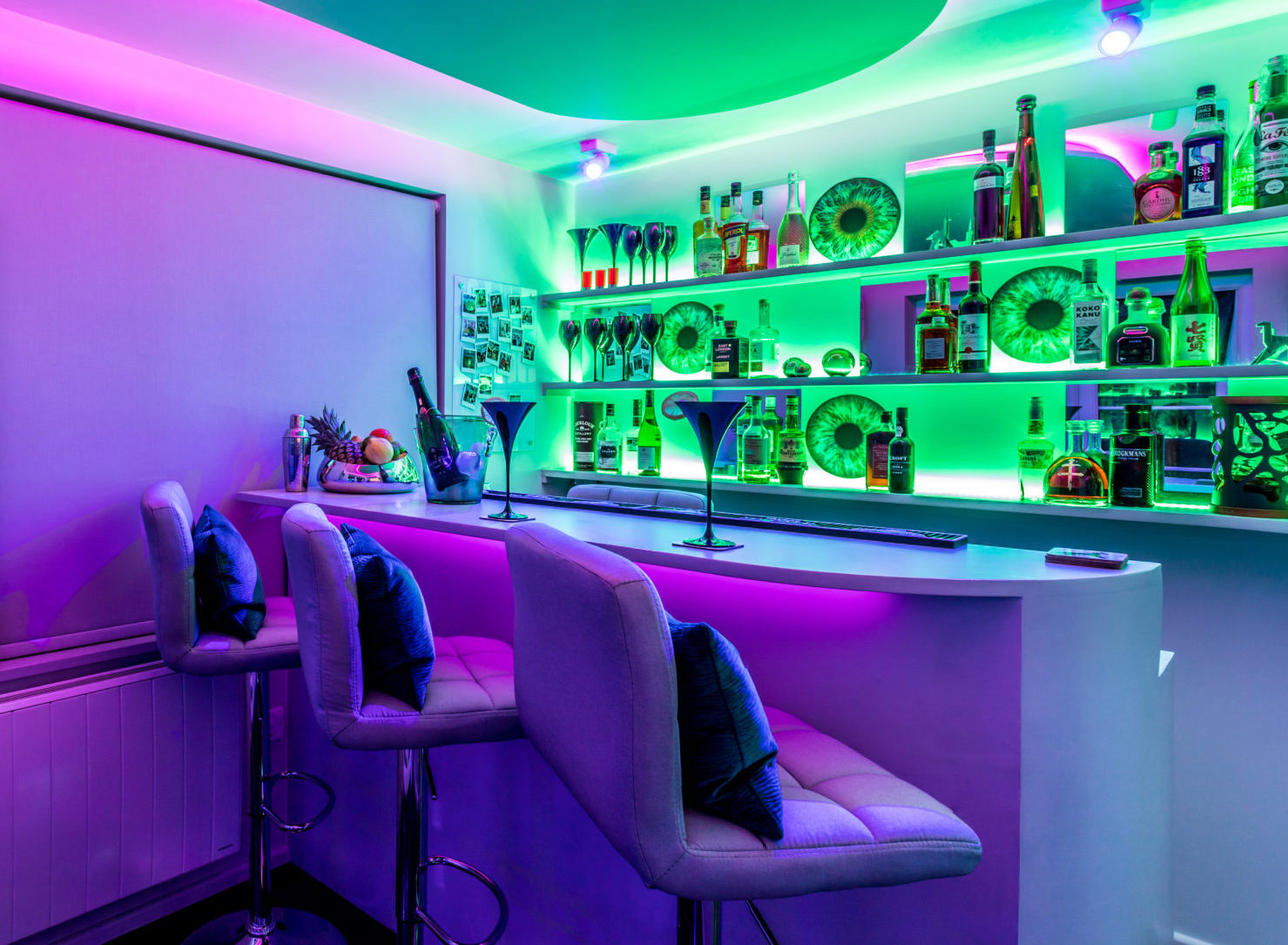 Cyberpunk Theme
The bar design, ceiling structure and curved shelving have been meticulously designed by David our Decorbuddi to interact and link with one and other to establish a harmonious and innovative scheme which truly shapes the space to mirror the cool and contemporary cyberpunk theme envisaged by our client.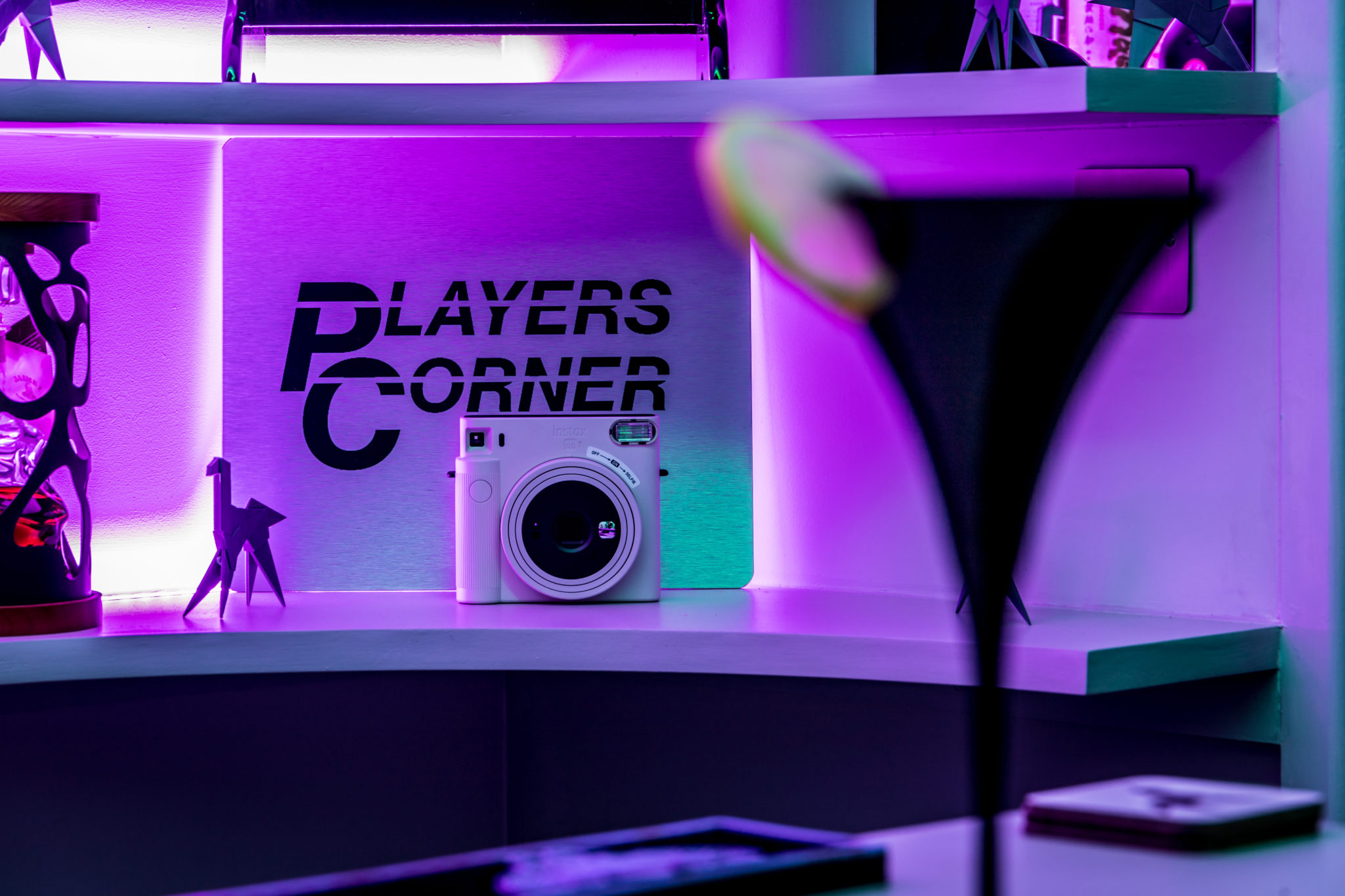 Blade Runner Style Home Bar Signage
In keeping with the desired futurist theme and taking inspiration from our client's existing Blade Runner artwork, we created a bespoke Blade Runner font and sign and sourced several additional key decorative elements from the film including a polaroid camera, origami unicorns and replicant eye images as a nod to another key scene within the film. The cool neutral paint colour chosen for the space was selected not only to allow for ambient versatility, but also for its high light reflective value. Painted in Dimpse, Blackened and Pavilion Grey from Farrow and Ball, the pigment within these paints allow a high volume of natural and artificial light to reflect around the room from a painted surface. We painted the bar, shelving, walls and skirting the same colour to maximise the light reflective value in the space and achieve a seamless affect.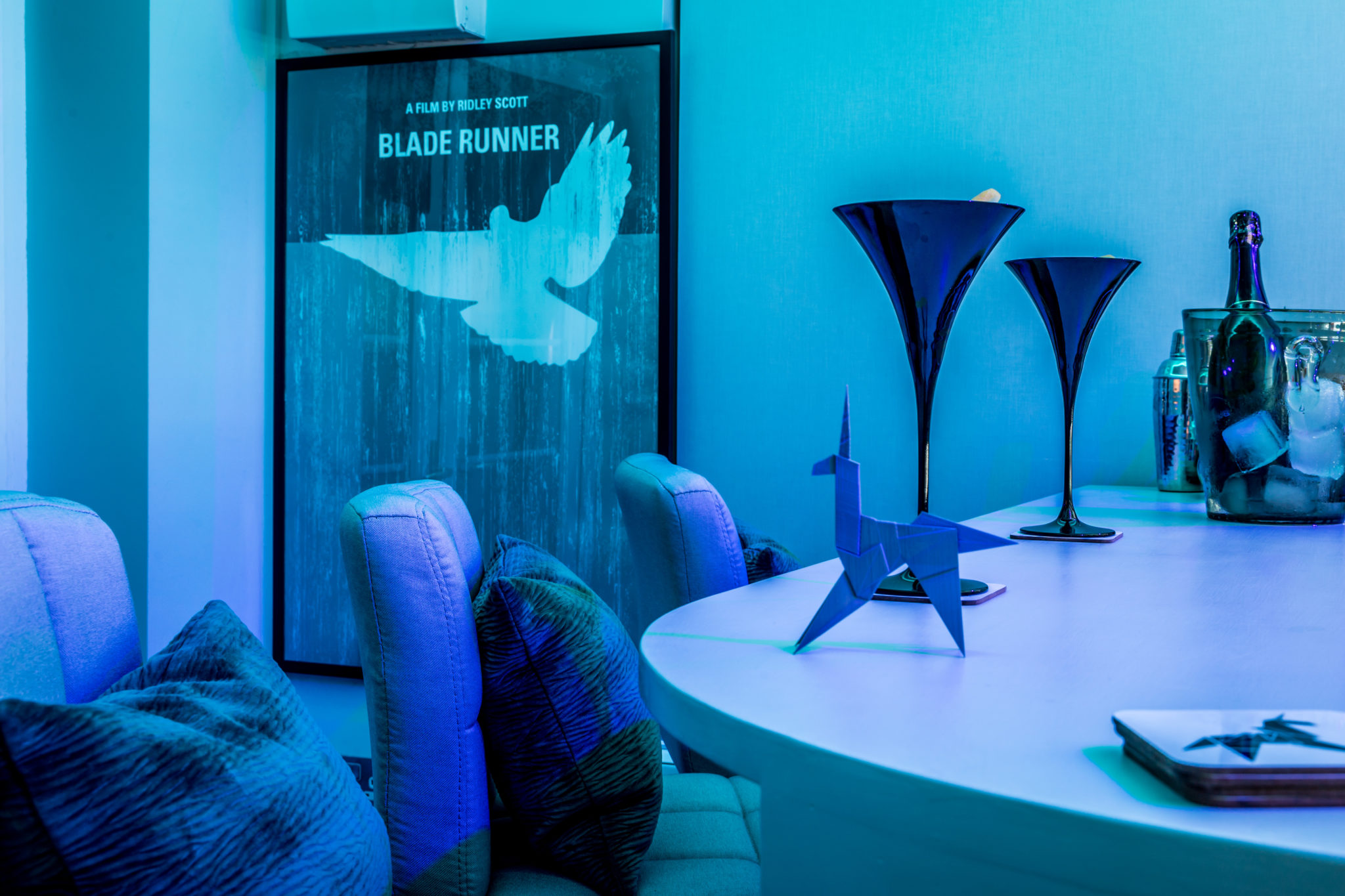 Our Client Says:
"I approached Decorbuddi for a home bar build and was delighted with the end result. From the beginning David listened carefully to my requirements and his suggestions were key elements of the final design. He helped turn a loose thematic idea into a realised bar. This was my first home renovation project and he took time to explain the various parts of the build and gave regular updates on costs, allowing me to choose various options. I'm very glad I took the decision to work with Decorbuddi in this renovation and would recommend them for both working to a specific brief and adding their own creative flair!"
If you have any questions please do not hesitate to get in touch.
Blade Runner Style Home Bar Project Credits
At Decorbuddi we work as a team with our clients, colleagues and trusted preferred suppliers, each and every one contributing to the successful delivery of the project. This Blade Runner Style Home Bar design project was designed by Decorbuddi interior designer: David Massingham 
Photography: KT1 Photography