Home Bar and Games Room Design
Home Bar and Games Room Design Project – Our clients have a lovely contemporary property overlooking Richmond Park, designed and built by the owner 12 years ago.
Our brief was to redesign an existing playroom to accommodate a home bar and entertainment space for the adults whilst still utilising the space for the rest of the family especially their youngest son for gaming, board games, home cinema and family time. Since completion, it has already become the most popular space in the house, with much fun entertaining, family time and dancing to date.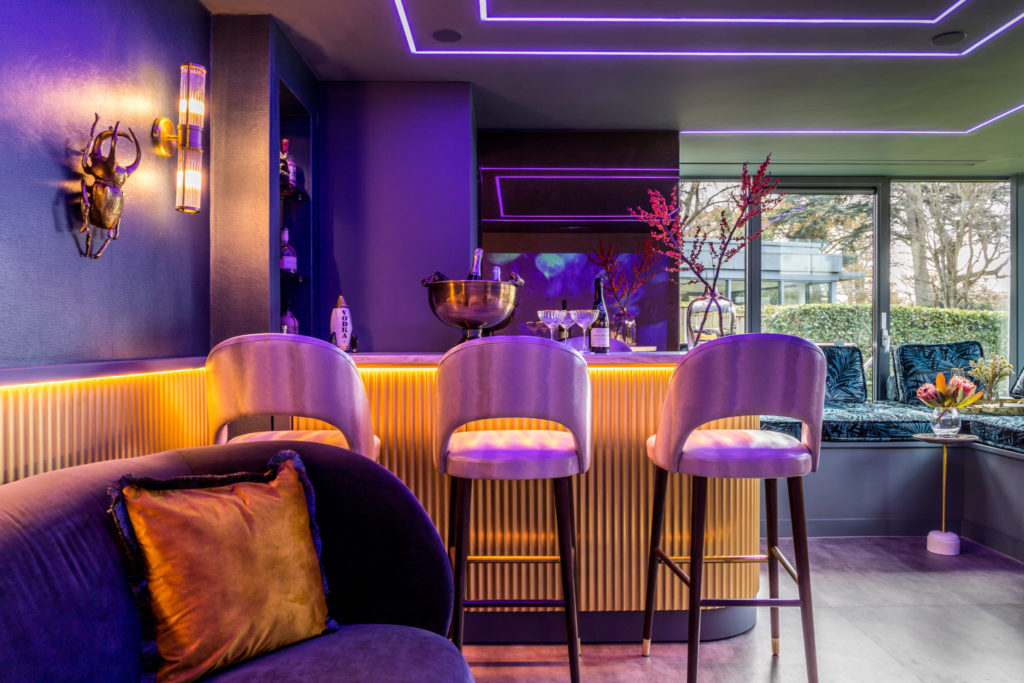 Curved Home Bar Design
Our aim was to create the best possible space for them to enjoy. A fun space that is unlike any other room in the building and that suited their style. The family asked our Decorbuddi interior designer Lorraine Sakharet for help pushing their comfort zone in selecting a look and feel for the room, including special layout, furnishings, flooring, storage, bar, wallcoverings, lighting recommendations and bespoke upholstery and soft furnishings.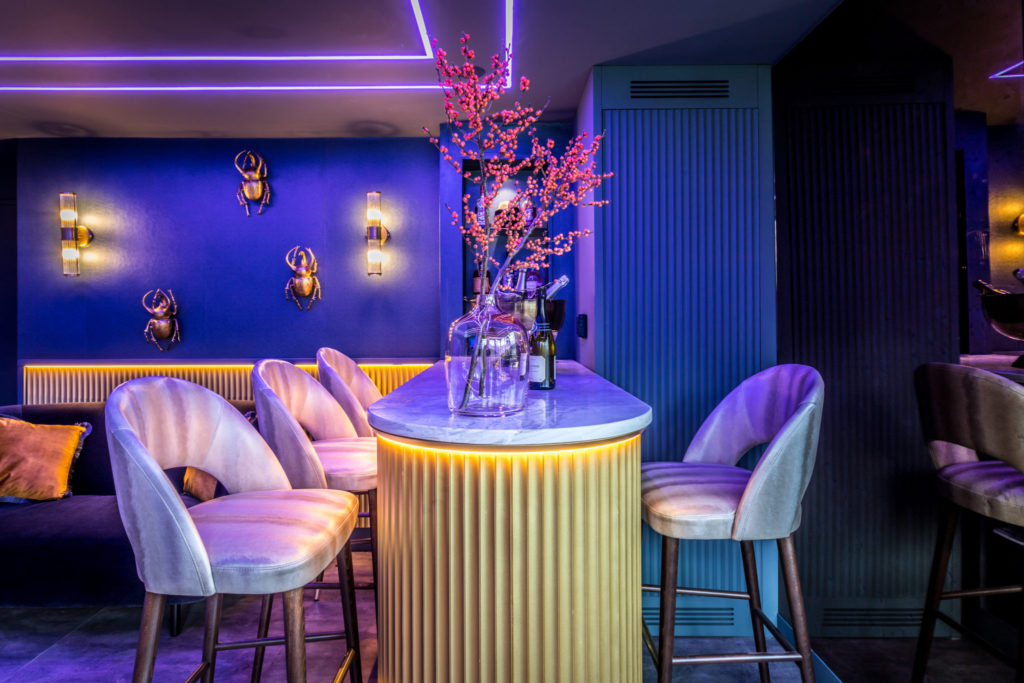 LED lit Panelling
This home bar and games room design includes the latest light sound and media technology commissioning a short-range ceiling-mounted hidden projector and LED lights plastered into the ceiling. The design involved accommodating a large technical hub that is the control centre for the entire house and couldn't be moved. Moreover, behind the existing shelving housed an unused air distribution and cooling unit that needed to be decommissioned and cut off from the rest of the house to utilise the space. However, the installers of the cooling unit had gone into liquidation so one of the challenges of this project was to find an expert to decommission without affecting the rest of the house.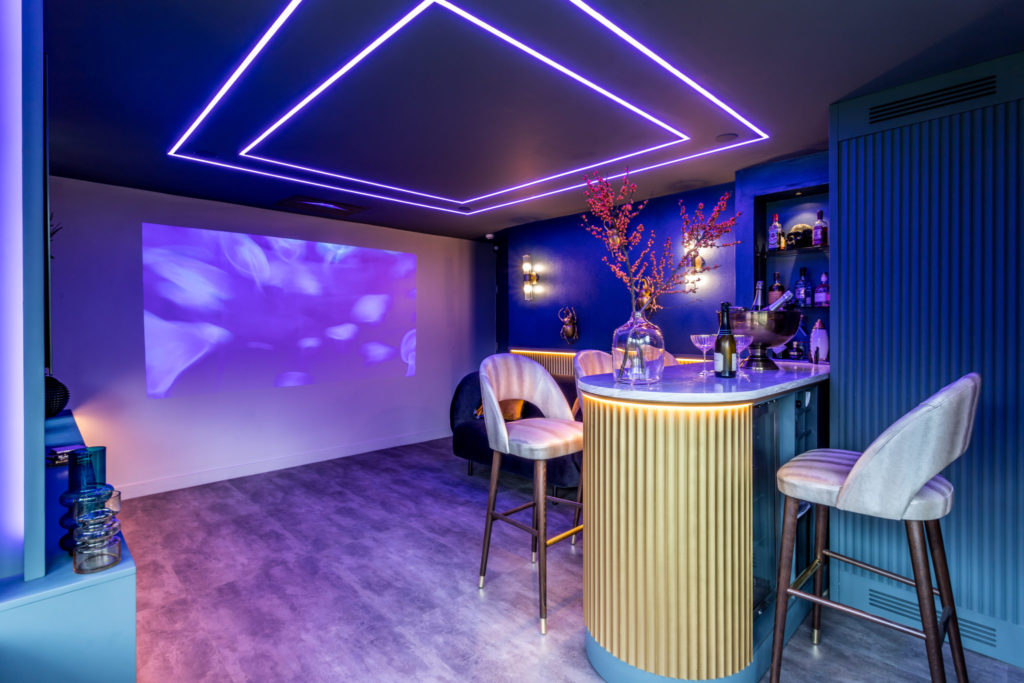 Immersive Entertainment Space
We designed the space to accommodate both the function of a bar and media games room for the family.
Working within our budget constraints, we created an immersive space. We utilised a whole wall on one side of the room for the projector generating a multifunctional use, watching movies and playing video games. On the other, we constructed a bar with space to stand and host guests whilst relaxing on the comfortable bespoke bar-stools purposely designed for the client's back support which was key in the brief.
The bar features gold panelling which we picked up in Fenwick and Tilbrook River Stone by around the rest of the space to give a cocooned feel.
Bespoke Window Seat
We transformed the window sill into a seating area.
Previously, a wasted space used as a dumping ground for toys, the stunning window overlooking the garden and Richmond park behind makes the most fantastic alternative seating for the room. Transformed into a favourite place for guests to lounge in the bar area and as a chill-out zone and nook to play board games. The bespoke window cushions were designed in beautiful Linwood velvet, with backs for support and comfort.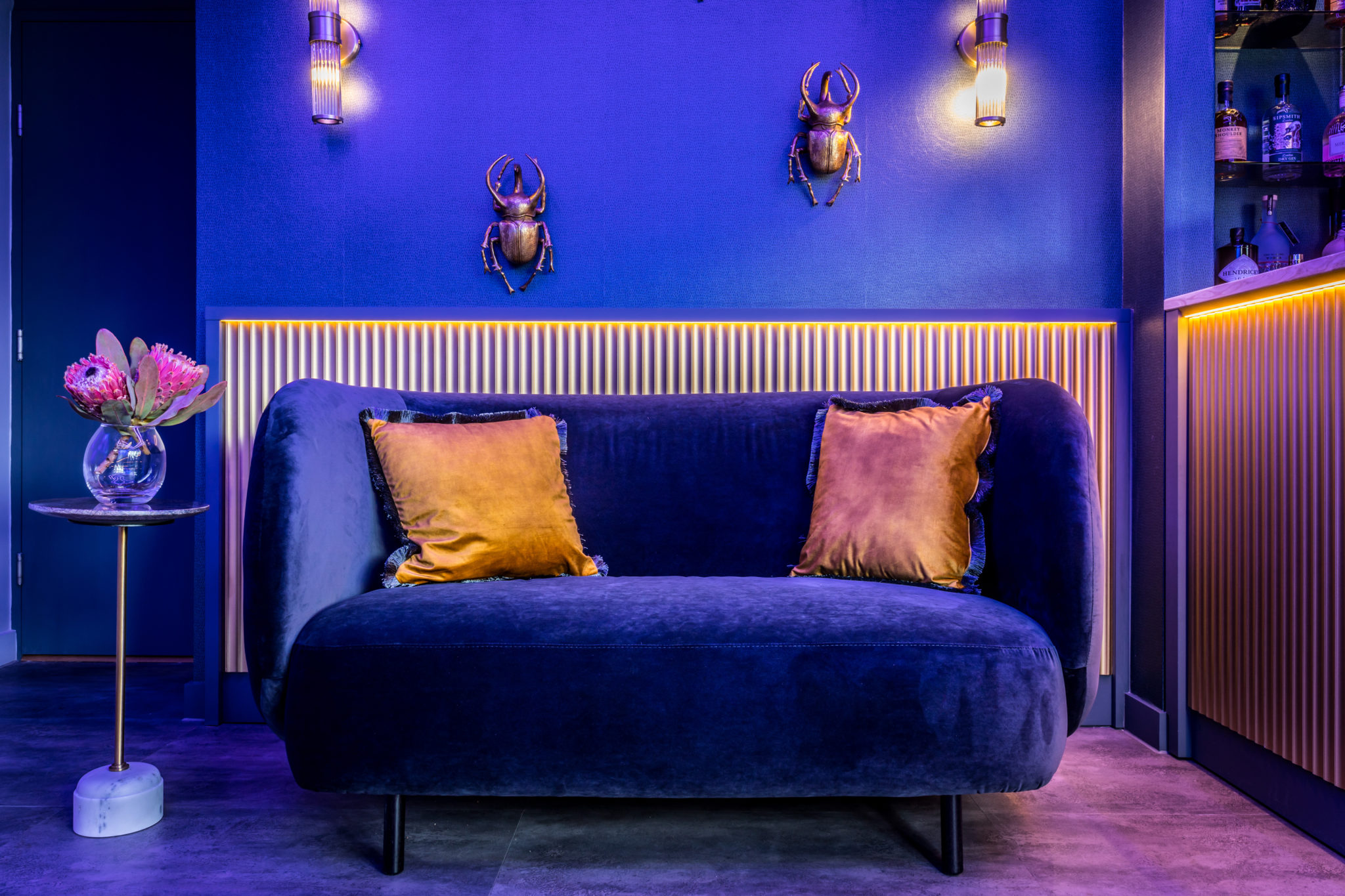 Atmospheric Colour Scheme
We added a rich black velvet sofa opposite the wall-mounted TV encased in a panelled unit painted the same colour as the wall to appear seamlessly connected.
The carpet has been replaced with luxury yet industrial vinyl as a fun yet practical solution to a space where drinks will be served and food may be consumed.
A dark and moody ambience was achieved by painting the walls in Riverstone Blue Paint Matt from Fenwick and Tilbrook. Programmable colour changing LED strips set the mood depending on the event.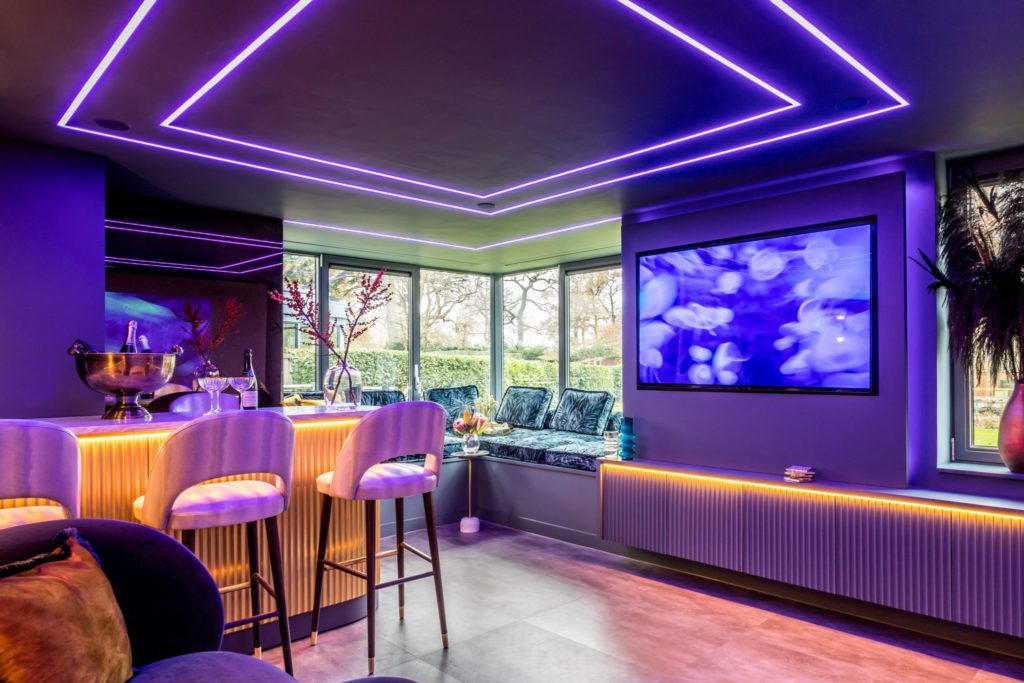 Home Bar and Games Room Design Testimonial
Our client says:
"Lorraine and I worked together over a 12 month period to renovate a tired, unused, plastic littered playroom that my children had outgrown to a chic, sophisticated, totally fabulous upscale bar. My vision was a space that was versatile enough to fulfil the needs of the entire family from girlie drinks, book club, casual drinks, to the more masculine football sporting events, to the ultimate after-dinner drinking session to enable us to shake a tail feather if we fancied.
This could have been Mount Everest to an interior designer, but not for Lorraine. Lorraine focused on the spatial layout of the room and the challenges of a long thin room with a bay window and an unmovable technical cabinet. The bar, cabinetry, lighting, seating and sound system would need to be sourced across multiple contractors to enable the selection of the right contractors based on capability.
Lorraine was able to establish a collaborative working relationship through the supply chain and set up communication channels to ensure integration at touchpoints between contractors. She was able to bring the right level of decision making to me as the client presented clearly the required information to make an informed decision.
She displayed strong problem-solving skills whilst continuously striving for the highest quality and always keeping with the original design intention. Lorraine exceeded my expectations as an interior designer and took the 'fear-factor' out of hiring a designer for a unique and special job. Her eye for style and knack for putting things together will impress and amaze you, all with her wonderful disposition, smiles and laughs along the way." Therese
If you have any questions please do not hesitate to contact us.
Home Bar and Games Room Design Credits:
At Decorbuddi we work as a team with our clients, colleagues and trusted preferred suppliers, each and every one contributing to the successful delivery of the project. This home bar and games room project was designed by Decorbuddi interior designer: Lorraine Sakharet
Photography: KT1 Photography
Tech Consultancy & Implementation: Arcadia Bespoke
Panelling: Orac Decor
Paint Brand: Fenwick and Tilbrook
Fabric: Linwood
Sofa: Love Your Home
Flooring: Harvey Maria
Wallpaper: Thibaut Design
If you have any questions or are embarking on your own home bar and games room design please do not hesitate to get in touch.