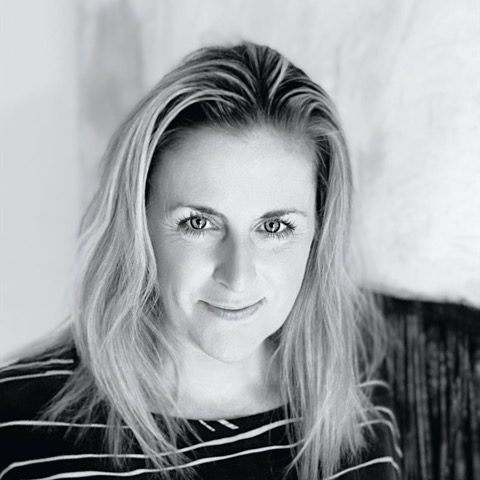 Richmond Interior Designer Lorraine Sakharet
Located in Richmond, London, Lorraine is a talented interior designer supplying Decorbuddi interior design services from "Getting Started" packages and colour consultations to full bespoke, interior design and project management.
"Many years of living in Asia has given me a global approach to design which I can apply to the wide range of Decorbuddi projects we work on, keeping me challenged and constantly exploring new ideas."

About Richmond Interior Designer Lorraine Sakharet:
Richmond interior designer Lorraine Sakharet is an experienced interior designer working across London and Surrey with UK and International clients. 
Before moving to Richmond, Lorraine began her interiors career in Thailand and later Bali, Indonesia, where she lived with her husband and children. Asia was the perfect place to source antiques, beautifully made local homewares and artisanal quality fabrics. The creative hub she surrounded herself with fuelled her love of interior design, transforming spaces and creating beautiful interiors for Balinese villas. 
Lorraine's background prior to interior design was working in the dot com boom in Online Media as a senior project manager, requiring exceptional attention to detail and project planning, on time and to budget. This expertise proved invaluable, combined with the creative skills she had honed on her Balinese interior design projects, as she transitioned her career into interiors full time, and joined Decorbuddi. 
"Many years of living in Asia has given me a global approach to interiors which I can apply to every job and the range of Decorbuddi interior design projects we work on, keeping me constantly challenged and exploring new ideas." 
Lorraine loves to mix the old and the new bringing interesting and quirky ideas to a project and has a clear passion for interiors. 
Client Testimonials: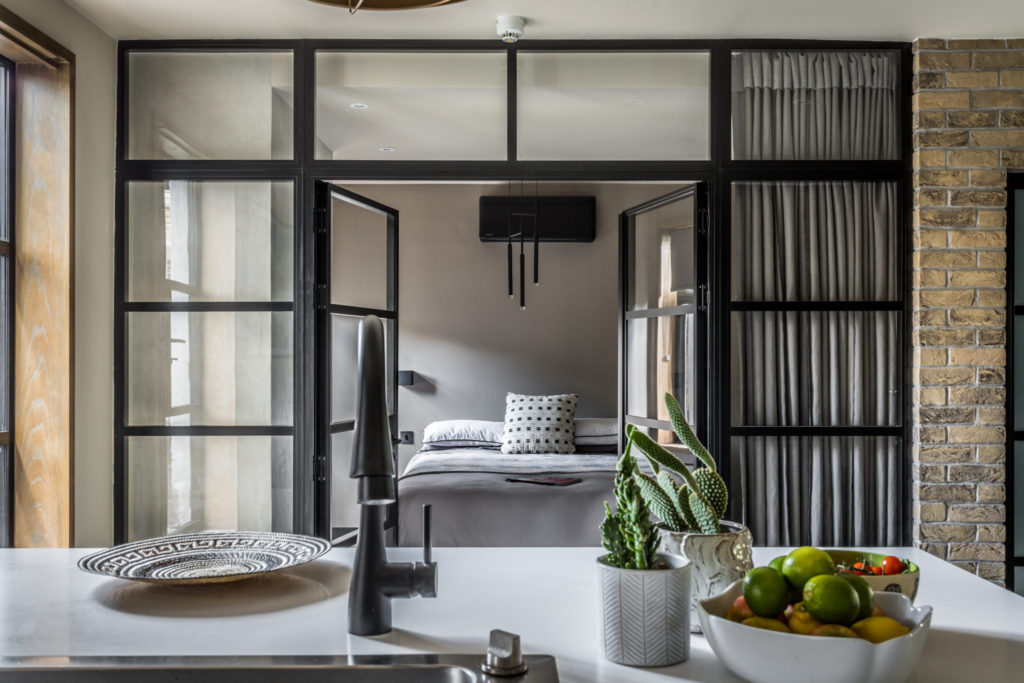 Contemporary Central London Apartment
"I asked for Decorbuddi's help to transform my W1 apartment. Both Ann and Lorraine were fantastic from day 1. They spent time working out what my needs and wants were from them and were always helpful as and when I needed. The end product for the apartment is amazing and without them it definitely would not have been possible. I can't recommend them highly enough." Irfan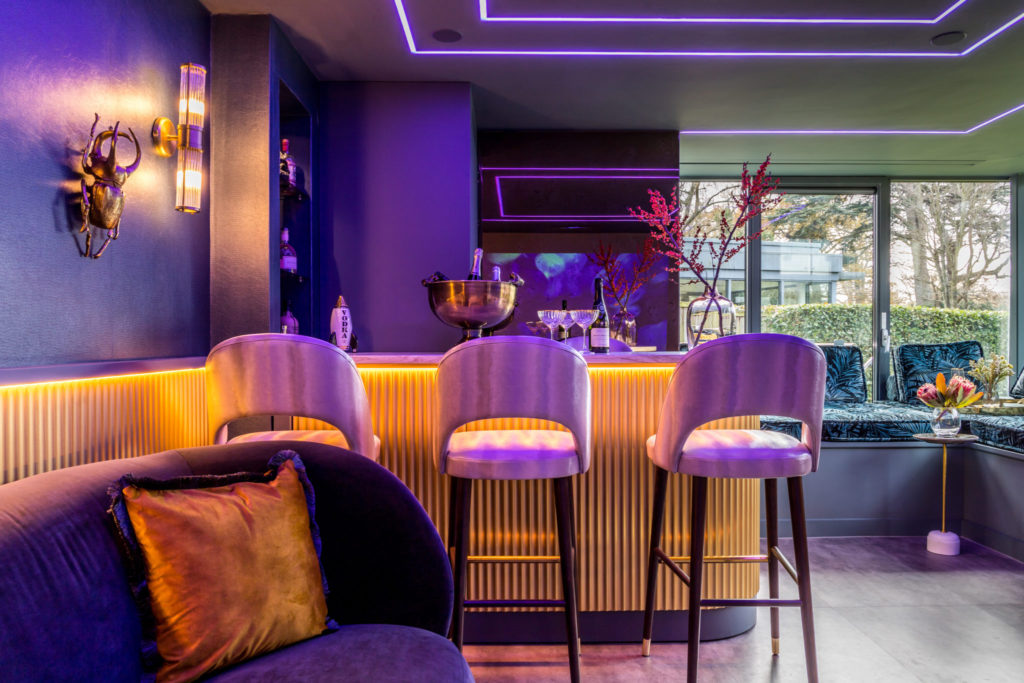 Richmond Park Interior Design Project
"Lorraine and I worked together over a 12 month period to renovate a tired, unused, plastic littered playroom space that my children had outgrown to a chic, sophisticated, totally fabulous upscale bar.
My vision was a space that was versatile enough to fulfil the needs of the entire family from girlie drinks, book club, casual drinks, to the more masculine football sporting events, to the ultimate after dinner drinking session to enable us to shake a tail feather if we fancied. This could have been Mount Everest to an interior designer, but not for Lorraine.
Lorraine focused on the spatial layout of the room and its challenges of a long thin room with bay windows and a unmovable technical cabinet.
At a practical level, the bar, cabinetry, lighting, seating and sound system would need to be sourced across multiple contractors. She developed the design down to the last detail to enable selection of the right contractors based on capability.
Lorraine was able to establish collaborative working relationships through the supply chain and set up communication channels to ensure integration at touch points between contractors. She was able to bring the right level of decision making to me as the client presenting clearly the required information to make an informed decision.
She displayed strong problem solving skills throughout the whole project whilst continuously striving for the highest quality and always keeping with the original design intention.
Lorraine exceeded my expectations as an interior designer and took the 'fear-factor' out of hiring a designer for a unique and special job.
Her eye for style and knack for putting things together will impress and amaze you, all with her wonderful disposition, smiles and laughs along the way." Therese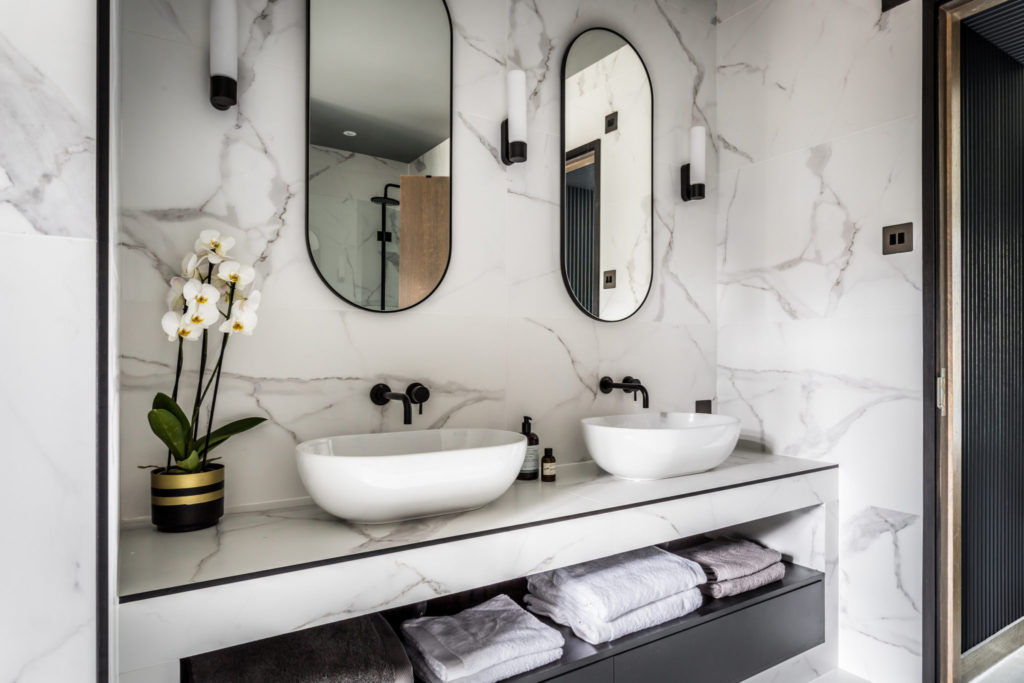 East London New Build Apartment
"We had to furnish a 3 bedroom flat in a new build in London remotely as we are based overseas. We needed an interior designer to set up the flat. Lorraine was the only interior designer who visited the flat, took lots of pictures and suggested ideas BEFORE we even signed up with the Decorbuddi design studio. She was amazing from day 1.
Lorraine was very patient with us as each family member had different views at times. She quickly grasped the interior design concept that we were looking for and we really liked the furniture pieces that she chose and how she put them all together to make the space work.
Lorraine is very committed and when she knew she was going to be away due to unforeseen circumstances, she worked tirelessly to ensure that when we arrived in London, the apartment was beautifully set up.
We would not hesitate to recommend Lorraine for your interior design project. Even our apartment's concierge commented how lovely the team at the Decorbuddi design studio have been. Thank you Lorraine and the team at Decorbuddi!" Lisa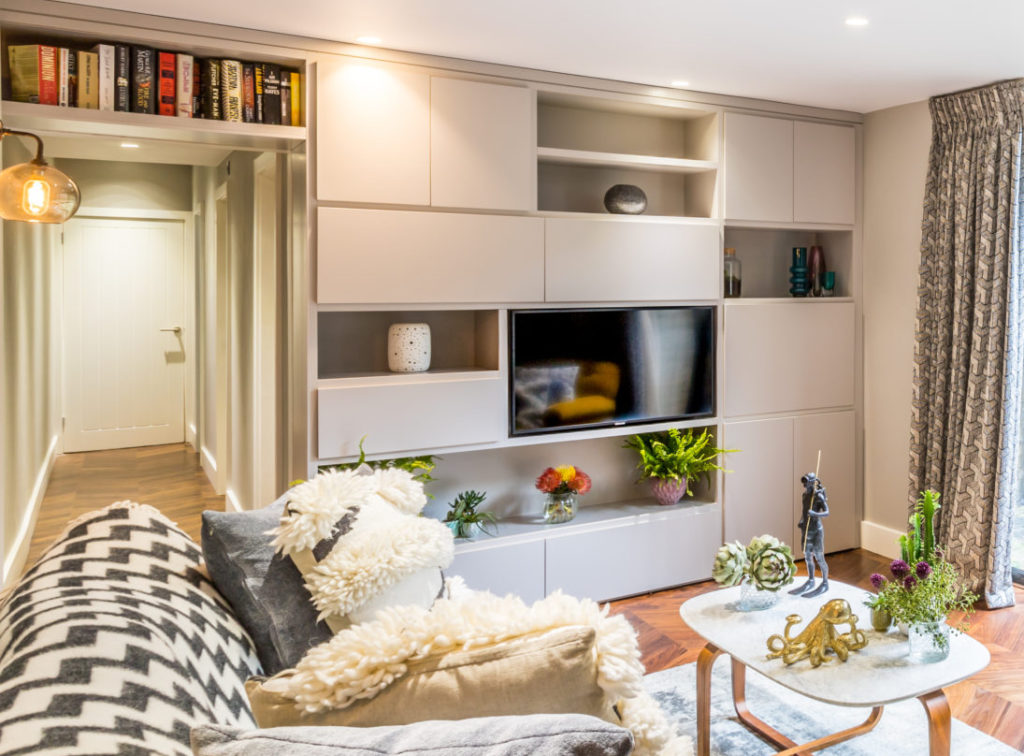 London Pied-a Terre with open plan living space
"I worked with Lorraine on a complete redesign of the kitchen/ diner and open plan living space / office, in my basement flat. We ended up with a very different layout than I had envisaged, but much the better for it!
Lorraine sourced beautiful bespoke cabinets to make the most of the interior design of the small room, with a foldaway solution for the kitchen which works incredibly well. The colours, materials, lighting, furniture and flooring she recommended have transformed the property.
Lorraine was an absolute pleasure to work with on the project. Further, she managed the design process and project implementation brilliantly, dealing with all tradesmen and even taking appliance deliveries to her own address when I was out of town.
The entire interior design process and project was a wonderful experience. I wouldn't hesitate to use Lorraine for projects in the future or recommend her interior design services wholeheartedly." Adam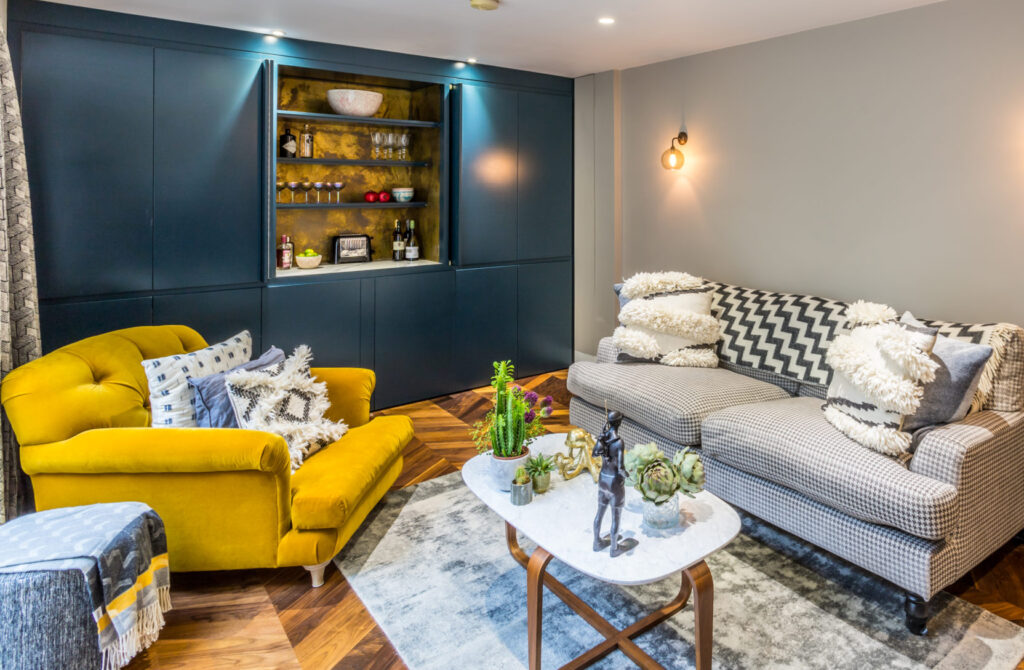 Traditional Central London Apartment Renovation
"When I decided to renovate my flat, I was overwhelmed with the task ahead and all the interior design decisions that I had to make. Lorraine's interior design expertise, attention to detail and support throughout the project was invaluable and her professionalism and positive attitude made the journey enjoyable.
Lorraine was resourceful and I was introduced to a network of tradesmen/suppliers and being a customer of the Decorbuddi interior design company, I received a much higher level of service.
Throughout the entire interior design process Lorraine listened to my ideas and what I was trying to achieve as well as areas that I was concerned about. Lorraine was patient with me throughout the entire process and suggested interior design ideas that I had not considered. I am very happy with the final interior design and my flat looks stunning. This is due to Lorraine's hard work." Beheshteh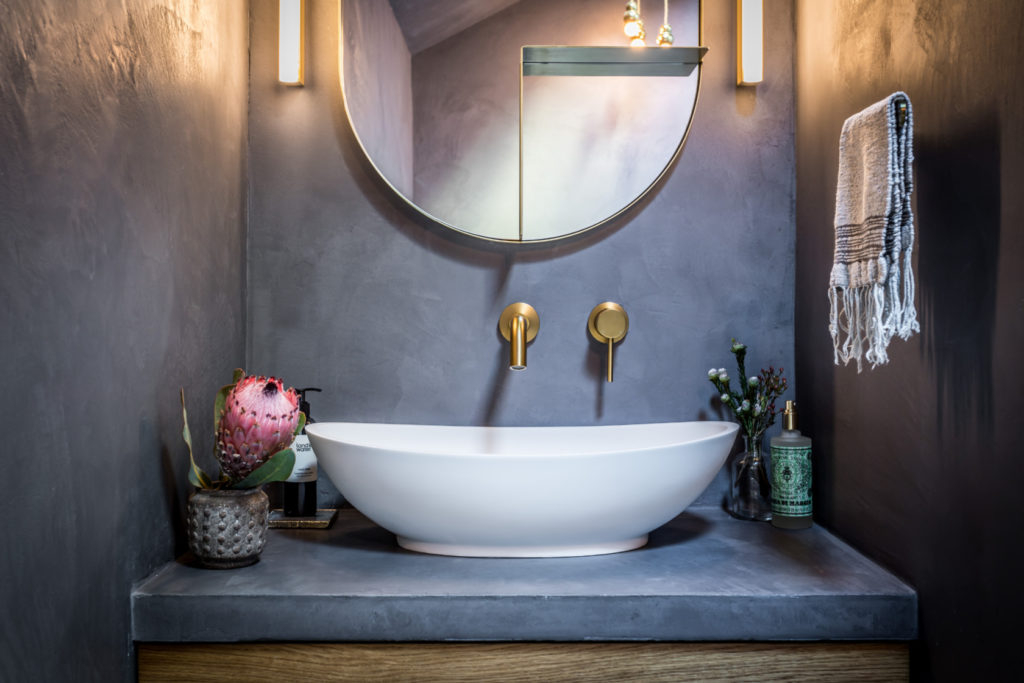 Twickenham Tadelakt Bathroom Design
"Lorraine has designed two beautiful bathrooms for us.
As with many old houses the bathrooms were an afterthought and therefore small with little opportunity to extend. In each case we needed to create a completely new design.
Lorraine, employing great bathroom design expertise, has maximised the space and created a luxurious main bathroom and a functional yet beautiful ensuite shower room.
Lorraine introduced us to skilled builders and craftsmen and sourced everything, often securing us great value, with a Decorbuddi client discount.
She has great attention to detail and was there to troubleshoot and explore alternative interior design solutions, when inevitable snags hit the project, so making sure we got exactly what we wanted.
Like many people, I know what I don't like, but am rather vague about what I do and, although I have some lovely things, I don't really know how to put it altogether. Lorraine worked collaboratively with me, so the design feels like my taste and I absolutely love the final result.
I really enjoyed working with Lorraine. She has made me braver with colour and I am looking forward to working with her on other rooms that I have never got quite right, starting with our off white and rather boring master bedroom in the New Year." Claire
Richmond Interior Designer Lorraine Sakharet Wins Best of Houzz Awards:
Richmond interior designer Lorraine Sakharet's bathroom design has been recognised by leading International Interiors Brand Houzz.
Best of Houzz Design award 2023
Photography Credit: