Decorbuddi Secrets: Creating a Minimalist Moroccan Style Tadelakt Bathroom Design
Tadelakt Bathroom Design: Join us behind the scenes with Decorbuddi designer, Lorraine Sakharet, as she shares the secrets of one of our latest Decorbuddi bathroom designs. Creating a seamless, spa-like contemporary bathroom with specialist Moroccan Tadelakt finish. Recording above and summary of the Tadelakt Bathroom design below: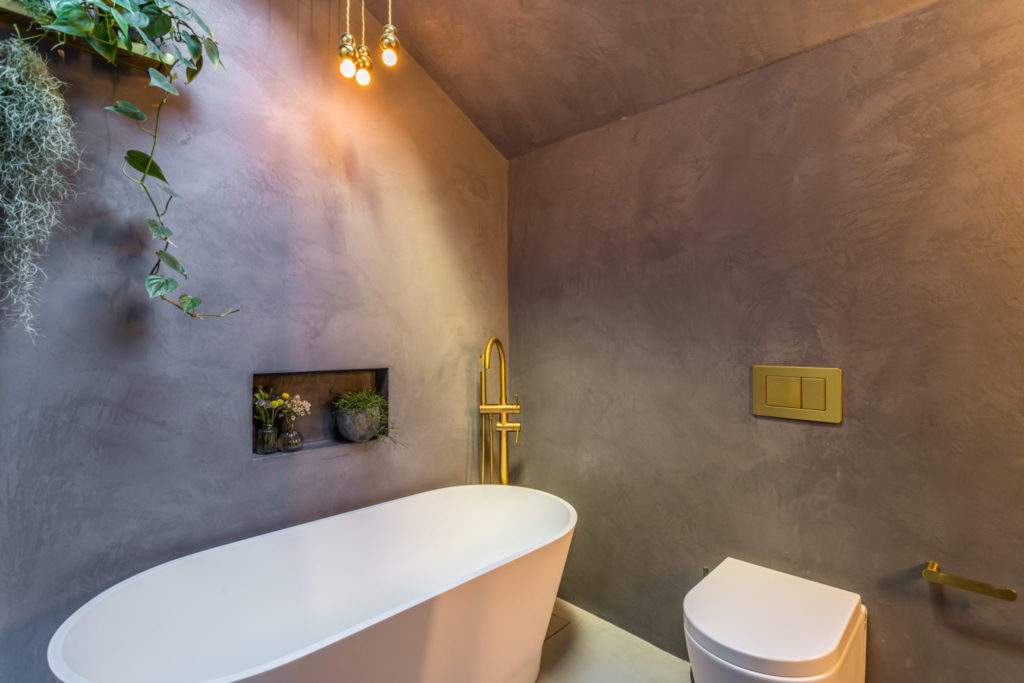 Textured Tadelakt Finish
Every project we create is individual. Our objective was to create a beautiful, contemporary style in, what was, a very awkward shaped, cramped Victorian bathroom. Our client wanted a sleek, smooth bathroom design without any tiles or grout lines. Our solution was to replace tiling with a gorgeous textured Tadelakt finish, indigenous to Morocco.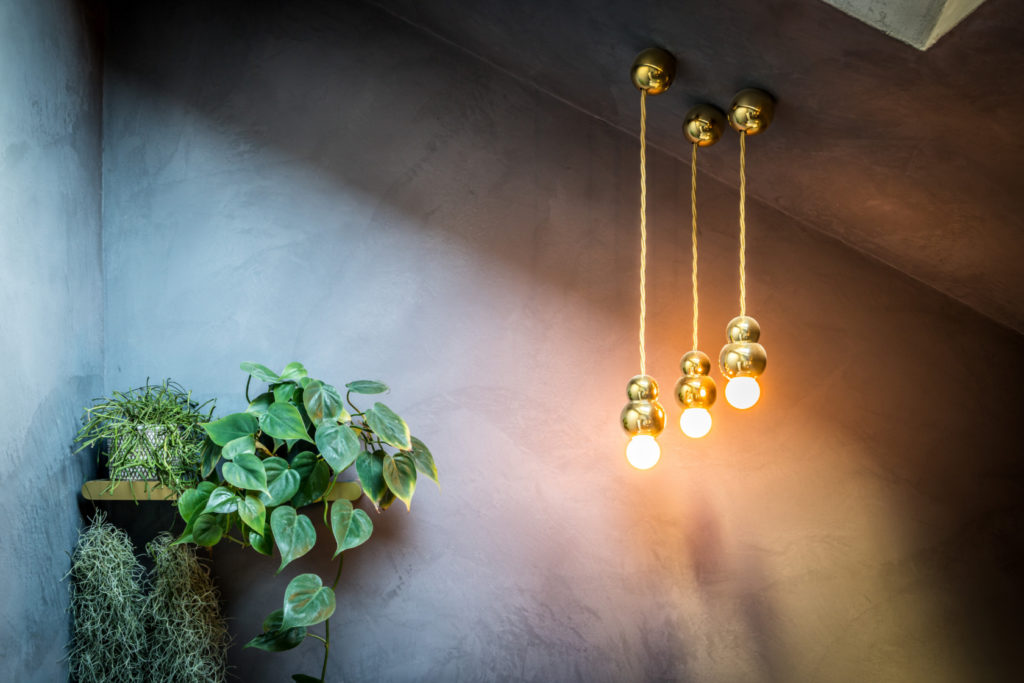 Tadelakt Bathroom Lighting
The beautiful satin sheen of the Tadelakt combined with the brushed gold detailing in the taps, flush plate and lighting produce a gorgeous luxurious and warm look and feel.
Building work including creating a vaulted ceiling and opening up the window in the roof to bring in maximum natural light.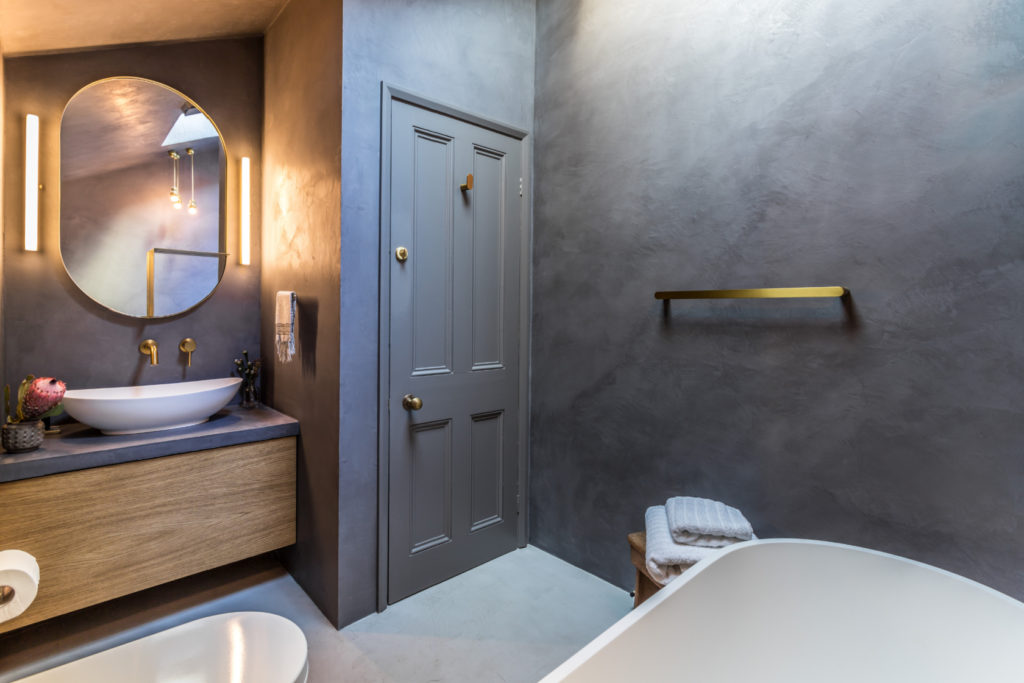 Seamless Design Effect
The door and all woodwork, including the velux window above, were painted grey (Little Greene Dark Lead No 118) to continue the completely seamless effect. No lines.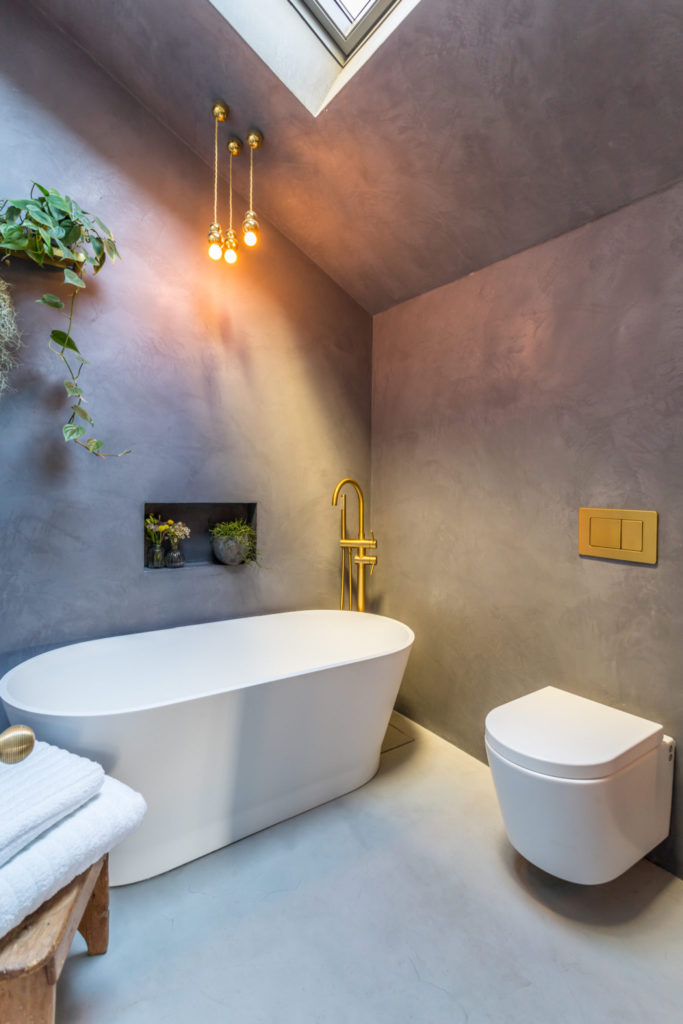 Microcement Flooring
We chose micorcement for the flooring to achieve that same look and feel with an even harder wearing finish. Both Microcement and Tadelakt work with underfloor heating so we were able to ensure that the room not looks warm but is warm, taking the heating across the floor and up the wall behind the towels.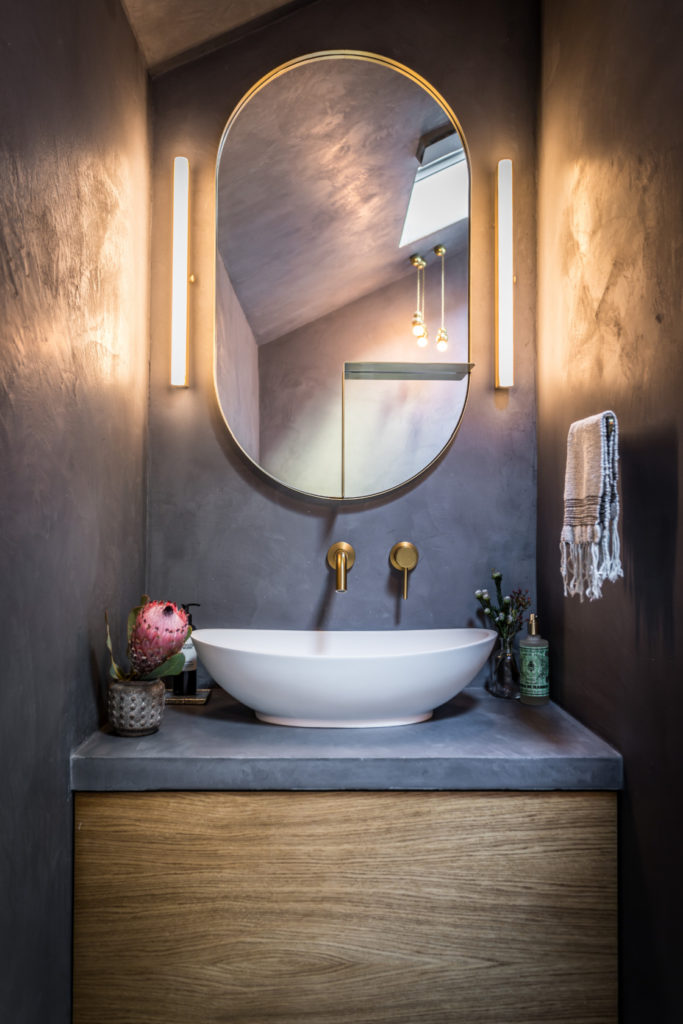 Natural Materials
A 2-drawer bespoke vanity unit was built into the alcove. We chose to add a touch of natural wood to add an additional textural layer and natural touch. Contemporary lighting was positioned either side of the mirror to minimise any shadows when applying make-up etc.
What our Client Said
"Lorraine has designed two beautiful bathrooms for us. As with many old houses the bathrooms were an afterthought and therefore small with little opportunity to extend. Lorraine, employing great design, has maximised the space and created a luxurious main bathroom and a functional yet beautiful ensuite shower room.
Lorraine introduced us to skilled builders and craftsmen and sourced everything, often securing us a Decorbuddi discount. She has great attention to detail and was there to troubleshoot when inevitable snags hit the project, so making sure we got exactly what we wanted.
Like many people, I know what I don't like, but am rather vague about what I do and, although I have some lovely things, I don't really know how to put it altogether. Lorraine worked collaboratively with me, so the design feels like my taste and I absolutely love the final result.
I really enjoyed working with Lorraine. She has made me braver with colour and I am looking forward to working with her on other rooms that I have never got quite right, starting with our off white and rather boring bedroom in the New Year." Claire
Tadelakt Bathroom Design Credits:
At Decorbuddi we work as a team with our clients, colleagues and trusted preferred suppliers, each and every one contributing to the successful delivery of the project. This Tadelakt Bathroom Design project was designed by Decorbuddi Interior Designer Lorraine Sakharet
 
Photographer: KT1Photography
Before Photos: