Interior Design for Health and Wellness in the Workplace
When you close your eyes and think about a work space, you'd be forgiven for visualising rows of desks, overly bright strip lighting, white walls and a hardwearing flecked carpet tile. This was a typical work environment until surprisingly recently. Times have changed. Now we see real interest in creating individual office and workplace interiors that enhance the experience of the people working there. Employers have woken up to the benefits of employee-friendly work environments. It is recognised as a factor in successful staff recruitment and retention. There is a desire to improve staff health and well being, and as a result, more efficient work-practices.
The pandemic conceded some benefits; one being a drive towards improving our own workspace. All those hours spent on Zoom calls forced us to consider our 'backdrop', to contemplate how inspiring that stark white wall might be, and how functional our desk and surrounding areas are in reality. Our minds have been opened to a spectrum of possibilities of how an office might look and function, from the smallest boutique office space to large multi-national head office complexes.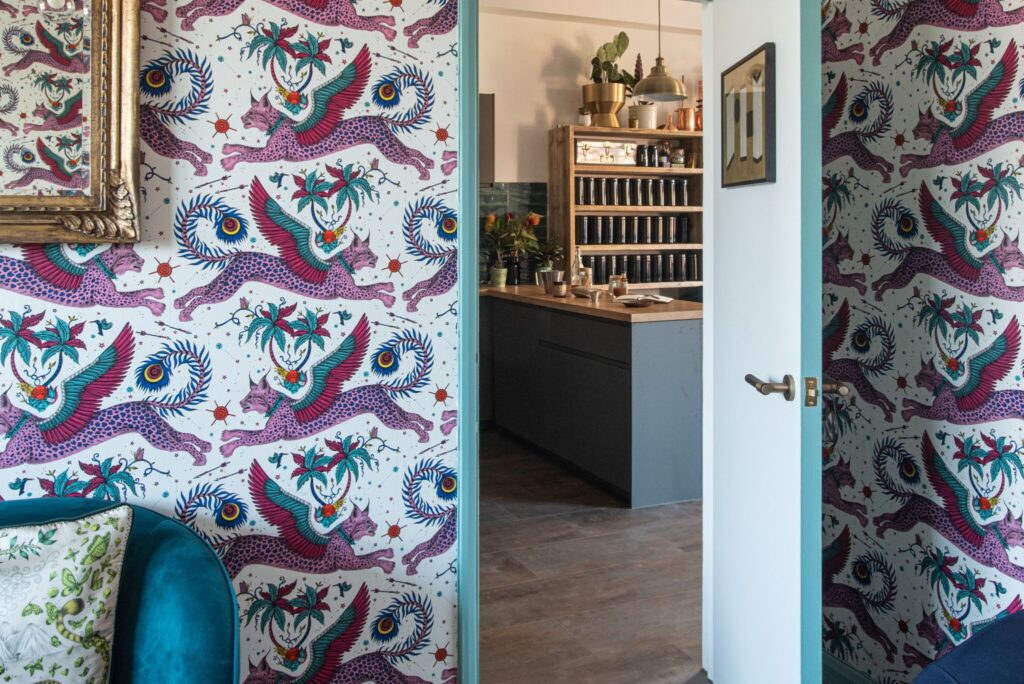 Architectural Authenticity
When Functional Medicine clinic Anthrobotanica approached Decorbuddi's Christiana Wilkins to design their new office and clinic in North London, one of the main sentiments from the client was that it should not feel like an office; nor in fact, a clinic. "As a refurbished industrial building, it was important to be authentic and retain some of the building's rough charm. Whilst the space was to feel welcoming, it also needed to be connected to the strong architectural personality of the exterior of the building".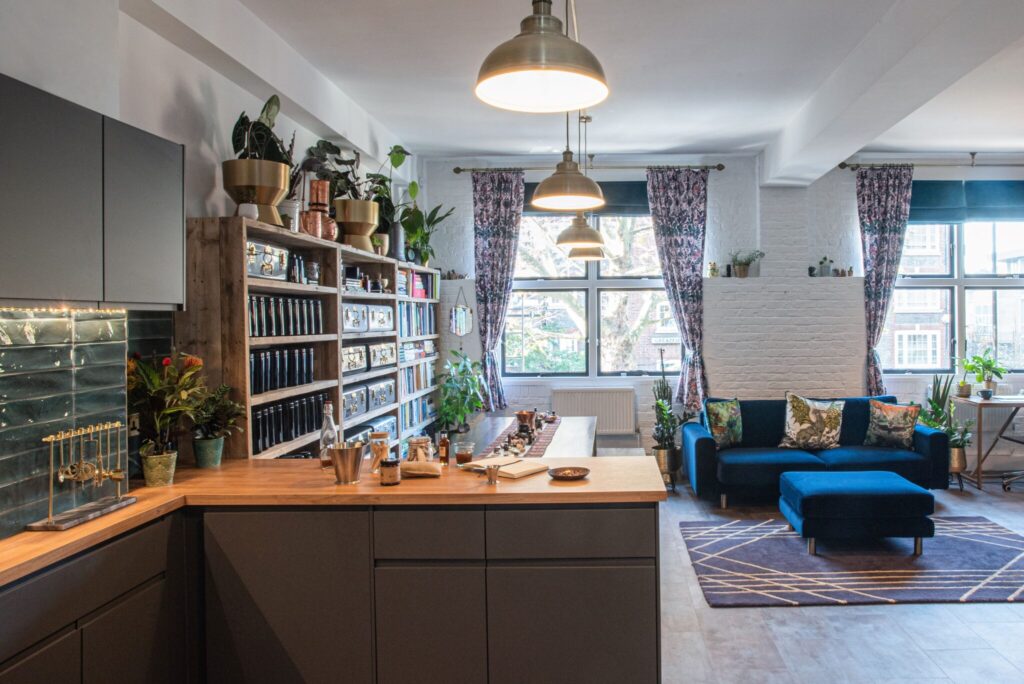 Starting with a completely empty space, Christiana mapped out a layout to accommodate the functional requirements.  The main room was divided into three primary areas. A simple, compact kitchen for preparing medications, a display and storage area for the client's huge array of herbs, and a comfortable seating area for informal meetings.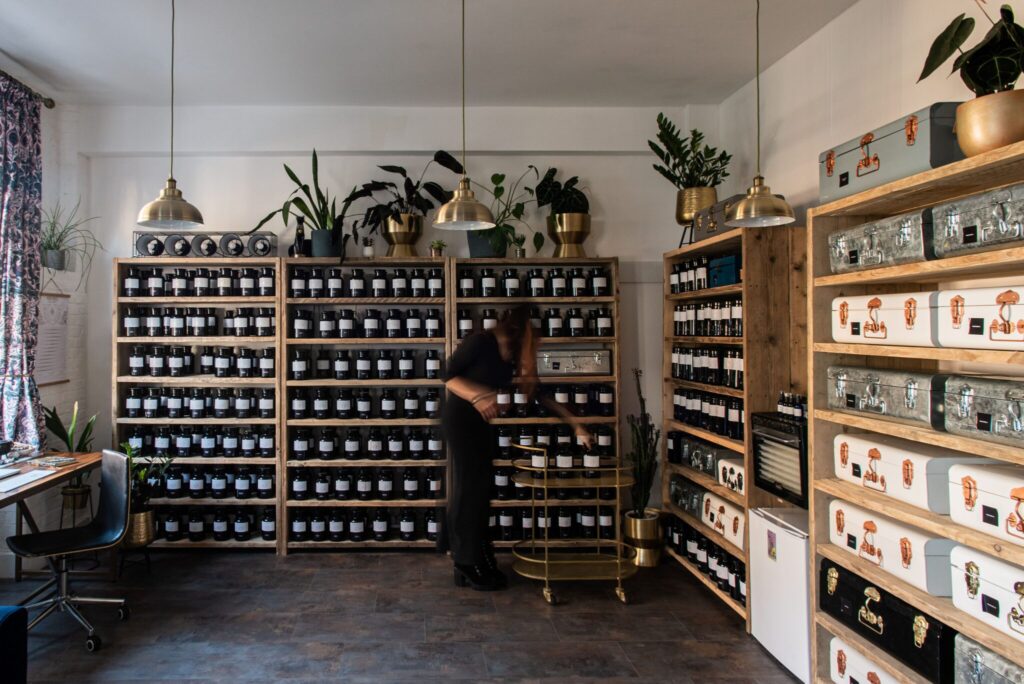 Careful Zoning
The client also wanted to plan for using different 'desk' spaces during the day, so a working zone was factored into the design. "The client was keen on a luxury feel. We used a lot of textures such as wools and velvets, both in the curtains and the upholstery, as well as metallic elements such as copper and brass. The idea was to design and decorate as if it were a working home, as opposed to a medical clinic, and for patients to feel enveloped and comfortable straight away"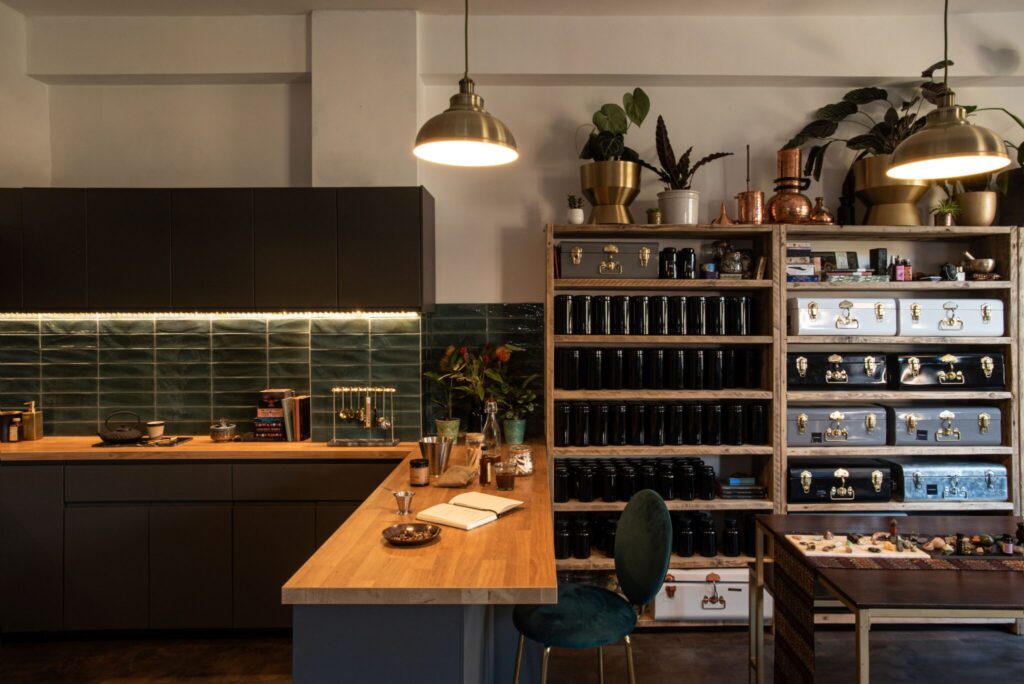 Lighting is a key part of any office design. The lighting must be fit for purpose, ensuring that the team have the best light to complete the required tasks. Layers of light are used to enable this functional lighting to be complemented by lighting that enhances the mood and makes the office a pleasant place to work.
This can be seen coming into play in the Anthrobotanica project.  The very functional existing lighting track, sympathetic to the industrial style of the building, was retained with the introduction of new pendants. New softer lighting was layered over the kitchen island, with metallic floor lamps and table lamps introduced where low lighting was a viable option.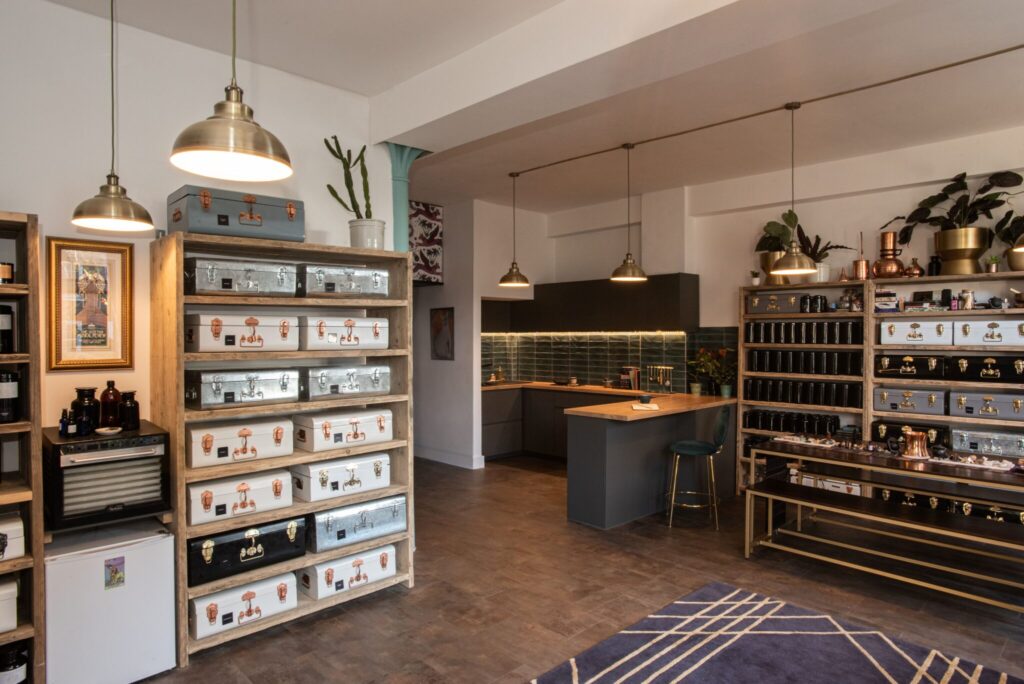 The kitchen, was adapted from a simple Ikea design. Chosen for its clean lines and dark colour, drawers were replaced with larger cupboards for the client's specific storage requirements. The island provides a third, informal, working space, with bar stools upholstered in velvet to work with the teal metro tiles.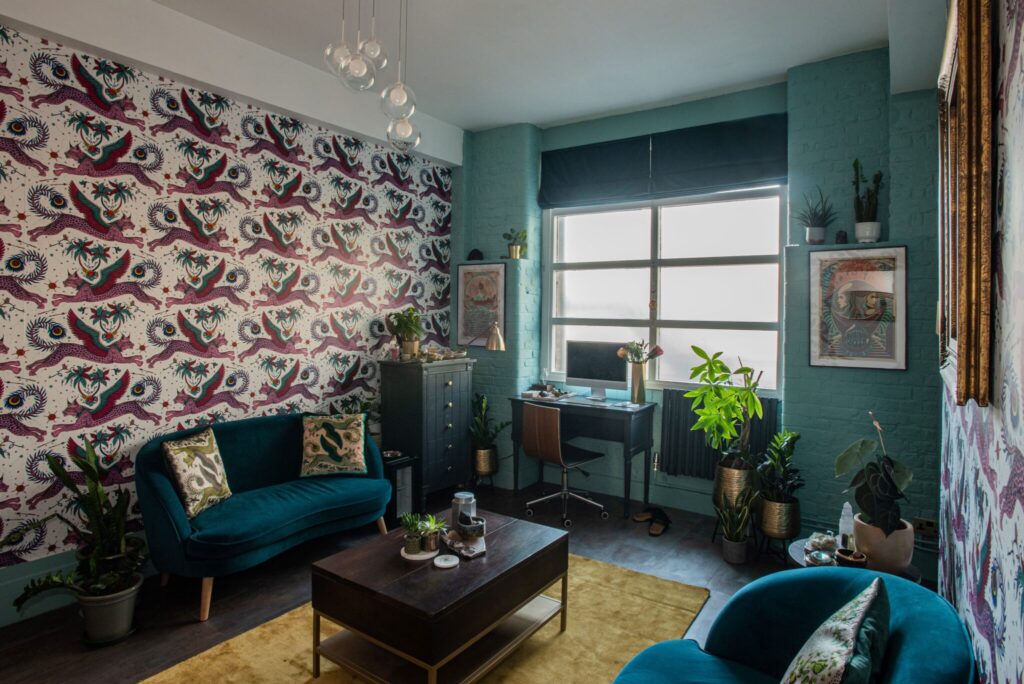 A smaller office for private consultations was designed with the intention of putting a patient at ease. This was achieved by fully embracing the use of colour and pattern. An ethereal and joyful Emma Shipley wallpaper in fantastical Lynx adorns the walls, with a soothing sky blue across the woodwork. The thread of deep jewel tones and luxe metallics continues, with the client's beautiful trinkets all given their place and a gold rug adding a grounding element.
Traditional office  can lack personality and feel quite soulless; not here. Even the bare white cloakroom was wrapped in cobalt patterned tiles, and elevated with a metallic washstand and folding mirror. "There is no need for any part of a space to feel bereft of character; with a little colour and some love, even the small, stark spaces can come to life".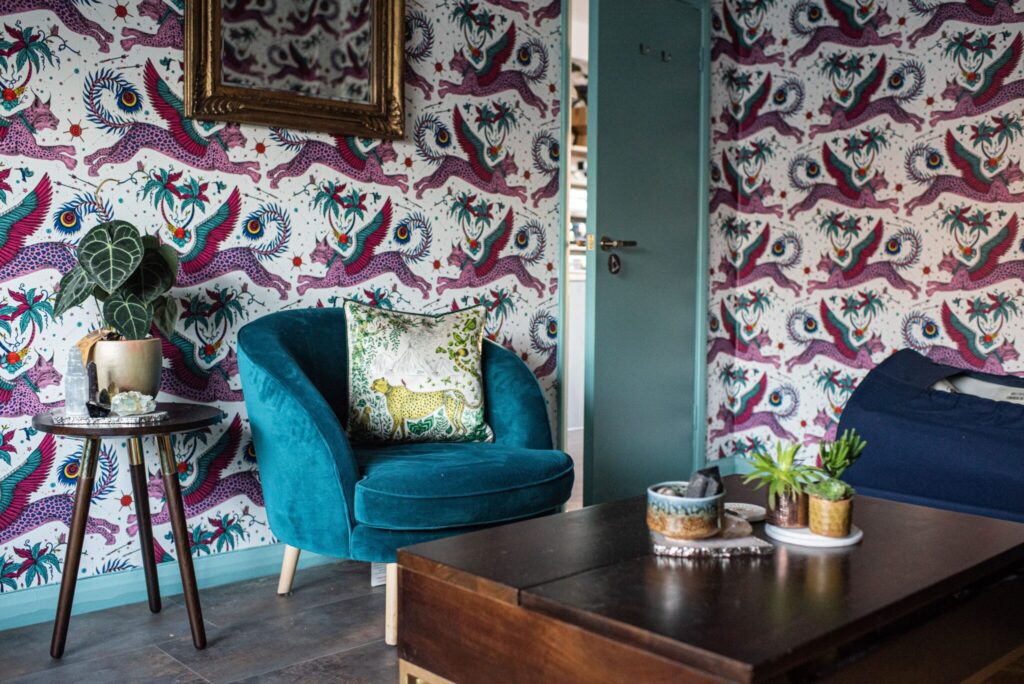 "As you can see, this office is about as far from a traditional clinic as you can get- the rich palette of jewel-like greens, blues and golds along with the deliberate variety of luxe textures elevates the space….your ailments might be the last thing on your mind".
The beauty of interior design is that its bounds are unrestricted. Any space can be adapted in a holistic way to offer a considered, inspirational and beautiful working environment. A curated space, with a cohesive colour palette feels fresh and modern. As we propel forward into an ever more stressful world, finding integrity and peace in these pressured environs is crucial.
Interior Design for Health & Wellness in the Workplace Credits
Interior Design by Christiana Wilkins
Photography by Alexandria Hall