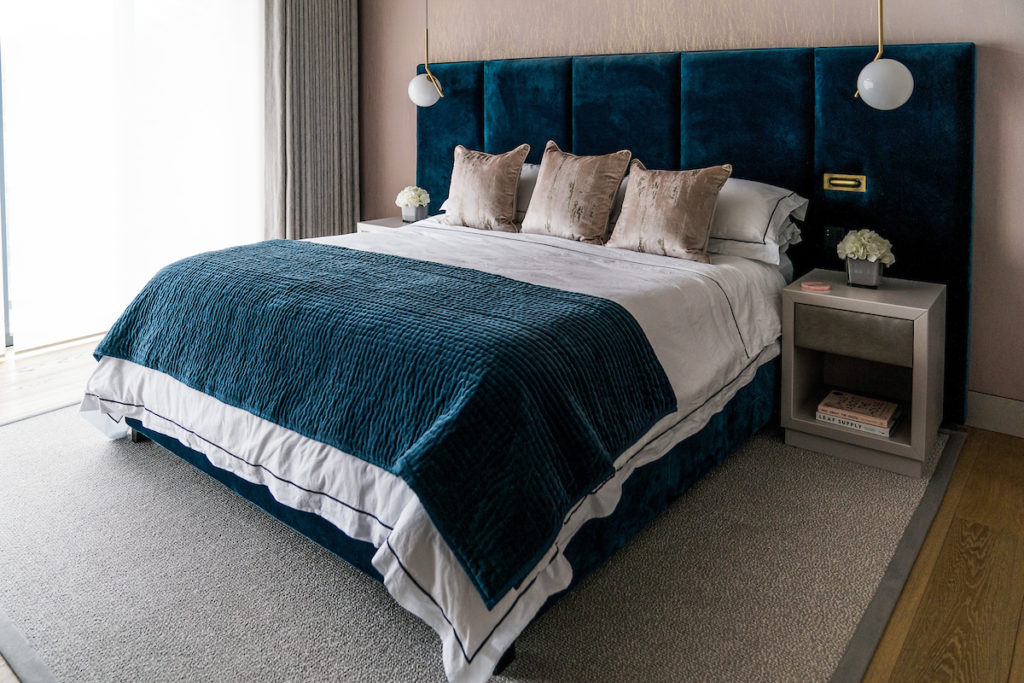 Bespoke Bedroom Design
Bespoke bedroom design is no longer a luxury. We are often asked to create bespoke pieces of furniture to meet our clients' exact specifications from media units, bespoke desks and storage cupboards to complete kitchens, sofas and soft furnishing design.
In this case we created a beautiful bespoke headboard to suit the size of the space and accommodate the sockets and switches required for the lighting and i-phone and laptop charging.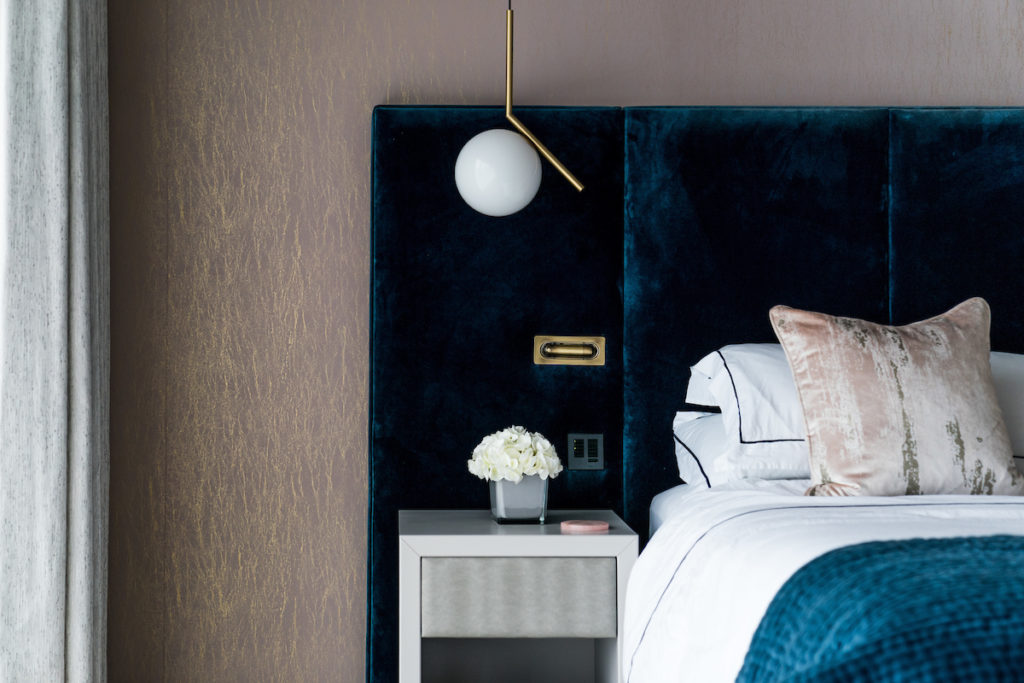 The starting point was the desire to create an oversized headboard that created presence in the space. It is a beautiful contemporary style home, with clean lines and smooth features, and so we wanted to minimise the amount of furniture to retain the sleek look and calm feel of the room. A larger headboard also enabled us to bring in more fabric to maximise the softness and texture in the space.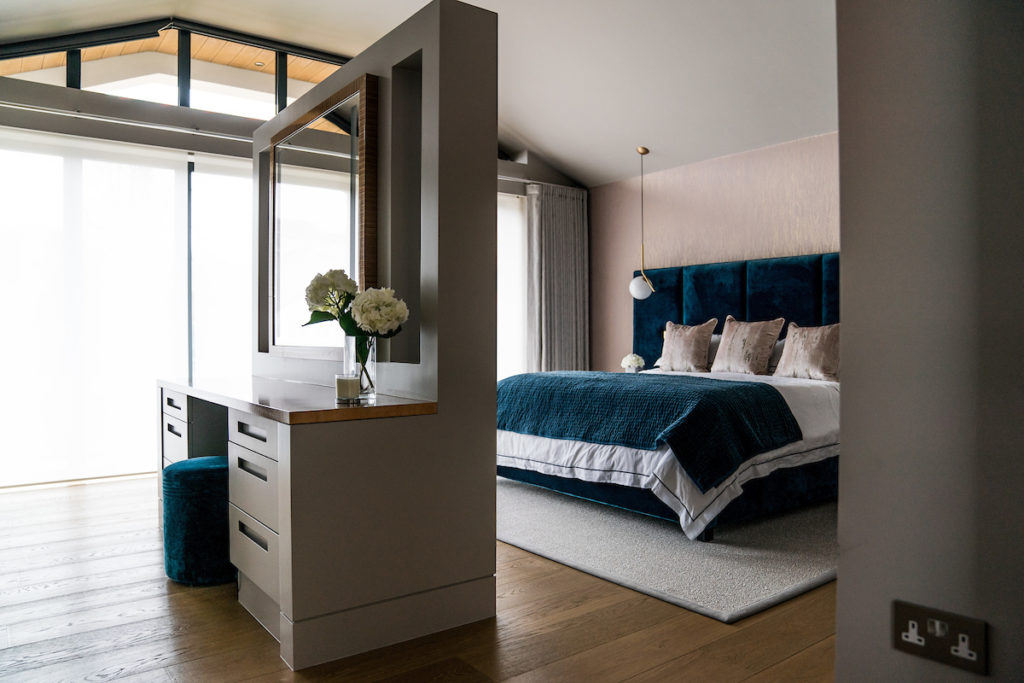 We measured up the area behind the bed to decide on the optimum size and shape, going beyond the size of the bed and the bedside tables, allowing space for reading lights, sockets and light switches. The fabric colour was chosen to work with the petrol blue vanity unit in the bathroom. Nikki selected blush pink wallpaper with brass threading from Tektura.
The lighting was carefully considered to incorporate pendant lights for general mood lighting. Reading lights were fitted into the headboard for precision quality light so that one partner can easily read without disturbing the other at night. By fitting the lights in the ceiling and headboard there is also maximum space left on the side tables for books etc. The client knew exactly what type of lights she wanted and so we just helped her to source them from our suppliers.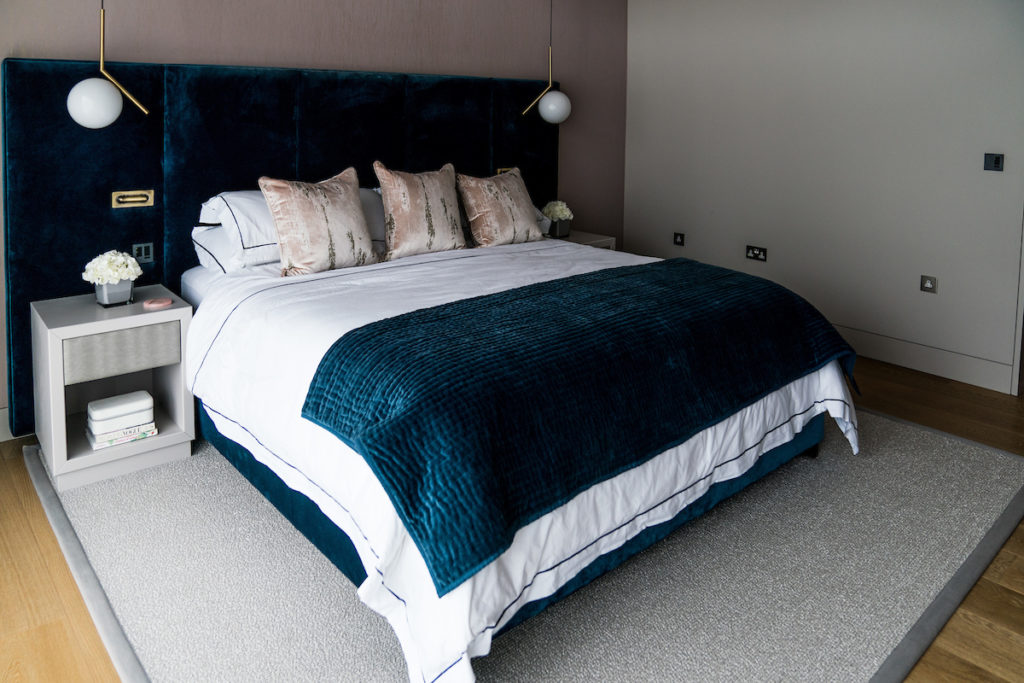 The bespoke rug also picks up the brass detailing in the wallpaper and light fittings. The stunning bespoke dressing table was designed by the architect, DNA Architecture. Wimbledon.
For further inspiration and ideas, you can find more of our featured projects here.
Contact: Please do get in touch if you would like help with your home or garden. Our packages and hours keep you in control of the look timing and budgets. Most of our services can be supplied face to face or remotely with a combination of telephone, email and facetime or skype as required. Always tailored to your requirements.
We would love to help you to create your individual home or garden.