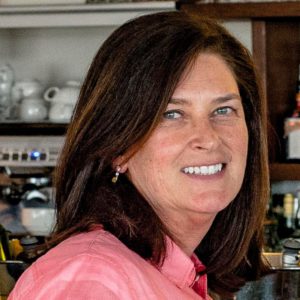 Gill Hynes
Located in Putney, SW London, Gill provides the full range of Decorbuddi services across the UK.
"I have been fortunate to work with clients who very much enjoy being part and part of the design process and I have loved the collaboration that this entails, but the real joy of my job is in introducing our clients to new design concepts, sourcing unique pieces that may never have been on their radar, and curating this within their interior."
About Gill Hynes
Gill is a KLC qualified interior design, with a life-long interest and experience in property renovation and development.
Following a first career in marketing, her interior design business really began in 2006, when she started splitting her time between property renovation for herself and smaller client projects. This included in 2006 managing the transformation of an unmodernised detached property into a luxury family home in order to sell it as an investment. The restoration project involved stripping everything back to the bare bones, extending and modernising throughout. Finished, the house sold for double the original value.
Gill's own home started as a renovation project, planned for sale but mid-way through the project she realised that she couldn't part with it. When the property was purchased, the vision was to renovate and modernise a house that had been subdivided into three flats, and restore it back to a family home, as well as creating additional outdoor space. Working hand in hand with the architect planning permission was gained to both extend and create a private roof terrace at the back, as well as completely reconfigure the layout. Overall, the build work took just over 7 months to complete the new extension at the rear, new bathrooms, new kitchen and the addition of a rear roof terrace.
Gill has experience of a diverse range of projects from the interior design of contemporary rental apartments to the complete renovation and refurbishment of notable period properties.
Based in Putney, SW London she is happy to travel as required, with existing interior design clients located across the UK in SW and central London, Mayfair and Birmingham.
Client Testimonials
Battersea Power Station Apartment
"Gill procured furniture, lighting, soft furnishings and styled this penthouse apartment in the iconic Battersea Power Station Development. The design was sophisticated and practical, the perfect blend of clean modern styling alongside a comfortable homely feel which is what appeals most to our professional rental clients. The combination of the well laid out living space, stunning roof terrace planted with shrubs, climbers and trees, and stylish modern outdoor furniture designed to maximise the river view meant that the apartment rented in record time.' Mark Hutton Head of Residential Sales and Lettings, Battersea Power Station Development Company
Birmingham Penthouse Apartment
'We worked with Gill to help create a boutique hotel feel for the guest bedroom of our Penthouse Apartment in a converted silverworks factory in the Jewellery Quarter of Birmingham. She helped pull together our disparate ideas and created a scheme that we loved. She sourced the bed and rug and gave us constructive feedback on key furniture pieces. We continue to work with her on our master bedroom, where the end-to-end scheme has been created and wonderful bespoke pieces of furniture sourced. Gill is a very attentive designer, working closely with you to understand your likes and dislikes. She will test your bravery but also respects your preferences and works very collaboratively to come up with her designs.' Niel & Nicky Black
Putney Townhouse
'After having all new bespoke wardrobes installed in our master bedroom, we felt the bedroom furniture could also do with some updating. We asked Gill to help us with this. The project involved selecting a new bed/headboard, night-stand side tables, a large mirror and a dressing table. My husband and I naturally gravitate toward neutrals, so we wanted to do something a bit more fresh and exciting.
Gill provided us with a beautiful and comprehensive portfolio that contained visual layouts of various 'scenarios' combining a bed with options of the other accompanying furniture pieces and swatches of various fabrics to do some accent cushions for the bed. It was exactly what we needed! After choosing one of the 'scenarios,' Gill quickly went to work in putting together our new bedroom. The bed we selected needed to be modified on leg-length and constructed using a particular fabric that we absolutely loved (also found by Gill!) and Gill managed the process perfectly. For all of the other items, she procured the pieces without any issues or delays.
Gill's design, communication, project management and problem-solving skills are impeccable, and you really do feel that you are in safe hands with her, especially when going a little out of your comfort zone. As a result, we absolutely love our new bedroom and would not hesitate to use Gill on any of our future projects.' Julie & Martin P
For more information please do not hesitate to get in touch.