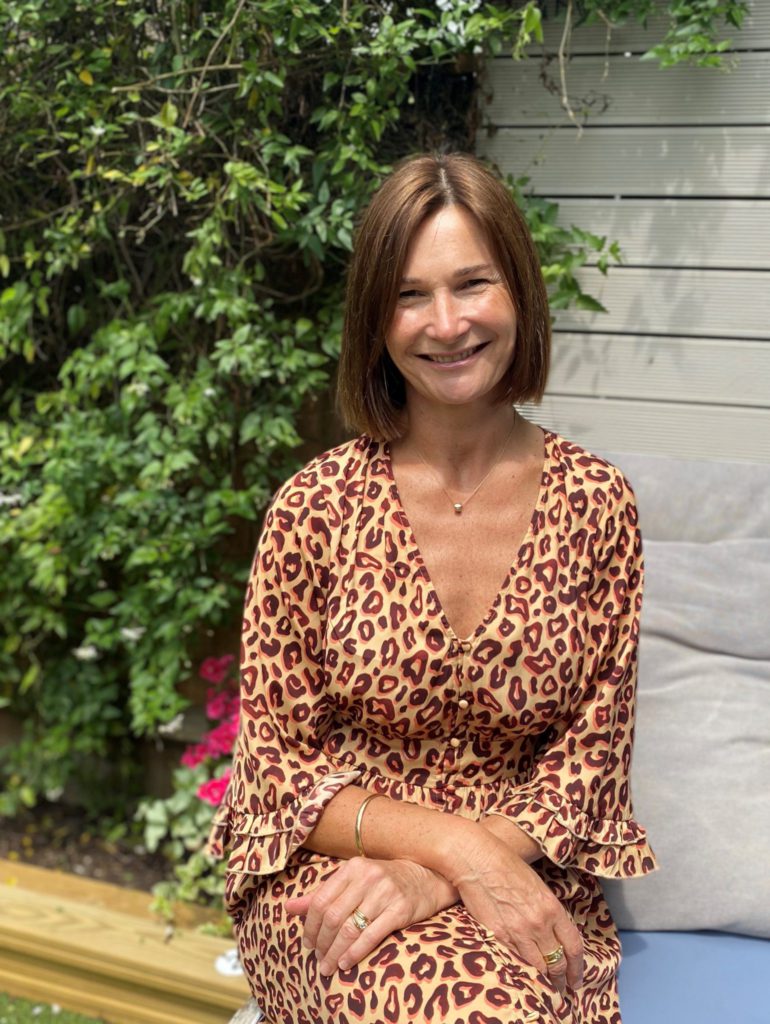 Jo Connolly
Working across London and the home counties, Jo started her business in Adelaide, Australia, before returning to the UK in 2017.
A perfectionist in all that she does Jo continues to research and build her knowledge for selecting plants to withstand all soil and climate conditions.
She supports clients on both sides of the world, and has great experience in working remotely, whilst visiting Australia in December each year when the world of garden design is relatively quiet in the UK.
"It is a joy to have the opportunity to work in such a wide variety of gardens. We combine distinctive design elements with dynamic planting to create beautiful spaces that are sympathetic to their surrounding environment, wherever they are."
Jo provides zoom and face to face garden consultations, planting plans, plant supply and full garden design.
About Jo
Every garden Jo creates is unique and designed with the client, and meeting their individual requirements in mind. Her gardens compliment their architectural surroundings, function well & provide space for relaxation & entertaining, tailored to each client's aspirations.
Jo is extremely knowledgeable about plants, landscaping and project management. She is particularly interested in sustainable garden design and how to plant a garden to withstand a variety of climatic conditions, increasingly relevant in our changing environment.
"I love the opportunity to help clients create entire new garden designs, but it is just as rewarding to provide simple planting plans, even working long distance with facetime and zoom." Jo's designs reflect each individual client's need for practical function that is balanced with their own personal sense of style and taste.
Jo started her career in Australia and continues to work on a number of projects in Adelaide, alongside her UK clients, working remotely and returning for short visits. Jo's designs have been widely featured in the Australian press, including House and Garden Magazine.
Whether working in a small urban space or extensive country landscape, Jo creates dynamic planting, structures, colour and shape to enjoy and add interest throughout the changing seasons.
Working with the Decorbuddi interior design team she creates seamless designs that blend the beauty of the garden with the interior bringing the outside in and vice versa.
Jo is regularly invited to speak on garden design related topics at private and public events, such as Grand Designs Live.
Client Testimonials:
Wimbledon, Garden Design Ideas & Sourcing
"Jo Connolly helped us with our "Get started" package. I could not recommend her enough. She came over to meet us and to see our garden. We described the type of garden we were looking for, and she was able to give us some ideas there and then. She also subsequently followed up with an email, with her ideas and suggestions, as well as a list of sites for garden furniture and planters.
We did subsequently get her to help us with more specific help on sourcing items for our garden. The garden is nearly done and we can't wait for better weather to enjoy our new space." JW
Matfield, Kent, Garden Design and Project Management
"We used Jo Connolly to design our large garden revamp and then to Project Manage the works through to completion. We were delighted with the design which was perfect for our needs. Jo was then brilliant at the Project Management and pushed the whole project forward when it most certainly would have stalled without her. She was on call whenever we needed her and we feel we couldn't have managed without her. We look forward to seeing the plants grow over the next few years!" R&D B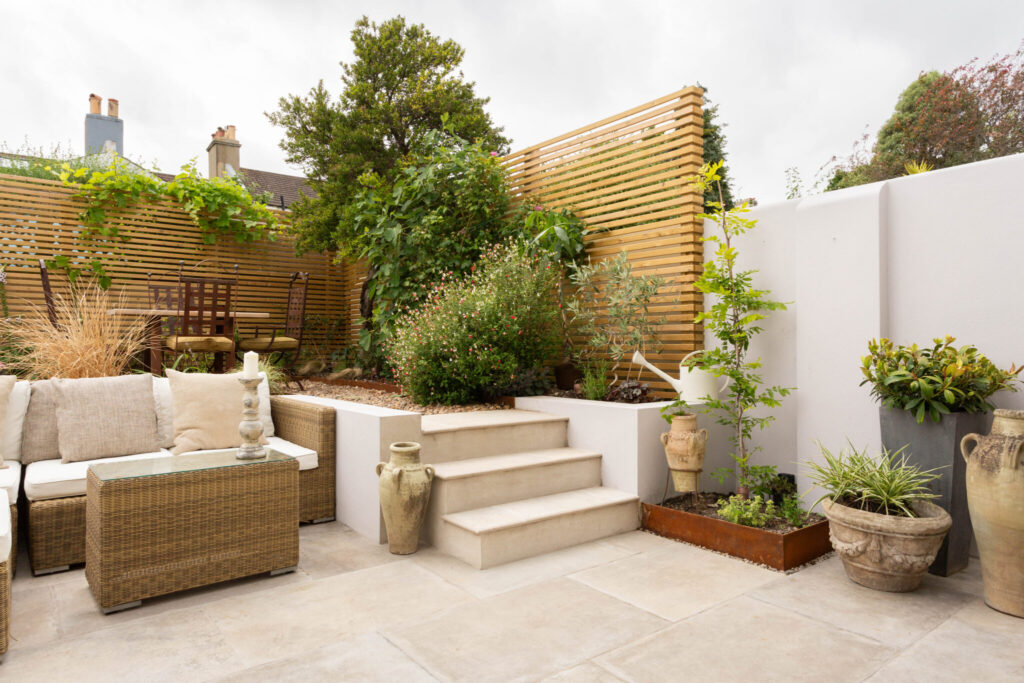 Brighton, Back and Front Garden Design and Planting Plans
"We moved into our new home in October 2022 and wanted to make changes throughout. Most importantly we were keen to create an inside-outside look and feel from the kitchen into the garden. Initially we bought a Get Started package. Jo had great ideas and a depth of knowledge about plants and materials that we lacked and so we moved on and asked her to draw up a detailed plan. We have been astonished by the extent to which her ideas have totally transformed the space so that it seems so much bigger, more useable and beautiful to look at. It has been particularly helpful to have been able to call on Decorbuddi to help with both the interior and the garden so that the two flow together. We are now in the process of working with Jo to redesign the front garden also." DB & PS
Southfields, Outdoor Room
"We hired Decorbuddi for the redesign of our small Southfields Garden. Jo Connolly is a legend. Passionate. Knowledgeable. Creative. Assertive. And a pleasure to work with. She opened up our eyes to the possible on what is quite a small space and we are thrilled with her work." GM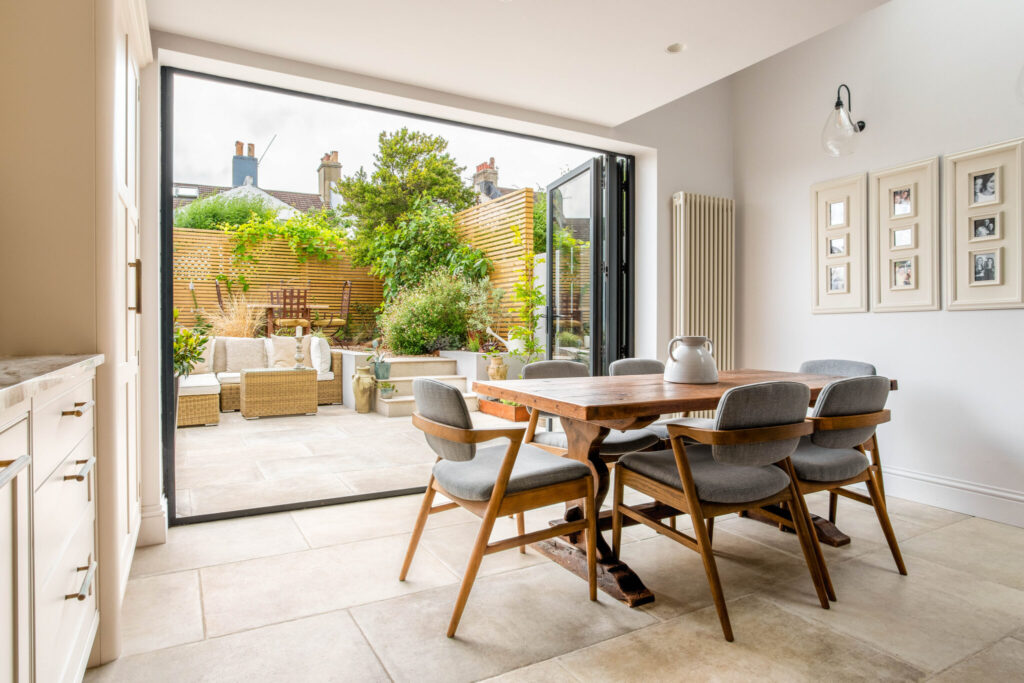 Kent, Garden Design and Landscaping
"the end product is … suited to my lifestyle and the property – and my little dog loves running around on the grass and under the shrubs. You motivated me and opened my mind to possibilities, and I am very grateful to you for the advice you gave me." Helen
Australia, Rear Garden and Pool Area
"It's just over a year since Jo's design for our garden was completed. Tomorrow I am proudly hosting my son's engagement garden luncheon for 40 people! What better way to validate the beautiful spaces Jo and nature helped create. She is a careful listener to her clients and creative in accommodating tricky requirements such as my request that we not waste any of our existing plants (and no they weren't all obviously complementary) but somehow Jo found a way for them to work." Naomi
Australia, Back and Front Gardens including Seating Area
"Jo has been instrumental in creating our beautiful garden from the initial stages of design through to planting and lighting and is meticulous with every stage. We loved working with her through every stage and her knowledge of plants is exceptional. We were so thrilled to see how she created our garden using traditional hedging and bringing together more modern features that work together so well. After 3 years now the garden has grown into a complete beauty and we get so much pleasure from it everyday." Sara
Australia, New Build Developments and Interior Designer's own Garden
"Jo is always such a pleasure to work with. She has a wonderful knowledge of her craft and has delivered beautiful projects both contemporary and traditional for me and my for my clients. Jo is incredibly accommodating and has a discerning eye for architecture and what should surround it. I have watched her gardens thrive over the years and they are absolutely beautiful." Michelle